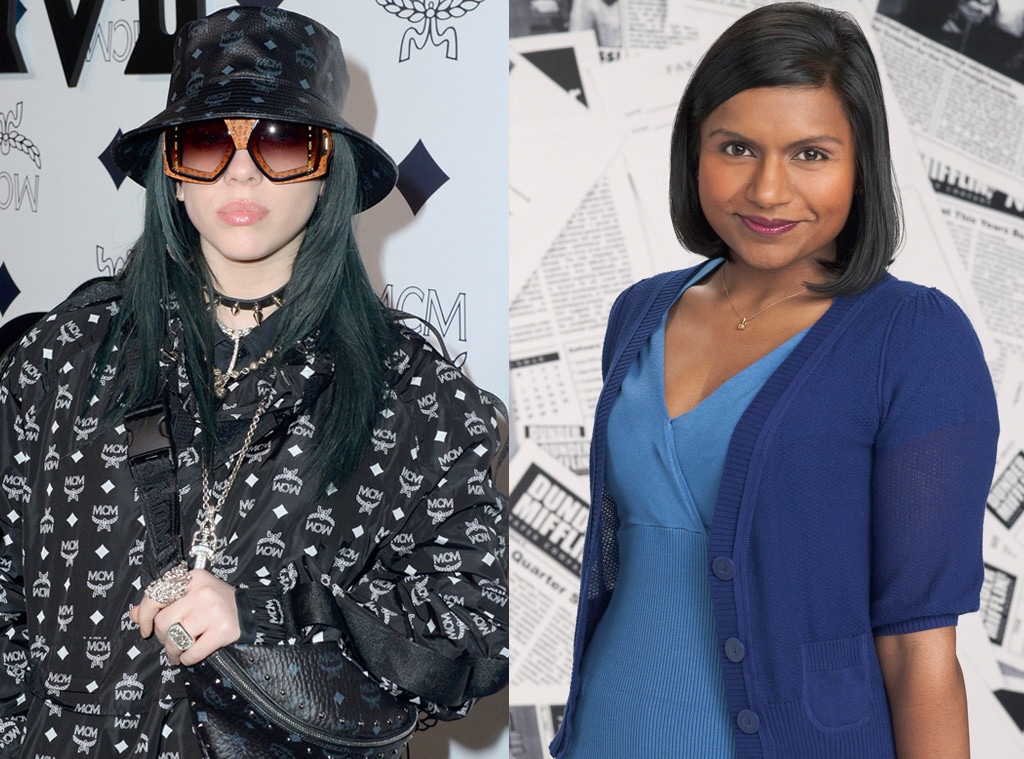 Vivien Killilea/Getty Images for MCM; Mitchell Haaseth/NBC/NBCU Photo Bank via Getty Images
Attention, Dunderheads: Billie Eilish is one of us!
That's right, the 17-year-old "Bury a Friend" singer is a major fan of The Office. The rising star even samples an episode of the beloved series in her song "My Strange Addiction," from her debut album, When We All Fall Asleep, Where Do We Go? In the track, we hear clips from The Office's season seven episode "Threat Level Midnight," during which Michael Scott (Steve Carell)—aka Michael Scarn—teaches everyone how to do the "Scarn Dance" in his action movie.
So what inspired her to include dialogue from the 2011 episode in that specific song? Billie recently admitted that The Office is her strange addiction.
"When we made the beat for 'my strange addiction,' it reminded me of the song they play when they do the Scarn dance," Billie told MTV News. "I thought that was really funny, so we literally just ripped the audio from Netflix and put it in the song, not at all thinking that they would say yes to it and we'd be able to put it out. Also, it's about strange addictions, and The Office is mine, so."
In order to use the dialogue on her album, Billie had to get permission.
"They had to get approval of all the cast that was on it," B.J. Novak, who played Ryan Howard on the series, recently confirmed to Rolling Stone. This means that, among other cast members, Steve Carell and John Krasinski had to approve it.
"I was fine with it regardless," B.J., who was also a writer and producer on the show, told the outlet. "But I was like 'Wow, bonus: This is a banger.'"
On Friday, Mindy Kaling, who played Kelly Kapoor on The Office, took to Twitter to react to the song news.
Mindy, who was also a writer and producer on the series for many years, excitedly tweeted to her followers, "I just learned @billieeilish sampled a clip from #TheOffice on one of her songs 'My Strange Addiction'... Threat Level Midnight?! Billie, I like your style."
Last month, The Office's Angela Kinsey took to Instagram to share a photo with Billie, congratulating her on her album.
"We met at the San Francisco airport awhile back and I'm a dinosaur so I had no idea how talented you are!!" Angela wrote. "I have loved catching up with you on Instagram. And the song My Strange Addiction has a nice lil' snippet from Threat Level Midnight! Your #theoffice Mom is over here rooting for you! Way to go!"
You can listen to "My Strange Addiction" above!