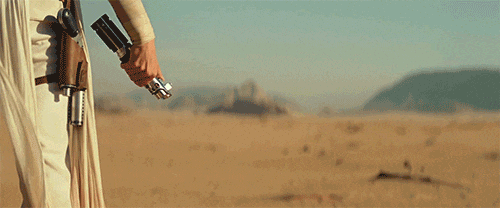 Want Disney Pictures / Lucasfilm
Surprise! It's your birthday, Star Wars fans, so happy birthday!
The first teaser trailer for Star Wars: Episode IX was finally released on Friday after months of anticipation. Oh yeah, and so was the title: The name of the new film is Star Wars: The Rise of Skywalker.
The movie is the epic conclusion to the third trilogy in the hit sci-fi franchise and stars returning actors Daisy Ridley as new Jedi and heroine and Resistance leader Rey, Adam Driver as her nemesis and now-Supreme Leader of the First Order Kylo Ren, John Boyega as her friend and former stormtrooper Finn, and Oscar Isaac as Resistance pilot Poe.
In the trailer, Rey appears in the desert, wearing a white version of her scavenger/Jedi outfit. She turns on her blue lightsaber and runs as Kylo's TIE silencer chases her then takes a giant leap. Kylo is later shown wielding his red lightsaber in battle.
Rey is later seen standing on a cliff with Finn, Poe, C-3PO, Chewbacca and BB-8, watching a scene of destruction—a fallen Death Star.
Want Disney Pictures / Lucasfilm
In addition, the movie will also feature never-before-seen footage of the late Carrie Fisher as Leia, plus the return of Star Wars veteran Billy Dee Williams as Lando Calrissian as well as Mark Hamill as Jedi master Luke Skywalker.
Lando and Chewbacca are seen in the Millennium Falcon, and Leia is seen hugging Rey.
Want Disney Pictures / Lucasfilm
"We'll always be with you," Luke says. "No one's ever really gone."
The trailer ends with maniacal laughter.
The trailer and title, which contains blue lettering, were revealed at a panel for Star Wars: Episode IX at the the Star Wars Celebrations event in Chicago and then released online.
After the trailer was screened, Ian McDiarmid, who played Emperor Palpatine in the first two trilogies, then walked onstage, confirming the laughter in the footage came from him.
"Roll it again," he said in his menacing voice, and the trailer was screened a second time.
Most the main cast of Star Wars: The Rise of Skywalker, minus Driver, attended the panel. Droids R2-D2 and BB-8 made appearances as well, as did director J.J. Abrams, who introduced the audience to BB-8's new fellow droid friend, D-0.
Stephen Colbert was the moderator.
He grilled the cast on spoilers and asked Ridley about the future of Rey and Kylo's relationship.
"I guess the Kylo and Rey thing, we'll have to wait and see," Ridley replied.
Colbert asked her if fans can expect to see more Force visions of Kylo semi-naked, joking, "Let's sell some tickets right now."
"I think I can confirm there are no more semi-naked Kylos, unfortunately," she said.
"Only full. Only full naked," Isaac joked. "We had to take it up a notch, guys."