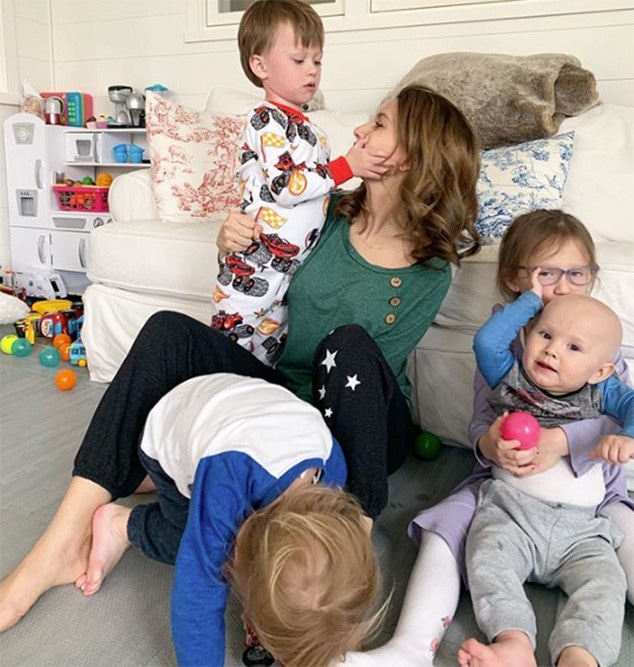 Instagram
Hilaria Baldwin is finding balance with her blessings. 
Earlier this week, the famous yogi and mother of four with Alec Baldwin confirmed the sad news she had suspected: she had suffered a miscarriage. "There was no heartbeat today at my scan...so it's over...," Baldwin revealed on Tuesday, along with a photo of her four children and famous husband. "But I have some pretty strong and amazing heartbeats right here. I am surrounded by such love and I feel so fortunate."
Now, as she moves forward, the star is coping with the loss by focusing on the joy. 
"In coping with loss or a difficult time, it is important to be present for your emotions and process, but also keep an eye on perspective and joyful moments," she wrote to her followers on social media along with a picture of herself with her son Rafael in a pool. 
"This photo, sent to me by a friend just now, was taken 3 years ago today. This is Rafa, I am like 5-6 months pregnant with Leonardo, and Carmen is off to the right," she explained of the throwback shot. "Peaceful, happy, full of love."
The star continued, "When I get sad, I like to remind myself that sadness passes like a season. I like to look at my blessings, my happiness, and always remembering that I have so many more good times to look forward to. It is a balance of sitting with grief, as we don't want to shove it away and not address it...but also not let it cloud how wonderful life is."
The famous mama concluded with a message to anyone reading. 
"If you feel cloudy and down, reach out...our communities can remind us that there is sunshine too," she said. "Lastly, we have built a lovely community here...so much beautiful interaction happens in the comments...so if you need support, please reach out. I am sure [an] angel here will take your hand."