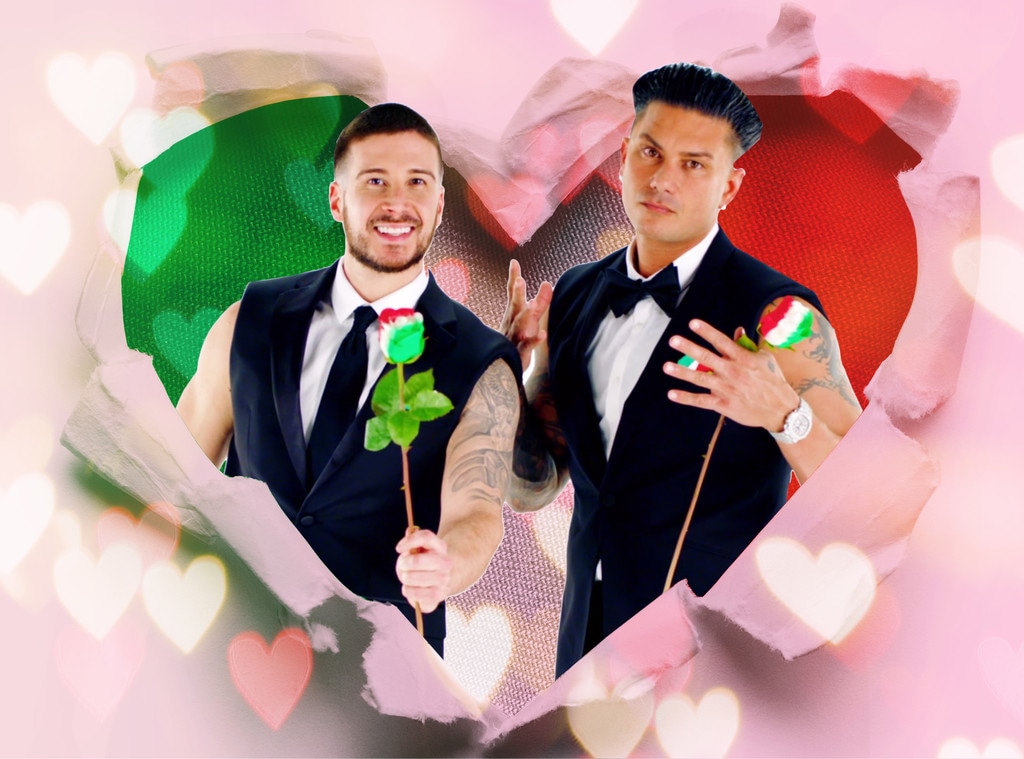 MTV/E! Illustration
These guidos are DTF: Down to Fall...in love, that is.
A Double Shot At Love with DJ Pauly D and Vinny premieres on MTV, with the bromantic duo dating the same 20 women in the hopes of finding the loves of their lives. 
No strangers to reality TV, the Jersey Shore stars' new dating series marks the culmination of 10 years of hook-ups-turned-backpacks, summer flings and boardwalk stalkers for Paul DelVecchio, 38, and Vinny Guadagnino, 31.
But now, as their co-stars settle down around them, getting married and welcoming children, these bros are serious AF about A Double Shot At Love, even if they're still pulling pranks and dropping some of the funniest one-liners on TV. 
And who better to help guide them in their search for true love than SallyAnn Salsano, the creator of Jersey Shore and the original A Shot At Love, who has been there for Pauly and Vinny through every wild night out and awkward morning after? 
The first teaser for A Double Shot At Love totally played into The Bachelor comparisons, putting a guido spin on many of classic tropes from the ABC hit franchise. Pauly and Vinny, clad in tuxes with the sleeves cut off, held out roses, with the latter asking, "Will you accept these bros?"
Salsano, who worked as a producer on both The Bachelor and The Bachelorette in their earlier seasons and to this day remains a fan—"I worship that show"—said viewers shouldn't expect to see the new MTV series to take itself as seriously or serve as much melodrama as The Bachelor. 
"This has a different vibe and a different flavor," she said, adding it's "a modern spin that's refreshing and honest." 
That modern spin could be fully embracing and acknowledging that these two guys are legitimate reality stars and celebrities, which The Bachelor franchise often shies away from or ignores completely even after their contestants go on to become Insta-famous. 
Vinny and Pauly's celebrity status has had its perks, of course—Have you seen Pauly's impressive collections of cars and necklaces?—but it's also had its down side, especially when it comes to dating, something the guys have often talked about with Salsano, who admitted she can be "a little maternal" when it comes to the Jersey Shore cast. 
"Is it actually harder to meet someone when you're kind of famous? What is that?" she explained. "There's a certain amount of expectations, when in reality, they're not strangers to going out to a nice dinner, but what's harder for them is having a good day at home, just hanging out, like in your sweats, cooking, watching TV, like we all like to do the same stuff. People want them to be something all the time." 
She continued, "I think their life is bigger than they ever imagined, which is wonderful, but sometimes they crave that normalcy of just coming home and having someone there who's not trying to figure out how to make money off of clickbait. It's so lame, but it's so true." 
But in an era where "influencer" is a viable career option, casting a reality television show can present a problem, with many hopefuls coming in camera-ready and overly produced even before the camera turns on. Add in trying to find women that Pauly and Vinny could legitimately connect with and you've got quite the challenge. Especially when both guys had high expectations heading into the process. 
"I like genuine, I like loyalty," Pauly told E! News of what he's looking for in a woman. "Honesty is big for me...and family values. I'm sort of old-school traditional in that way."
For Vinny, "Definitely a physical connection, a sense of humor, but ultimately someone that understands our lifestyle...it has been the hardest part for me." 
But Salsano was more than up for the challenge of finding a pool of women who could potentially be the next Mrs. D or Mrs. Guadagnino. 
"I was genuinely looking for someone I knew they would be physically attracted to and then people that I think might have something in them that reminds them of other girls that their friends with. If you look at the most important women in their lives, their closest friendships really are Nicole [Polizzi], Jenni [Farley] and Deena [Cortese], these girls are not stereotypical wallflowers. So some of the girls that come through the door, you may think, 'Why did they pick them?' But then if you're comparing them to, oh well, Vinny and Snooki had a thing, and Pauly and Jenni had a thing...so you have to go with who they like to hang around with and what kind of personalities they're normally attracted to."
The search narrowed the field down to 20 women who didn't know the identity of the celebrity they were going on a show to date. 
Salsano said viewers can expect to see the standouts among the 20 women to share one similar characteristic. 
"All the girls come in knowing who they are. They're all like, this is who I am, this is what you may think of me, I'm a strong, real person,'" Salsano said. "If nothing else, Pauly and Vinny are most attracted to confidence and most of these girls are super-confident in who they are. The girls who crumble are probably not a good match' to date a celebrity you have to be willing to be under the microscope."
That microscope is something Pauly and Vinny once found themselves under for the first time almost 10 years ago. 
Back in 2009, when Pauly and Vinny first fist-bumped their way into the cultural consciousness, reality TV was, in a way, more pure. Instagram wasn't around, so the dream of snagging spon-con deals with FitTea Detox Tea and SugarBearHair vitamins didn't exist. 
And after The Hills' glossy and glam portrayal of life in Los Angeles, putting a filter on reality even before Instagram came around, Jersey Shore was the complete opposite: Unfiltered, raw, and totally authentic. 
So naturally, people were horrified at first, with advertisers like Domino's and Dell pulling their ads from running during the show. 
But then something funny happened: the ratings went through the roof, becoming MTV's highest rated show. Phrases from the cast became iconic, like "The cabs are here!" and "It's T-shirt time!" GTL became a national practice. (OK, not really.) And the cast became some of the most beloved stars on TV, especially Vinny and Pauly, who formed an unlikely and unbreakable bromance. 
"The thing I love about the show is guys like Pauly and Vinny and girls love Pauly and Vinny. Every guy is like, 'Oh my god, that's me and my best friend!'" Salsano said. "They say silly stuff and they do silly things, but they genuinely like and respect each other. I think that that's why bromance has become so popular. I feel like they're relatable to women and men."
Given their tendency to go through conquests faster than their bottles of tanning lotion on Jersey Shore's original run from 2009-2012, sometimes referring to women as "grenades" and definitely OK with using their newfound fame to their advantage when  "creeping" on boardwalk, it's rather impressive that Pauly and Vinny have become two of the most sought-after men on television. 
So it's probably for the best that a dating spin-off didn't happen back in the day, though it's something Salsano & Co. actively pursued at the time. "It all started with Snooki being hopelessly single and we were all talking about Snookin' For Love," she revealed. "Then it just turned into the guys always seeming like, 'What about us?!'"
Alas, it never came to fruition, though Pauly had a memorable stint on E!'s Famously Single, where he met ex-girlfriend Aubrey O'Day, with the couple dating on-and-off for almost two years before calling it quits for good in July 2017. "I didn't recognize that guy!" Salsano said of watching Pauly on Famously Single.
Now, after experiencing a second wind of fame of sorts thanks to Jersey Shore Family Vacation's success, the guys are viewing their future when it comes to romance in a much different way than their younger selves did. 
Pauly D is now balancing his DJing career with fatherhood, after welcoming a daughter in 2013. Vinny, closer than ever with his mother, is living that keto-guido lifestyle while finding the time to school the president on climate change on Twitter. 
As Salsano put it: "These guys have evolved." 
It was an evolution fans definitely noted when Jersey Shore Family Vacation premiered in April 2018, with the Internet fully embracing Vinny's ketogenic-fueled glow-up and applauding Pauly's mature and measured words of advice he gave Ronnie Ortiz-Magro amid his ongoing drama with Jen Harley, the mother of his daughter. (Never forget Pauly was the ONLY roommate who put a stop to his infamous hookup with "French Fry"!)
"They're ready. I think it's true because they're actually really open to settling down. I think they both came into this all kidding aside, you go on these shoots, you go to these events, then you go home and there's nobody there," Salsano explained. 
And Pauly and Vinny have both stressed they are over the one night stands they actively sought after when they were younger. 
"Jersey Shore was like, I was a single guy, I was a little bit younger. I wasn't really looking for something substantial at that point in my life. I was just looking for a good time," Pauly told The Wrap. "Now I'm at a stage in my life where I'm looking to share all of the great things going on in my life. I'm looking for that one life partner."
A little younger than his best friend, Vinny is a little more open to the process not resulting in happily ever after, but in a partner-in-Netflix binging. 
"I'm over the one-night stands," he stressed. "They really do nothing for me, and most of the time I'm out in a club now, I come home and I just go to bed by myself. I'm like damn, I wish I had someone meaningful to share this with."
Brian Ach/Getty Images for iHeartMedia
During filming of Jersey Shore Family Vacation, Vinny as in a committed long-distance relationship with model Elicea Shyann, though the two broke up after filming, with Vinny telling Entertainment Tonight it was "kinda tough" to be out partying as a taken man.  
"I didn't do anything but like being in a position and then you know talking on the phone and, you know, explaining like I was in a club until 6 in the morning every night… that gets a little sticky," he explained.  "I know that I did the right thing and that's all that matters."
Still, despite their proclamations of wanting monogamy, their transition from ready-made Saturday Night Live spoofs to one of TV's most universally adored duo is somewhat surprising—to everyone but Salsano that is. 
"You know why? They were never fake," she said. "I think when people are faking who they are and they are one thing on TV and then another thing in their real life, that's when you get into trouble."
And if nothing else, Pauly D and Vinny have always been their true selves, whether the cameras are rolling or not, and were always brutally honest about being creeps. (So...points for honesty and never leading girls on? Romance in 2019 in a nutshell.)
Scott Gries/Picture Group for MTV
That no-holds-barred approach to living their life in front of the camera is ultimately why Pauly decided to do the show.
"For me, that's really personal," he said of a show focused on his love life. "So I had a little hesitation, but I was like, you know what, the world's been growing up with me and they've seen all the chapters of my life, why not show them this chapter?"
It's a chapter that will fully embrace how much the guys have evolved since they first hit the Shore many summers ago. 
"These guys have evolved to a point where they know who they are now, but I think now that they're settled into who they are other people have expectations of them based on what they see on TV, rather than based on who's inside their house, who they're texting with, all that kind of stuff," Salsano continued. "They're just normal guys with great values. They have good jobs, they have good values, they care about their families, like I don't know. They're just normal people and I think people forget that. I would set them up with anybody in my life, honestly. I literally think that anyone that winds up with those two guys is really lucky. I truly, truly, truly, truly with everything that I have in me can tell you that."
A Double Shot at Love With Pauly and Vinny premieres tonight at 8 p.m. on MTV.