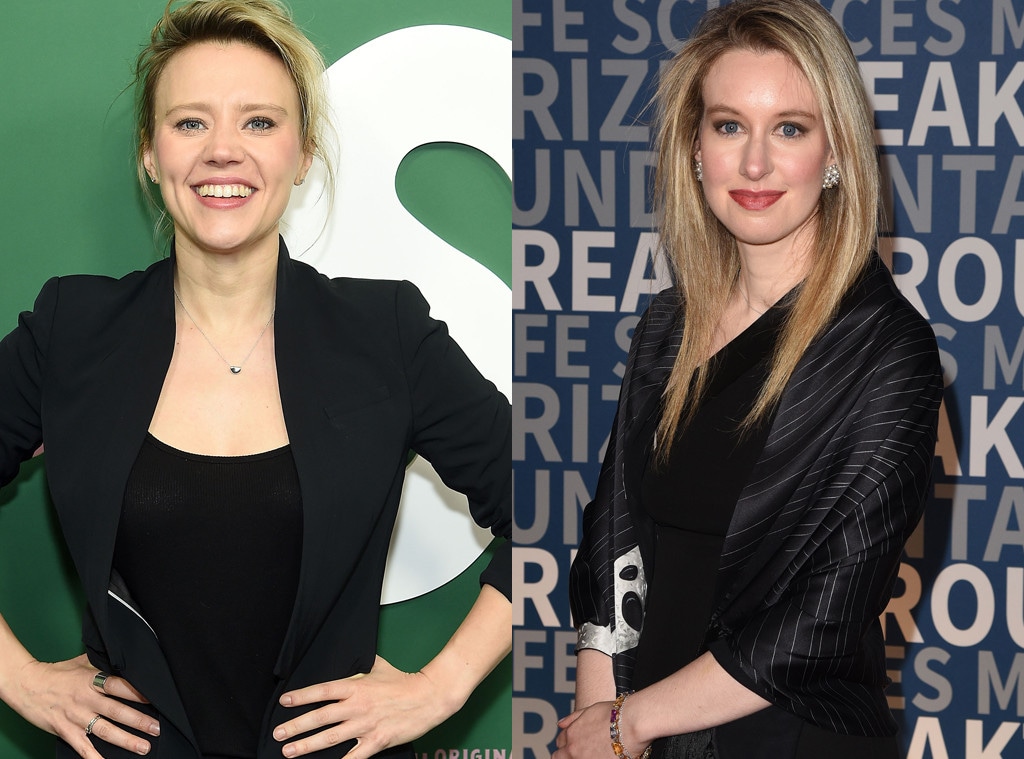 (Photo by Jamie McCarthy/Getty Images);(Photo by C Flanigan/Getty Images)
Talk about perfect casting. 
Deadline reports that Hulu is ordering a limited series called The Dropout, all about Elizabeth Holmes and Theranos, based on the podcast about the rise and fall of the disgraced company and its CEO. Saturday Night Live star Kate McKinnon will star as Holmes, which if you ask us is an absolutely genius casting move that we can already see perfectly in our minds. 
McKinnon will also reportedly executive produce along with ABC News correspondent Rebecca Jarvis, who produced the podcast along with Taylor Dunn and Victoria Thompson. Dunn and Thompson will also serve as producers on the series. 
Holmes and Theranos were the subject of the podcast, the book Bad Blood, an ABC 20/20 documentary, and an HBO documentary The Inventor, all documenting Holmes' career after she dropped out of Stanford and managed to gather investors for a blood test that required only a single drop of blood to test for a myriad of conditions, but didn't actually work at all. Holmes is currently facing up to 20 years in prison. 
She's known for her black turtleneck, a la Steve Jobs, and her unexpectedly deep voice, the legitimacy of which has often been questioned, and McKinnon's already got the blonde hair and excellent skills at impressions. 
Hulu is already home to fellow SNL star Aidy Bryant's Shrill, which premiered in March, and has also already tried its hand at a fictionalized true crime limited series with The Act, which chronicles the abuse that led Gypsy Rose Blanchard to murder her own mother. 
The Dropout also comes from Fox Searchlight.