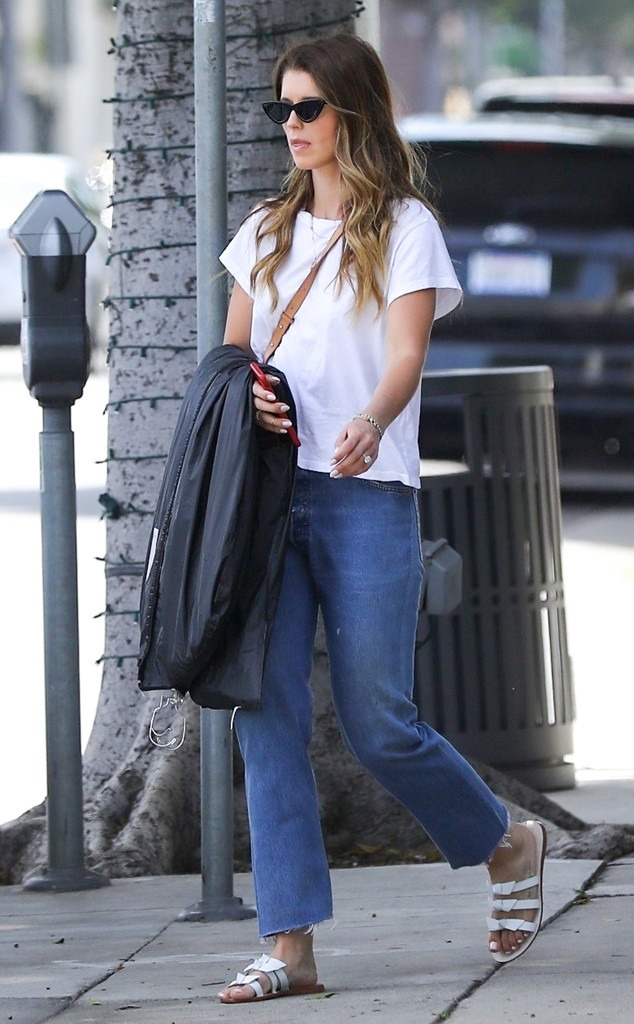 NEMO / BACKGRID
Did Katherine Schwarzenegger find her wedding dress?
The 29-year-old author and daughter of Arnold Schwarzenegger and Maria Shriver, who is engaged to Chris Pratt, was photographed on Tuesday leaving a bridal store in Los Angeles, carrying a black garment bag. A source told E! News Katherine spent more than an hour inside the shop.
Another source told E! News that Katherine plans to have a bridal shower in the next few weeks and "just got a dress for it and is figuring out some of the other details."
"It will be her closest girlfriends, family and some of Maria's girlfriends," the source said. "She also will have a bachelorette weekend that her sister is planning."
Chris, 39, announced his engagement to Katherine in January. The two have been together since at least last summer. 
"She's very much in wedding planning mode," the second source said about Katherine. "She's excited and really enjoying the process. Her mom is very involved and helping her figure out all the details. They are doing it together but Maria is overseeing a lot of it."
"They have been back and forth on potential dates and making sure that everyone that they want to have come can come," the source continued. "They both have big families and a lot of people they want to include. They know they want it to be before the end of the year. Chris wants Katherine to have whatever she wants and is letting her take the reins on planning. He wants to make sure it's the best day of her life."
Last month, another source had said that "Katherine is taking her time with planning the wedding," and that she and Chris "have talked about a winter wedding," adding, "They are just really busy to plan anything sooner than that but plans are still fluid."
"It will be a pretty big bash and Jack will of course be involved in some big way, possibly as a little groomsmen," the source said, referring to Chris and ex-wife Anna Faris' 6-year-old son. "They are still deciding."