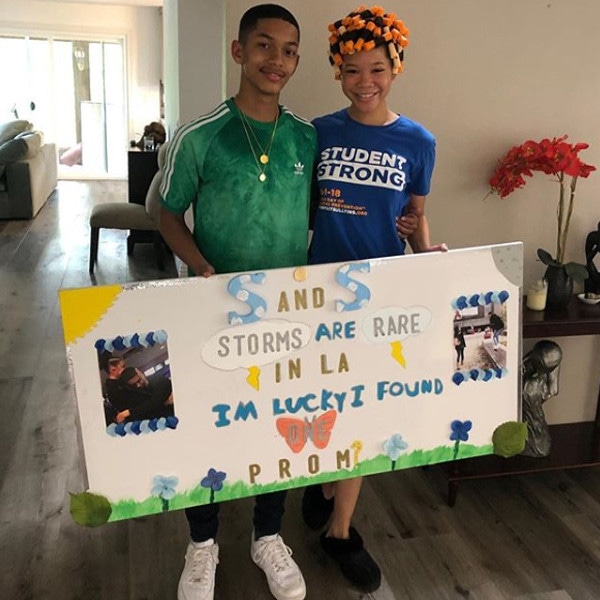 Instagram
It's the most wonderful time of the year for high school students: Prom season!
For millions of juniors and seniors, the next couple of weeks will be filled with intense planning and brainstorming as they try to find the perfect date for the biggest dance of the year.
Fortunately for Sayeed Shahidi, he has his sister to help him out.
"After big sister FaceTime consultations, conversations with his homies and knowing what would make her smile, Sayeed SURPRISED Storm with the CUTEST promposal," Yara Shahidi shared on Instagram Wednesday morning. "#proudbigsis #jrprom #lovearollerset #canvaspainting."
So how did Sayeed get Storm Reid to say yes?
From the looks of Instagram, the actor got a giant sign that included special photos of the pair. He also had a special note that stated: "Storms are rare in LA. I'm lucky I found one. Prom?" Awww!
"So Lucky I get to go to my first prom with her #picscomingsoon," Sayeed shared on social media.
Storm also posted and shared her enthusiasm for the weekend event. "He's just the absolute sweetest. Saturday can't come fast enough," she wrote.
For those who follow the pair on social media, you'll know that Sayeed and Storm's friendship goes way back.
Whether posing for fun photos together in matching clothes to supporting each other's projects, it appears the duo has a special bond off camera.
"Went to see the beautiful @stormreid in her new movie, @wrinkleintime which comes out March 9th," Sayeed shared in a recent post. "She was absolutely amazing CONGRATULATIONS."
And this isn't the first time the pair has enjoyed a dance together. Back in November 2017, Storm and Sayeed enjoyed a school event. And yes, we loved Storm's outfit that included Vans sneakers.  
"HOCO 2k17 was pretty amazing with her," Sayeed shared on Instagram.
Have fun you two!