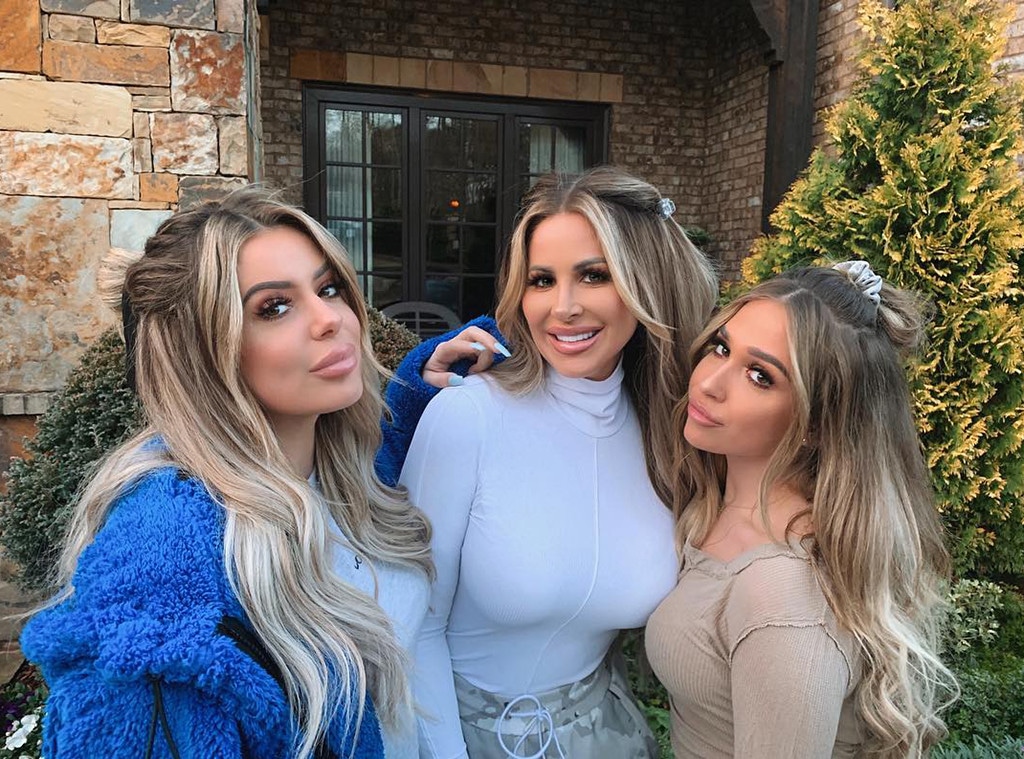 Instagram
Growing up is hard, but growing up on reality TV may be even harder.
Ever since The Real Housewives of Atlanta premiered in 2008, millions of fans have followed the life of original cast member Kim Zolciak-Biermann.
Her lavish lifestyle, signature wigs and unforgettable single quickly made her a fan-favorite. Fast-forward to today and you can still see the Bravo star and her family on Don't Be Tardy.
While Kim has held the peach and is the matriarch, eldest daughters Ariana Biermann and Brielle Biermann have been on this journey from the very beginning as well. And as E! News celebrates National Sibling Day today, it's hard not to acknowledge the unbreakable bond these two have shared while growing up on the small screen.
"It was either my 10th or 11th birthday and I went to the Intercontinental and I had my friends there. I think NeNe Leakes, Sheree Whitfield and a couple of other Real Housewives of Atlanta stars came and it was just so fun," Brielle shared with E! News exclusively when recalling her first filming memory. "It wasn't weird. I didn't even think anything of it. I was so young."
As for Ariana, it was when she came home from kindergarten—yes kindergarten—and saw a whole lot of crew members at her house. "I thought it was so cool and I was so amazed with everything," she admitted.
These days, Ariana is enjoying her high school prom while Brielle is documenting her post-grad life for 1.3 million loyal Instagram followers. And yes, cameras are usually close behind as they enjoy family time with their four younger siblings.
Bravo has documented everything from Kim marrying Kroy Biermann, giving birth and enjoying family vacations with her six kids. They've also been there as Ariana and Brielle explore the dating world in Atlanta.
"I don't want to watch this season because I don't want to see my ex-boyfriend. I refuse to watch it," Ariana confessed to us. "I watched the first episode and I was like I don't want to relive that. I was also like 30 pounds heavier."
For Brielle, she's sick of coming across "weirdos" who think dating or talking to her will get them on Don't Be Tardy.
"I think I've learned from my past relationships and how I've put them on the show and how I've posted them that I really don't think I'm going to be doing things like that anymore until I'm really serious with someone," she shared. "I've learned from my mistakes."
And as you likely could have guessed, reality TV has some learning curves.
Despite their many years in the public eye, dealing with social media critics and haters remains difficult today. While Brielle says being on reality TV at a young age "made me stronger," it's still challenging for Ariana.
Prince Williams/FilmMagic
"It's a lot to deal with. I struggle with it because people know how to get under my skin and people know the things that bother me," Ariana shared. "There's so many that it actually makes me laugh. I'm glad you think I've had all this work done."
Brielle added, "My mom has really created a great relationship for me and Ariana with her so we can come to her if something is bothering us or makes us upset because there are times that comments do get you."
Perhaps that close mother-daughter relationship is the reason why these sisters remain so close—and out of trouble—today.
While Brielle dreams about moving to New York or Los Angeles, "I would never want to move away from my family." And as Ariana starts thinking about college, she has the West Coast on her list for a good reason.
"I want to live there because my family is in California so much," she explained. "It's close to Arizona where I get my hair done and I've always wanted to live in Los Angeles. I can have In-N-Out." And don't forget about Chick-fil-A, girl!
Behind all the cameras and Instagrams are two sisters who have each other's back. Family comes before everything and fights never last too long. Comments from strangers go in one ear and out the other.
And for the record, haters: Watching 30 minutes of their lives for 12 weeks doesn't mean you know everything about this crew.
"Being on the show together is so fun for us and it's something that I'm so happy we get to do with my best friend everyday," Ariana shared. "We just laugh all the time together and goof around and she may be a crazy person sometimes, but she means well and she's the baddest bitch I know."
Brielle added, "I just love my sister. I just want to be there for her because I understand at 17, you think the world is against you. Going through high school and dealing with comments from people who don't even know you and going through all these changes with your body and your mind and your spirit and everything that goes on, I want to be someone she can count on. I just want her to know she can always trust me."
After all, what are sisters for?
Don't Be Tardy airs Friday nights at 9 p.m. only on Bravo.
(E! and Bravo are part of the NBCUniversal Family)