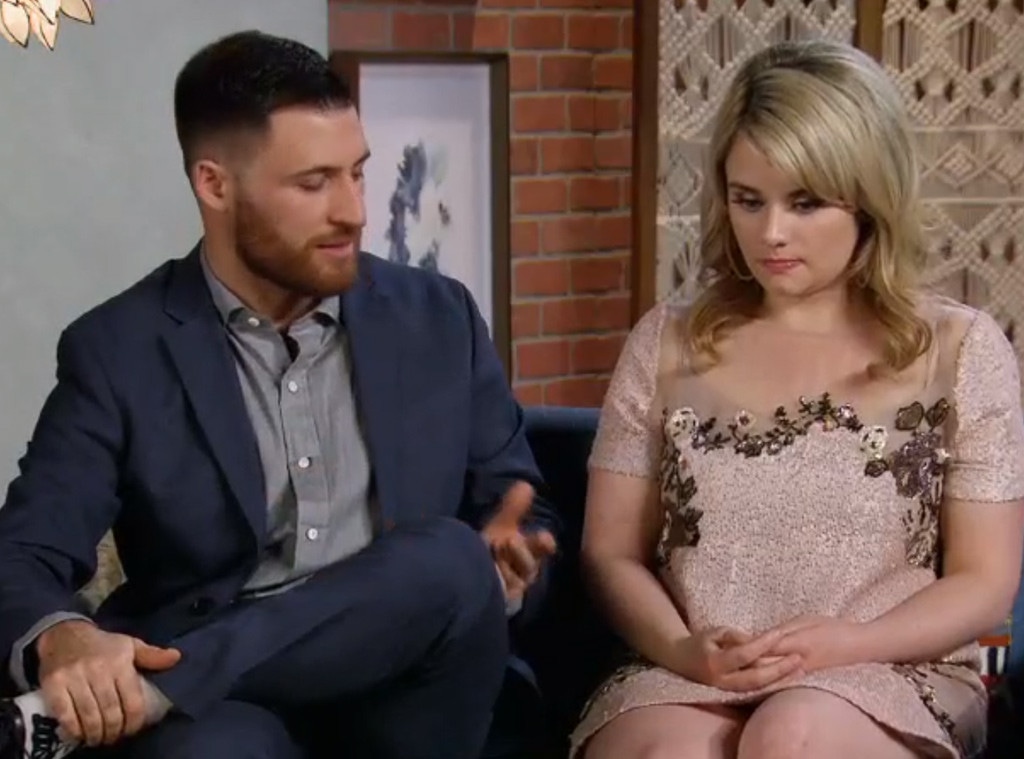 Lifetime/Kinetic Content
And here we thought decision day was on the dramatic side.
On tonight's season finale of Married at First Sight, the four couples reunited for the first time to discuss their love stories and dramatic breakups.
Although Stephanie Sersen and AJ Vollmoeller as well as Kristine Killingsworth and Keith Dewar remain madly in love, it's a different story for another couple.
Spoiler alert: Kate Sisk and Luke Cuccurullo are never getting back together—like, ever.
While sitting down with host Kevin Frazier, the couple immediately relived their honeymoon. According to Luke, Kate had a list of 40 reasons why he's gay.
"Yes, but I only brought it up because you said, 'What? Do you think I'm a homosexual?'" Kate explained during the tense discussion. "Your Facebook page says you're interested in men and women and it still says to this day that you're in a relationship with a man. I'm sorry!"
Luke explained that his friend in college thought it would be "funny" to change his status. In fact, he said he has never dated a man before. Kate, however, isn't sure who to trust.
"I don't believe it," she explained. "You have a lot of friends that are gay and I don't understand how it could be funny for you to put [that] on your Facebook."
If things couldn't get any more uncomfortable, the topic of sex came up that left viewers talking on social media.
"I wasn't having normal reactions that you would normally have after having sex. I wasn't happy. I was sad," Luke candidly shared. "I was upset that I was having sex and didn't want to have sex."
As fans know, the couple announced their divorce on decision day. The resolution was supported by the experts including Pastor Calvin Roberson who argued they were "healthier apart."
And while Luke says he's not dating anyone, Kate is dipping her feet back into the dating pool. "I've actually been seeing someone for about two months. It's going great. Jasmine has met him too," she shared on tonight's episode. "He's a teacher and writer. Very handsome and very genuine. We have a great time together. We're taking it slow and we'll see how it goes."
Married at First Sight's finale (produced by Kinetic Content) airs Tuesday night at 9 p.m. on Lifetime.