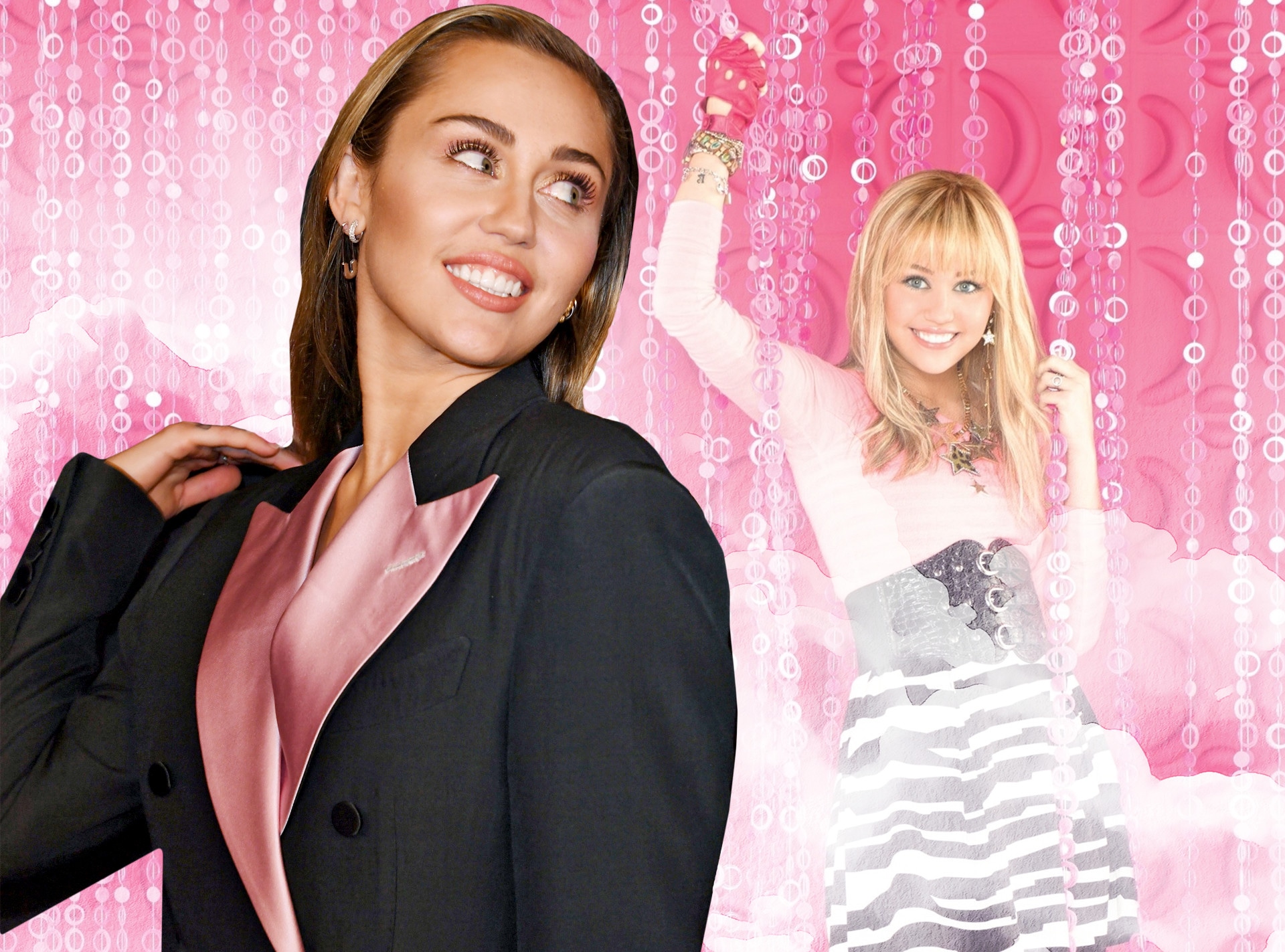 Getty Images; Disney/E! Illustration
Who would've ever thought that a girl like her, would double as a superstar?
Hannah Montana: The Movie came out 10 years ago on April 10, making over $169 million world-wide, as legions of the Disney Channel hit series' loyal fans sang along to "The Climb" as their heroine Miley Stewart, played by Miley Cyrus, continued to balance her dueling worlds (one as a normal high schooler and one as a superstar aka "chill it out, take it slow then you rock out the show") on the big screen. 
But behind-the-scenes, Miley, now 26, was also grappling with the same struggle, growing up in the public eye and making mistakes while becoming a role model for her young fans, whether she wanted the title or not. 
After Hannah Montana first premiered on the Disney Channel in 2006 when she was just 12, with Miley's real-life dad, country music star Billy Ray Cyrus, playing her on-screen dad and manager, it quickly became the network's highest rated show ever. And its star became the teen idol of the moment, complete with catchy pop tunes, a Disney-approved BF in Nick Jonas, and the mini-scandals to prove it.
In 2008, she first faced criticism when, at 15, she posed for Vanity Fair with her back fully exposed while wrapped up what appeared to be a satin bedsheet. She apologized, but clearly was given a warning by Disney, with Gary Marsh, the president of entertainment for Disney Channel Worldwide, saying, "For Miley Cyrus to be a 'good girl' is now a business decision for her. Parents have invested in her a godliness. If she violates that trust, she won't get it back."
(In 2018, Miley retracted her apology for the photo shoot, tweeting a cover of the New York Post's sensationalized cover: "MILEY'S SHAME." Taking back her narrative, she wrote, "IM NOT SORRY F--k YOU #10yearsago." She also talked about issuing the apology during an appearance on Jimmy Kimmel Live, explaining, "I'm sure somebody told me to. But you know what? That's why I don't do what people tell me to anymore, because that idea sucked!")
Frazer Harrison/Getty Images
But a few months after the Vanity Fair controversy, Miley was once again in the news after her phone was hacked and racy photos of her were leaked, and in 2009, she raised eyebrows when she took a spin on a stripper pole during a performance of "Party in the USA" at the Teen Choice Awards. 
Clearly, Miley was trying to rebel, which was made clear when she released "Can't Be Tamed" in 2010, just as Hannah Montana was coming to an end, with the then 17-year-old explaining it was about "being in a cage and people looking in at you."
While filming the fourth and final season of the hit series, the Cyrus family was falling apart—privately and publicly. 
Billy Ray filed for divorce from Tish Cyrus in October 2010, with the couple releasing a joint statement at the time: "As you can imagine, this is a very difficult time for our family. We are trying to work through some personal matters. We appreciate your thoughts and prayers."
But he later revealed to GQ that production was anything but fun on the sitcom during its final run of episodes, saying, "It was a disaster. I was going to work every single day knowing that my family had fallen apart, but yet I had to sit in front of that camera. I look back and I go, How did I ever make it through that? I must be a better actor than I thought."
Larry Busacca/Getty Images
Aside from her parents' split after 17 years of marriage, Miley was also dealing with another scandal when a video of the star allegedly taking a bong hit and then having what she described as "a little bit of a bad trip" appeared online around the time of Miley's 18th birthday, with the pop star later telling Marie Claire, "I'm not perfect...I made a mistake. I'm disappointed in myself for disappointing my fans." 
Stephen Shugerman/Getty Images for HRTS
A month after the series finale of Hannah Montana aired, with Miley choosing to go to college with her BFF Lilly over filming a movie, Billy Ray gave a bombshell interview to GQ, revealing the bitterness he felt toward the show and the people surrounding his then-18-year old daughter, who allegedly told him the salvia video leak was "none of his business," before it came out. 
"It destroyed my family. I'll tell you right now—the damn show destroyed my family," he said. "I'd take it back in a second. For my family to be here and just everybody be okay, safe and sound and happy and normal would have been fantastic. Heck, yeah. I'd erase it all in a second if I could."
He went on to reveal some of the strain in his relationship with his daughter, saying he was "scared" for her. 
"I want to get her sheltered from the storm. Stop the insanity for a minute. When you go through what she's been through, it takes a beating on you," Billy Ray, who went on to reconcile with Tish a month after the article was published, said.
But just a week later, he was trying to do some damage control, going on The View to say that things with his family is the "best they've ever been" and he had no ill will toward Disney.
DISNEY CHANNEL/ISABELLA VOSMIKOVA/Broadimage/REX/Shutterstock
Clearly, Miley was not the only one trying to navigate life—both professionally and personally—after Hannah Montana.
While Miley initially stuck to more family-friendly films like LOL and So Undercover as her Hannah Montana follow-ups, she was starting to experiment musically leading up to the release of her 2013 album, Bangerz. 
At the time, a source told E! News that Miley's fourth studio album was going to be "very adult and sexy and believable," with the insider going on to say she was "having fun making music" for "the first time in her career."
Miley said as much in an interview with Billboard ahead of the album's release, saying, " I want to start as a new artist. I consider my upcoming album my first, really."
Teaming up with Mike Will I Made it, Pharrell Williams and will.i.am among others, Bangerz had a hip-hop influence, a far cry from her days singing cutesy pop songs. 
"Right now, when people go to iTunes and listen to my old music, it's so irritating to me because I can't just erase that stuff and start over," she said. "My last record I feel so disconnected from – I was 16 or 17 when I made it. When you're in your 20's, you just don't really know that person anymore."
Melissa Hebeler/E! Illustration
And if people couldn't tell just by listening to her music that Miley was changing and evolving, she was making damn sure they knew when they saw her performing.
Not only did she chop off her famous locks, opting for an edgy supershort and bleached blonde 'do, she started wearing NSFW outfits and took on a new habit of sticking her tongue out seemingly 24/7. And then there's the twerking.
In August 2013, Miley took the stage at the 2013 VMAs for the most-talked-about and controversial performance of the night, thanks to her grinding on Robin Thicke. 
Think pieces were written. Hot takes were tweeted. And the Parents Television Council was not entertained. 
"When Walt Disney was running the company, it would have been unthinkable that a former Disney star would go this route," Melissa Henson, director of communications and public education for the PTC, said in a statement at the time. "I can't imagine any parent, knowing what Miley's current stage persona is, letting their child get too attached to the 'Hannah Montana' character. So for that reason, Disney may find themselves forced to retire the character all together."
Miley? She didn't really care about the backlash. In fact, she embraced it. 
"I don't pay attention to the negative because I've seen this play out so many times," she said to MTV. "How many times have we seen this play out in pop music? Madonna's done it. Britney's done it. Every VMA performance, that's what you're looking for; you're wanting to make history."
And when she hosted Saturday Night Live soon after, she wanted to make it crystal clear: Hannah Montana was officially dead.
"I don't apologize for my VMAs performance. If I owe anybody an apology, it's the people who make the bottom half of shirts," she told the crowd in her opening monologue. "There are a few subjects I'm not going to get into tonight: I'm not going to do Hannah Montana, but I can give you an update. She was murdered.
RIP!
Phillip Chin/Getty Images
All of the controversy paid off, Bangerz debuted at No. 1 after its release in October, producing massive hit singles like "We Can't Stop" and "Wrecking Ball," with Miley memorably posing naked on a wrecking ball for the music video, which quickly became a meme. 
With Bangerz, Miley said she wanted to be "memorable," with the then 20-year-old achieving that goal: MTV named her its Artist of the Year, she went on a world tour, which became one of 2014's highest grossing tours ( $62.9 million). After calling off her engagement to Liam, Miley's love life played out in the tabloids, with the star eventually revealing she identified as pansexual. She got into a public feud with Nicki Minaj, introducing the world to the phrase, "Miley, what's good?" She was becoming an icon.
But then Miley did something no one saw coming: she disappeared, retreating to Malibu, reconnecting with Liam and coming to terms with her past selves. 
"There's so much I don't remember about being a child entertainer because it was so much to keep in my brain. It's like anything when you are in it. I didn't realize how much pressure I was under and how that shaped me until, like, this year," she told Harper's Bazaar in 2017, ahead of the release of her new album, Younger Now. 
And she was finally embracing the show and role that made her famous before she even had a driver's license: "Now I can be proud of all the Mileys that I've ever been instead of trying to run away from the 11-year-old one or feel like I'm not Hannah Montana. I am stoked that that was a part of my life," she told MTV.
It wasn't just her squeaky clean Disney Channel image she was reflecting on though, admitting that her Bangerz-era persona also eventually began to feel like an act, something that was "expected" of her. 
I didn't want to show up to photo shoots and be the girl who would get my tits out and stick out my tongue," she told Harper's Bazaar. "In the beginning, it was kind of like saying, 'F--k you. Girls should be able to have this freedom or whatever.' But it got to a point where I did feel sexualized."
It became comparable to how she felt during her time on Hannah Montana, with Miley saying she was surprised people weren't as shocked over her Disney days as they were her during her time spent twerkin'. 
"People were so shocked by some of the things that I did," she explained. "It should be more shocking that when I was 11 or 12, I was put in full hair and makeup, a wig, and told what to wear by a group of mostly older men...It's no wonder that a lot of people lose their way and lose who they really are because they always have people telling them who to be."
While the softer and more folksy Younger Now wasn't as successful as Bangerz, debuting at No. 5 in its 2017 release, Miley still seemed content with just being Miley. "I'm not afraid of who I used to be. No one stays the same," she told MTV.
And she fully embracing the impact Hannah Montana had on her and its loyal fanbase, even if she could look back on her four years on the show with an adult perspective. 
"I think now that I'm older, now I realize that's a lot to put on a kid. It's a lot to put on a kid to have them have to go get their makeup done and also balance school and also have me dress up in a wig as a kid is a little weird—it's a little Toddlers & Tiaras," she said on CBS News, adding, "I loved being that character." 
But she was also brutally honest about the toll her playing Miley Stewart and Hannah Montana had on her while she was still trying to figure out who Miley Cyrus was. 
"I was made to look like someone that I wasn't," she told Marie Claire, "and then when I wasn't on that show, it was like, 'Who the f--k am I?'"
Working 12 hour days, "Every morning, I was getting coffee jammed down my throat to wake me up," Miley revealed. "I just had to keep going, be tough, be strong. Everything happened to me on that set."
While fans saw a goofy and care-free pre-teen on screen, Miley was experiencing "anxiety attacks" and "hot flashes" while on set or before performances, and even got her period for the first time while shooting an episode in which she had to wear white pants. 
"It was so embarrassing, but I couldn't leave," she recalled. "And I was crying, begging my mom, 'You're going to have to put the tampon in. I have to be on set.'"
By the 10th anniversary of Hannah Montana's series premiere in 2016, Miley was able to joke about and honor her alter ego. 
After joking that Hannah was "chopped up into little tiny pieces" and buried in her backyard, she posted a heartfelt tribute to the show on Instagram.
"Sending love to all my cast members on this anniversary," she wrote. "To the world it's a celebration of 10 years but for us the journey began way before the world had any clue who the f--k any of us are."
She continued, "Our love for each other was unquestionable....even though I feel disconnected to who I was at that time I will always feel eternally grateful for the opportunity and platform I was given .... None of it would have been possible with out every single person who ever contributed to the series."
So she was still coming to terms with Hannah at that time. But three years and a secret marriage ceremony to Liam later, Miley has come to fully embrace the wigged-out pop star in the most refreshing and hilarious ways. 
During her appearance on Vh1's RuPaul's Drag Race, Miley was more than happy to have her Hannah Montana past come up, with the bottom two drag queens even being asked with lip-syncing to the fictional pop star's hit song "The Best of Both Worlds," which she fully rocked out to as the contestants performed. When RuPaul asked, "Hey, whatever happened to her?" Miley quickly joked, "A lot of drugs." 
In late March, Miley decided to give her fans the ultimate throwback, getting a new 'do that was clearly Hannah-inspired but with a punk twist.  
"You know guys, it was so hard going back and forth that I decided to just be Hannah forever," Cyrus said. "She was getting a lot of press this week—thanks to me." 
That press would be Miley's many social media posts directly referencing the character, including videos of herself rocking out to some of her character's biggest hits, including "The Best of Both Worlds" and "Nobody's Perfect." ("Except me, of course," she added after the latter.) 
She also wasn't shy about sharing .GIFs and memes of Hannah. 
The ultimate post though? Miley's take on the #10YearChallenge. 
Oh, she's just being Miley...no apologies required.