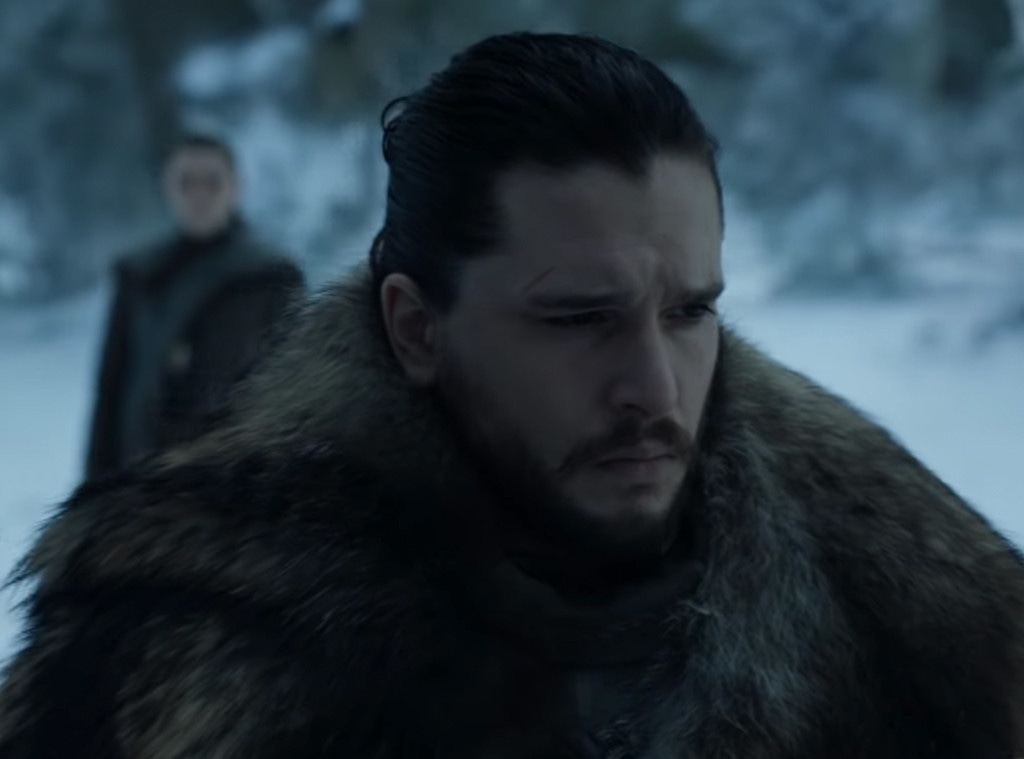 HBO
We're less than a week away from the return of Game of Thrones, and HBO knows we're desperate for that Westerosi content. 
The network released a whole bunch of videos featuring interviews with the cast, all about their favorite scenes and memories from the set and what it would be like to say goodbye to their characters. All the videos are great fun, but particularly the ones featuring the Stark family, because they also feature interview footage from their first and second seasons almost 10 years ago. 
It's quite the blast from the past, and if you're ready to get emotional about this show ending, it might just be the perfect thing to get you started. 
We went through and watched every video and compiled the most fun behind-the-scenes stories offered up by the cast, including some of their favorite actors to work with and their favorite scenes, or maybe even the scene that first really messed them up and knew what kind of show they were in for. 
1. Kit Harington's favorite actor to work with is, no surprise, his eventual wife Rose Leslie. 
"There was something really special about working with Rose. She is one of the best actors I've worked with, one of the most instinctual, and we really had a great chemistry together, I think." 
2. Jon Snow's death shocked and confused Harington, because normally actors on the show would get a call from the executive producers before they read about their deaths in a script. 
"I never got that call, so I was a bit like, surely they'd have given me that call, but yeah, they left it until a couple of weeks before. They kind of pulled me aside and went, yeah, you're not dead." 
3. Emilia Clarke's first day on set involved riding a horse through a bamboo forest in the rain, and she kept falling off. 
"I'm holding on for dear life, and I just remember shouting, 'Please stop filming!'" Clarke says, demonstrating how she collected herself. "Turn around and I'm like, Oh my god, there's like the whole crew, and I just cried. That was my first day on Game of Thrones."
4. Lena Headey's choice for what she'd like to take from the set is a bit unusual, and goes all the way back to a season four episode where a knight had angered King Joffrey, so he was turned into a fool, made to juggle and wear a silly hat. 
"Do you remember Dontos, who was like the clown?" Headey says. "I've been begging [costume designer Michele Clapton] for ages--he had this amazing hat that she made, that I'm still obsessed with, but I think it's gone somewhere. Every year, I was like, can I just have it, and she's like no. But that's the one thing I would love to have. That hat." 
5. Jaime was almost naked in that pilot scene when he pushed Bran out the window. 
"The final scene of episode one, we shot that in three different versions," Nikolaj Coster-Waldau says. "One where I was butt naked up against the wall with this very sweet local body double, and another where I was on the ground, and a third one...it was various levels of nakedness. I think we ended on a fairly dressed version with I think was definitely the right choice." 
6. Robert Baratheon required a ladder to get down from his horse because his robe was too large, Coster-Waldau says. 
"I do remember this moment where the king rides in on horseback, and he has to get off his horse and it's like a very powerful moment. But because Mark Addy, who played Robert Baratheon, his robe was enormous. I mean there was no way you could get off the horse in an elegant way." 
The king would ride in on the horse, the scene would stop, a ladder would be carried in, Addy would get off the horse, and the ladder would be carried out. 
7. Maisie Williams' first day on set was when she got to flick pigeon pie at Sophie Turner.
"They were saying, can you just like try and get it like right on her cheek? And I just remember thinking, you want me to actually aim it? Like this is the movies, can't you make it happen? I remember thinking, maybe they're going to fire me because I can't get it right. But they didn't." 
8. Williams and Turner really liked to mess around on set (especially when they could play with Bran's wheelchair), and Williams remembers a specific scene where Arya is grilling Sansa, and the two sisters are going off on each other. 
"That day on set, I've never laughed so much in my life. It was so much fun," Williams said. "She's my best friend. I mean like, who else gets to go to work with their best friend? 
Turner named the same scene as her favorite day on set.
"We actually shot that reunion and it was the funniest most difficult day of shooting ever because we couldn't keep it together," she said. 
9. Turner was most shocked by Ned's death, and it affected her kind of in the same way it affected everybody else.
"From then on I started to distrust the show as to like whether they'd kill my favorite character or not," she said. 
10. They may have had a bad relationship on screen as father and son, but off screen, Charles Dance and Peter Dinklage got along great. 
"I miss Charles Dance, who played my father, Tywin Lannister," Dinklage says in his video. "We had such a great chemistry and a great friendship." 
11. Peter Dinklage's first reaction to being pursued for a fantasy show was "Ugh, no." 
12. Remember the smoke baby? Liam Cunningham, who plays Davos, certainly does. 
"Looking at the monitor, and seeing this beautifully lit picture of Carice [Van Houten], in this very strange setting and position, and I was struck by how much like a Caravaggio it was. Like a Renaissance painting," Cunningham says. "It was regarded when it was seen as one of the bizarrest things ever seen on television. It was pretty bizarre to film as well, I can tell ya. I shouldn't imagine I'll be filming anything like that ever again in my life." 
13. While John Bradley went to drama school, it was a theatrical drama school, so he had only done about three hours in front of a camera before his first day on Game of Thrones. 
"That whole first sequence was the bit where I've just arrived at Castle Black and I'm training, so over the course of the first three days, it was about pretending to fight badly, or really fighting badly but pretending to be even worse than I am and getting beat up. So as baptisms of fire go, that's the one, really." 
14. Isaac Hempstead-Wright also had no acting experience before Game of Thrones, and his first day was a lot. 
"We went to this beautiful forest in Northern Ireland but it was perhaps the rainiest day I'd ever experienced in my life. I was there with my mom. We sort of finished the day and I'm like, oh my god, I don't think I can do this. It's just rain and stress. But thankfully it cleared up the next day, and I was like actually this is the best, I'm really enjoying this." 
Game of Thrones premieres this Sunday on HBO.