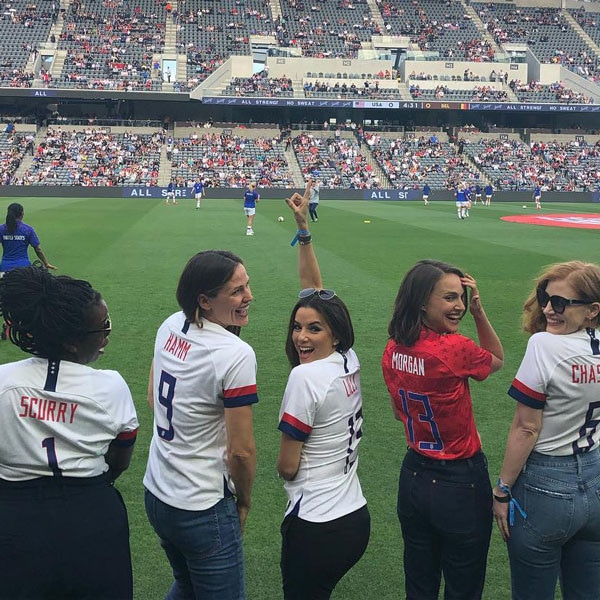 Instagram
Celebs showed their support for the United States women's national soccer team over the weekend.
On Sunday, Jennifer Garner, Eva Longoria, Natalie Portman, Uzo Aduba and Jessica Chastain were among the stars in attendance as the United States took on Belgium in Los Angeles. The squad of women, who have been major supporters of the Time's Up initiative, were spotted with the athletes from the 1999 World Cup at the weekend game.
Garner, Longoria, Portman, Aduba and Chastain all donned jerseys at the sporting event.
"#TIMESUP is proud to join @uswnt and women players from the 1999 World Cup at the U.S. vs. Belgium soccer game," a message on the Time's Up Instagram read Sunday, along with photos from the game. "It's time for U.S. Soccer Federation to pay their women players what they deserve."
"In March, 28 @uswnt players filed a gender discrimination lawsuit demanding equal pay," the message continued. "Today, women from across industries are banding together to say #TIMESUP on the gender pay gap - from the soccer field to every workplace."
Portman also took to Instagram on Sunday to post a squad photo from the game. She captioned the post, "Had the best time watching @uswnt - the incredible US women's soccer team-absolutely crush it with the best crew @uzoaduba @jennifer.garner @evalongoria @jessicachastain."
The United States went on to defeat Belgium 6 to 0 at the game.