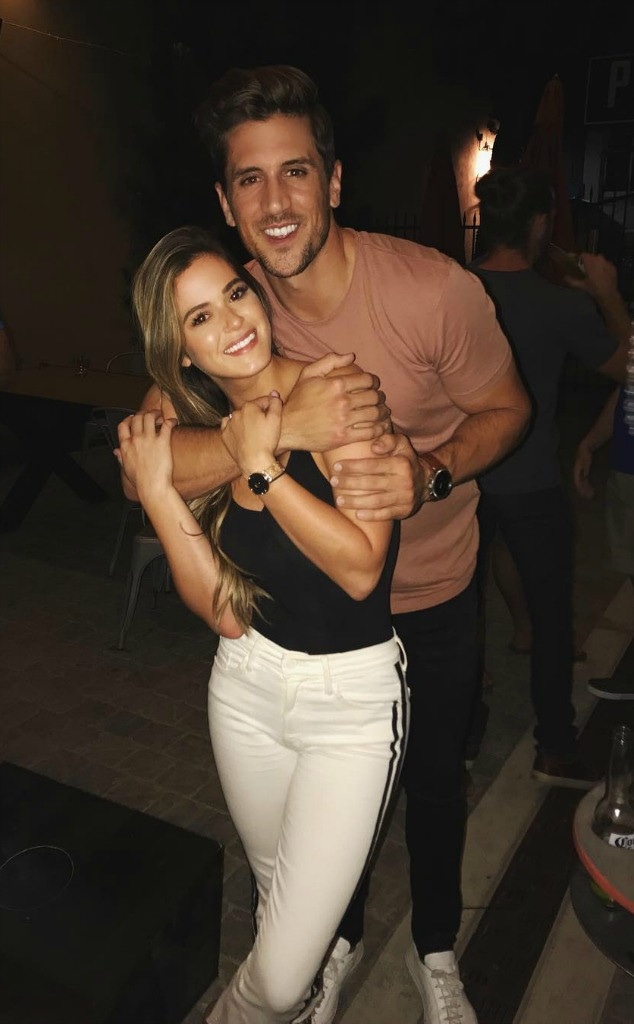 Instagram
Jordan Rodgers and JoJo Fletcher traveled to Nashville over the weekend to celebrate a family wedding, but one sibling was noticeably absent.
The Bachelorette winner posted an Instagram photo on Sunday that showed him smiling alongside his fiancée, his brother Luke Rodgers and Luke's new wife Aimee Wathen (congrats!). 
"Wedding Day for these two! Couldn't be happier to add a sister to the family!" Jordan captioned the image. "@joelle_fletcher we are up next!"
Bachelor Nation is more than ready for that wedding to take place.
Over the weekend, Luke posted a photo of some of his friends from his "rehearsal for the best day of my life" and once again, the Green Bay Packers quarterback was not in the photo. The fact that he wasn't there, however, is not all that surprising given the long-simmering tension in the family.
Aaron, Luke and Jordan's father Ed Rodgers spoke to the New York Times in 2017 about fame and the toll that it has taken on the Rodgers family.
"One in the news is enough for us. Fame can change things," he told the paper.
According to Bleacher Report, Aaron has not spoken to his family since 2014, not long after he started dating Olivia Munn. They're no longer together and now the football star is dating Danica Patrick.
Aaron has remained rather mum about the rift in his family. In 2016 when Jordan was competing for JoJo's heart on her season of The Bachelorette, the 35-year-old told local station WISN one day that he didn't watch the show and it "hasn't affected me that much."
"As far as those kinds of things go, I've always found that it's a little inappropriate to talk publicly about some family matters, so I'm just—I'm not going to speak on those things," he added. "But I wish him well in the competition."
During JoJo and Jordan's hometown date in Chico, Calif., Luke opened up a bit about the family's frayed relationship with Aaron. 
"It's something we don't really like to talk about a lot. It pains both of us not to have that relationship. We miss our brother," he said. "We just are trusting that God brings things full circle. And just wish that everything would just get back to us being a family."
JoJo, knowing that Jordan's brother was an All-Star football player, assured everyone during her season that Jordan's family tree had nothing to do with her feelings for him.
She said during one episode, "I know who Jordan is. And I know who he is to me. He is nobody's brother. He is a man that I am falling in love with and I am crazy about."
Isaac Brekken/Matt Winkelmeyer/Getty Images
Jordan threw some major shade at his big brother over Thanksgiving when Aaron tweeted a message about raising money for people who lost their homes in the Paradise, Calif. fires. Aaron tweeted, "In Northern California—where I was born and raised—the city of Paradise burned to the ground and many of the residents that got out are now displaced in my hometown of Chico and across the state. I've personally reached out to my friend and the Mayor of Chico to find out how to be of the most help."
The 30-year-old urged his Twitter followers to donate to the cause as well but then called Aaron out for his message. "PLEASE DONATE, SPREAD AWARENESS & SEND LOVE," Jordan wrote. "But when your own Mom is home alone during the fires, car packed ready to evacuate, & you miss the fundamental first step of compassion; calling your parents to make sure they are safe....Everything else just feels like an act."
Paul Hebert for iHeartRadio
While Jordan and Aaron's relationship may be turbulent, things seem to be peachy for the engaged couple.
In October, JoJo and Jordan explained to E! News that it wasn't always easy for them but they're "enjoying" taking their time getting to know each other and live their lives together.
"I think the reason why our engagement is long is because we're enjoying this really great place that we're in and loving life together," she told us.
The couple also shed any facades about their picture-perfect relationship during an episode of their show called Engaged With JoJo & Jordan. 
The 28-year-old opened up about a negative comment she received that accused Jordan of "being in it for the wrong reasons."
"Kinda thought the same thing about Jordan when I met him, and it was a struggle the whole time we were together. I knew how great we were, and how much I cared for him, and I was falling in love with him, but there was something," JoJo said on the show. "So this was an example of where I totally judged him."
She added, "The whole time I had this thought in the back of my head like, 'Dude this guy's gonna leave me broken hearted.'"
It ended up being such a positive decision, though, because JoJo said that her fiancé has been "the safest thing that I have ever experienced in my whole life."