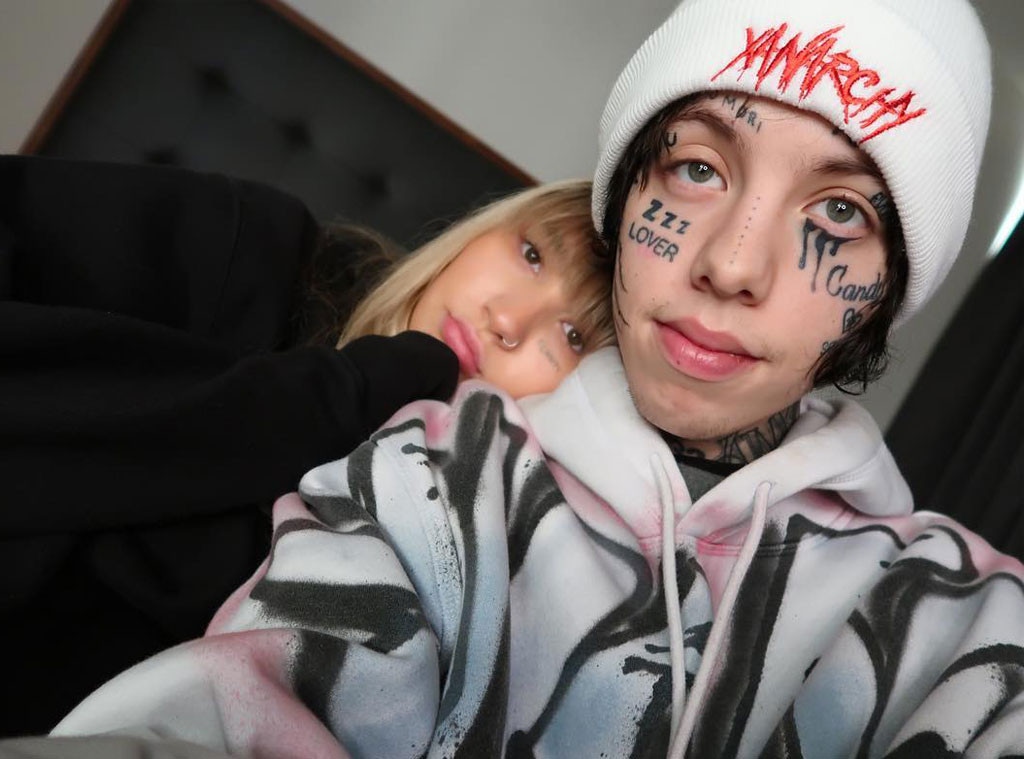 Instagram
Lil Xan's fiancée Annie Smith shared some heartbreaking news on Saturday.
Annie posted a series of videos and photos on Instagram and revealed that she had a miscarriage a little less than two months after announcing she and Xan were expecting their first child together. She wrote a long caption that was dedicated to their baby and explained that the videos were taken "the first day we met and the first few months we knew each other."
She continued, "the moment i met you i knew you were special. i fell head over heels in love with you and only love you more and more every single day. i didn't know it was possible to feel this way about another human."
Annie called the opportunity to start a family "the most magical, beautiful blessing God has given me."
She then said, "today i feel a hurt i never knew existed. a pain that comes from my soul."
Annie continued her post in an elegiac manner and talked about her physical and personal experiences over the past few months. "to my beautiful angel, mommy loves you more than she ever knew possible. you have made me the happiest woman in the world knowing i had the chance to be your mommy," she opined. 
"Feeling you grow inside my body has been the most special gift i have been given, my prayers were answered with you. i wish more than anything that i could meet you, hold you and love you," Annie wrote. "teach you all the beautiful things in life and show you the world. i wish you could've known how truly blessed you were to have a daddy like diego. we love you little angel. always."
The SoundCloud rapper alluded to the news in his Instagram Story on Saturday but didn't specifically mention what happened. 
"Hey guys I'm really not feeling well today," he uploaded to his Story. "I'm sorry if I'm M.I.A. for the next few days, I just need to get my mind right. I love you guys to death."
Lil Xan is currently on tour right now, and Annie has been by his side as they've ventured to far-flung cities like Paris, Munich, Oslo, Prague and so on.
Since the start, Annie and the rapper have been coping with social media trolls and those who have decreed her ultrasounds as fake and other negative comments. She's continued to clap back at negative comments and stand up for herself nonstop.
At one point, she posted a video on Instagram and talked about how she felt the rumors about her were impacting her pregnancy. 
"The fact that it's basically being ruined or tarnished by the Internet is heartbreaking to me and it's really, really hard for me to deal with," she said. "I'm already very hormonal and sensitive and it's just a really hard thing to talk about but I just feel like you deserve to hear from me what's going on because it's clearly been twisted around."
Annie mentioned in that same Instagram Story series that was initially hesitant to share the pregnancy news because of the possibility of a miscarriage. 
"It's just really personal and I was just so excited when I first found out and of course I'm still so excited but I just really want to keep it private between [Lil Xan] and I god forbid something happened," she said. "My worst nightmare is having a miscarriage…I just don't even come on the Internet anymore."
Annie also shared in that video that she was adopted. "My mom who adopted me couldn't have children so I know a lot about things like that. I've had a lot of family members that had miscarriages or things," she revealed.
In February, Annie discussed her relationship with the 22-year-old rapper and the "special bond" that they have.
"We were talking about it really casually for a long time, like we already knew we were going to get married, but we didn't talk about it in too much depth, we just knew it was going to happen eventually," she explained to E! News. "And then we were just at home and he just proposed."
Annie explained that she and Lil Xan, whose birth name is Nicholas Diego Leanos, "have been really close for a long time and we both have always just had a really special bond with each other."
Our thoughts go out to Annie and Lil Xan at this difficult time.