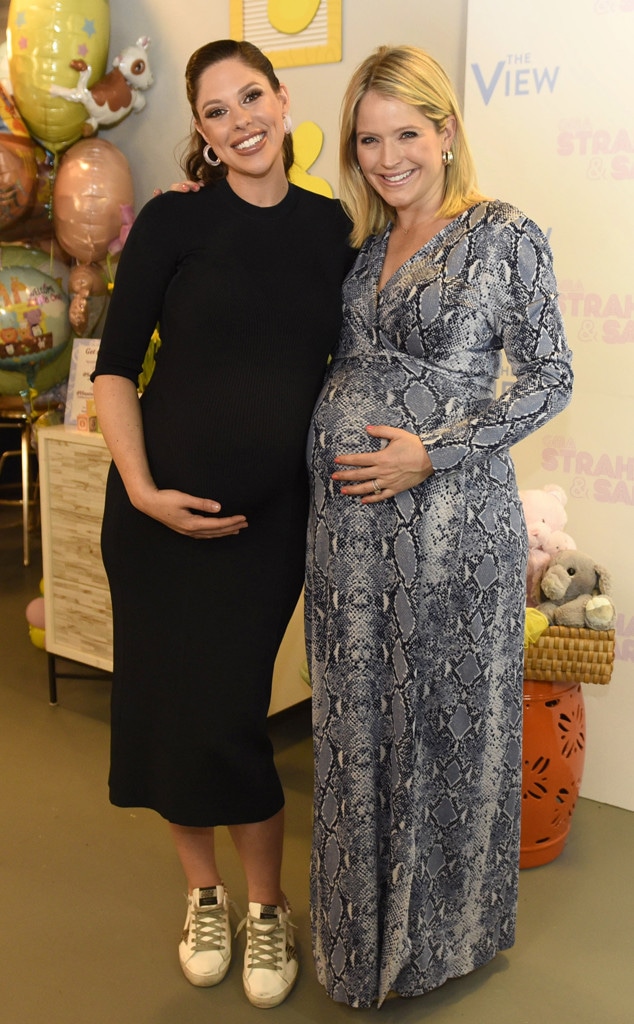 ABC News/Paula Lobo
The View's Abby Huntsman and Strahan and Sara's Sara Haines are getting real about their postpartum depression.
During their duo baby shower, which was hosted by The View, the two TV personalities held an honest discussion about motherhood, their current pregnancy and their experience with postpartum. They both can agree that the "postpartum thing is real."
"I remember sitting in the kitchen crying to my husband, I'm not me right now, I don't feel like me, and maybe I need help," Huntsman tells E! News of her first pregnancy with daughter, Isabel Grace Livingston. "And I got through it, and I was lucky."
She admits that "a lot of women have it a lot harder, and don't have the help," which is why she's "so much more compassionate towards all women that go through pregnancy."
Piggybacking off of The View co-host's sentiments, Haines tells E! News of a time when she felt "so scared" after having her son, Alec Richard Shifrin. She reveals she "had a little postpartum" after having him.
"After I had the baby, I didn't feel anything that everyone describes in their Instagram photos," she confesses. "Right away, people post, 'I just fell in love,' and I looked at my husband and said, 'I don't feel any of that.' And I was so scared."
The Strahan and Sara co-host continues, "As a parent, but specifically as a woman, everyone tells you it kicks in and you're just going to feel a certain way, and you think [she starts tearing up] 'Am I broken? What is wrong with me?'"
"It shocked the s--t out of me," Haines explains of her postpartum depression. Adding, "I think people think that postpartum means you didn't like the baby. Because every story you hear and every movie you see, they want to hurt the baby, and I didn't think any of this, I just thought the baby would be better off without me."
Chiming in, The View co-host says, frankly, "We need to talk about these things more."
Sara is expected to welcome her third child in July with husband Max Shifrin, according to US Weekly. As for Abby? She's keeping her due date hush, hush. However, she did reveal she's having twins, a boy and a girl, with husband Jeffrey Livingston.