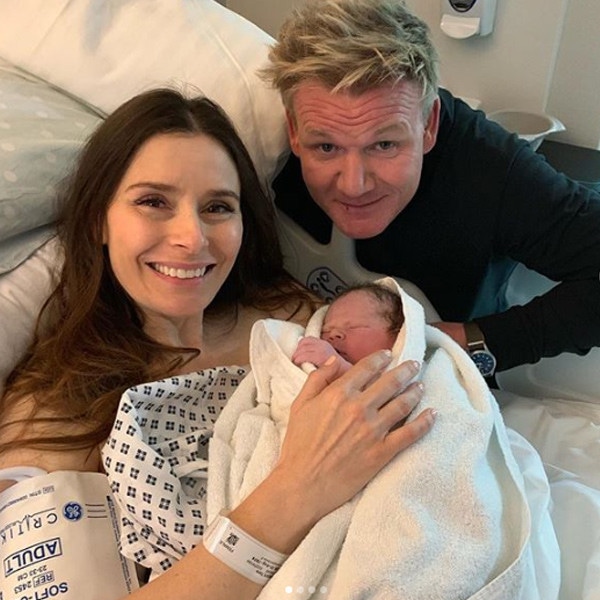 Instagram
Gordon Ramsay is starting the day off with some baby joy!
On Thursday morning, the celebrity chef and Hell's Kitchen star shared some big family news on Instagram.
"After 3 BAFTAs and one Emmy... finally we have won an Oscar," Gordon wrote to his followers while in the hospital. "Please welcome Oscar James Ramsay, who touched down at 12:58 today for some lunch! Xxx."
In the collage of photos, Gordon and his wife Tana Ramsay smile for the camera with their new bundle of joy.
For those who didn't notice, Oscar already has an Instagram created by mom and dad. And yes, 6,000 people have decided to follow in about an hour.
"Congratulations to you both and love to the new little one xo," Hell's Kitchen winner Chef Ariel Fox wrote in the comments section. Master Chef Junior judge Aarón Sánchez added, "Congrats cheffy."
Back in January, Gordon and his wife kicked off 2019 by announcing their family was expanding.
"Exciting news," he shared on Instagram. "Happy new year from all the Ramsay's."
And while the couple kept this pregnancy journey primarily off of social media, daughter Megan Ramsay shared photos from an intimate baby shower last month. 
The latest pregnancy came less than two years after Gordon revealed on social media that Tana had suffered a miscarriage.
At the time, the couple expressed gratitude for the support and well wishes from fans. "We're together healing as a family, but we want to thank everyone again for all your amazing support and well wishes," Gordon wrote in his post. "I'd especially like to send a big thank you to the amazing team at Portland Hospital for everything they've done. Gx."