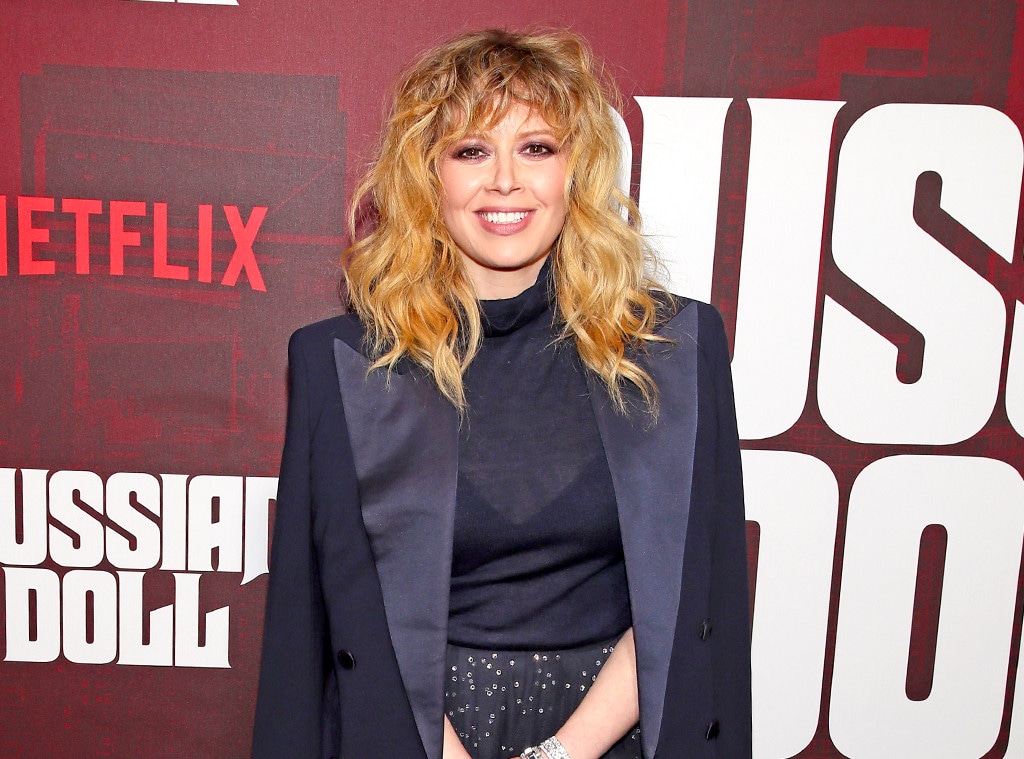 Astrid Stawiarz/Getty Images for Netflix
Natasha Lyonne would be the first to cheerily acknowledge that she was on a real downswing for awhile.
"When I first re-emerged, I was embarrassed to walk down the street. People would come up and say, 'I heard you were dead!'" she told Out in 2013. "But I had to remind myself that a lot of the stuff I went through was pretty brutal. I'm definitely thankful that some of the rough patches are behind me."
At the time she had just started playing a locked-up drug dealer in Orange Is the New Black. The character of Nicky Nichols was, much like Lyonne—and much like almost all of Lyonne's characters over the course of her 20-plus-year career—blunt and sardonically funny.
"What was great was how little research I had to do for the role!" she cracked. "Who'd have thought all those arrests would have been so terrific for my career?"
She kids, for the most part, but as Lyonne celebrates her 40th birthday today having hit her dark-comedy sweet spot with her critically acclaimed new Netflix series Russian Doll, it's remarkable to see how high she's climbed, considering how deep the hole was at one point.
"I hear your thirties are supposed to be good," she told Gothamist 10 years ago. "I heard you come into your own and relax a little. We'll see. I made it—that was the first surprise of 30."
A former child model and Pee-wee's Playhouse tot, her first movie was Mike Nichols' Heartburn, playing Meryl Streep's niece. A decade later she rocketed out of the success gate playing the observant eye of the musical storm in Woody Allen's Everyone Says I Love You, which was followed by her breakout turn in Slums of Beverly Hills and her role as Tara Reid's bawdy best friend in American Pie.
Standout roles in I'm a Cheerleader, Detroit Rock City and If These Walls Could Talk 2 quickly followed, as did American Pie 2 and a scene-stealing turn in the Meg Ryan-Hugh Jackman rom-com Kate & Leopold.
But then Lyonne started to lose her grip on the life she seemed to be successfully building for herself.
"What I most enjoy is my time with myself. I've always sort of been that way," she told Bust magazine for its summer 2001 "Living Single" issue. 
"I moved out at 16 and I went to a high school where I didn't fit in, so it's ironic that I ended up in a business that's all about fitting in. I realized early on that my time with myself—listening to music and going to the park and not going to class—was the peak of my day. As I got older, it didn't change that much. The only time when I don't feel manic or out of sorts or discombobulated is when I'm alone reading or listening to music and just being there in the moment, as opposed to being in someone else's moment."
She had recently broken up with Edward Furlong, whom she met making Detroit Rock City and who by 2000 was making headlines for all the wrong reasons, but she insisted it hadn't been a dramatic split.
"The way the press blow things out of proportion—I think for a lot of people in this business it sort of sucks, because people have real attitudes toward their relationships," Lyonne said. "Not everything is a huge blowout; not everything is this insane intense romance. So yeah, I am still friends with him; there's no one else I lived with for a year and a half."
She enjoyed the companionship, but the idea of heading back out and looking for someone to date did not appeal to her.
"I like company, and because I hate going out—I hate leaving the house, period—if I meet someone I like, I am very likely to stay with him," Lyonne told Bust. "It's not necessarily intended to be some 'long-term relationship,' it's just spending a lot of time with a person I really like, watching movies and lying in bed. I have no real interest in getting dressed up and playing the whole singles game; meeting strangers and finding out about them is just not fun to me." 
She eventually went out, however, and in 2001 was arrested for DUI in Miami Beach (with Adam Goldberg in the passenger seat), the beginning of a parade of headlines that handily overshadowed the work she was doing. (She got probation after making a plea deal in 2002.)
But Lyonne wasn't just distracted by drugs and partying. She ended up suffering serious health issues, landing in intensive care in 2005 with a collapsed lung and suffering from hepatitis C. She spent most of that summer hospitalized.
Dimitrios Kambouris/WireImage
"Listen, I did not think I was coming back," Lyonne told Entertainment Weekly in 2012. "So I didn't really care. When you go as deep into the belly of the beast as I went, there's a whole other world going on and something like show business becomes the dumbest thing on planet Earth."
Moreover, in 2017, inspired to come forward in the days after the allegations against Harvey Weinstein were first reported, she alleged that she was sexually assaulted by a director about 19 years beforehand, when she was 19 and Slums of Beverly Hills had just come out and she was the next big thing.
She wanted more than anything to play Janis Joplin in a biopic the director was planning, and they had their first meeting drinking Southern Comfort at a bar on Sunset Boulevard, Lyonne recalled in an Oct. 15, 2017 Instagram post. She remembered him driving her back to her friend's apartment, where she was staying while in town from New York, and inviting himself up.
"He won I guess," Lyonne wrote. "When we woke up I vaguely remember some form of a goodbye on his part like we'd had a fun night. I was pretty devastated by the whole scene and declined flying back to LA for the screentest. In my head at the time I tried to comfort myself with some of her 'get it while you can' shtick or maybe that one about how 'freedom's just another word for nothing left to lose/nothing, I mean nothing, honey if it isn't free'; beating myself up for not being clear headed, wondering what the hell had just gone down and if I'd allowed it.
"But now, I also think of these words of hers to the young girls unsure if to speak up, in awe of those who already have & to the teenager inside me still questioning if my truth is valid enough: 'Don't compromise yourself. You are all you've got.'"
It's nearly impossible not to think of that experience as having colored a lot of what came after—including her commitment to women's empowerment and LGBTQ rights, as well as the darker moments.
But when Lyonne initially started opening up about her downward spiral, she kept her secret close.
"There was the Talmudic existential question of 'what does it all really mean?'," the actress, who was expelled from a yeshiva high school for selling weed, mused to EW, "juxtaposed with being a really poorly parented teenager in show business." (Her parents took her to Israel for two years and upon their return to New York when she was 10, they divorced, and Natasha was all of a sudden in "a single-parent home and on scholarship," a have-not in a school where the other students were the haves.)
"Spiraling into addiction is really, really scary," she continued. "Some things have a very A-to-B scientific effect. Like, alcohol is a depressant. Cocaine is a stimulant. And then: Cocaine plus heroin is bad! That's the point of my story, that's the moral. Coke plus heroin equals speedball. And speedball equals bad, you know?"
"It's weird to talk about," she added. "I was definitely as good as dead, you know? A lot of people don't come back. That makes me feel wary, and self-conscious. I wouldn't want to feel prideful about it. People really rallied around me and pulled me up by my f--king bootstraps...There was a warrant for my arrest, which helped too."
She was charged in 2004 with criminal mischief, harassment and trespassing for storming into a neighboring unit and threatening to molest the neighbors' dog while renting a unit in a Manhattan town home owned by Michael Rapaport. A warrant out for her arrest to appear to answer for those charges was rescinded because she was in the hospital. Then she went to rehab in February 2006 but a few more skipped court dates resulted in a judge issuing a bench warrant.
When she finally appeared in court that December, the judge agreed to drop the charges due to her ongoing commitment to treatment, provided she stay out of trouble for the ensuing six months. Which she did.
There was a lengthy period of time when Lyonne was so much tabloid fodder, but for all the career dry spells as far as noticeable roles went, she barely ever stopped working when she was upright and able. She has a couple of explainable gaps—no IMDb credits in 2006 when she was focusing on getting sober and had spent half of 2005 very ill, for instance—on her CV, but once she was clean she started churning out indie movies again at a rapid clip.
Gustavo Caballero/Getty Images
And, notably, she took to the stage, with BFF Chloë Sevigny encouraging Mike Leigh to take a chance on Lyonne for his 2007 off-Broadway production of Two Thousand Years, which Lyonne credited for helping her fall in love with acting again.
"What changed [while she was using drugs] is that I didn't wanna work," she told Gothamist in 2009. "I didn't care. Obviously behaving badly doesn't do wonders for your career in any profession, more just on a responsibility level. But more importantly it doesn't do wonders for your soul."
Overall, it felt really good to be out of the woods.
"It feels like that stuff is behind me," she continued. "Time is going by and it feels like I'm going to be all right. It's kind of amazing, ya know? I could have been really screwed. It's kind of amazing to be given the chance to make a living at it again and do good work again after the self-destructive mission I put myself through. And it's kind of amazing that I wanted to do it all again. I went from being a person that didn't wanna live to being a person who's cleaning out my storage space and maybe even taking a macrobiotic cooking class."
She also started to appreciate comedy more (though she was primarily known for comedies), telling EW, "I believe in comedy. The cleaner I got, the funnier things got. Life became crisp, less muted. Though [going to the set] did have that feeling of 'Oh, God, what are they all going to look like? And how embarrassing—after what I've been through, I hope they don't search me on the way in.' And no one did! Everyone was really nice."
But even in 2012 and working steadily against when she talked to EW, she still hadn't landed that big break (or re-break, considering she had broken in 15 years prior) that would announce that she had re-arrived. Which, Lyonne noted, she was fine with. (She also had a steady boyfriend but was intent on keeping that wing of her life private.)
"I don't think I needed my ingenue years," she said. "What would I have done, some more movies? The flip side of taking time away is I really figured out some stuff. I figured out things in terms of quality of life. I'm sure people have reservations about it, but you can't work with everybody. And besides, I don't want to be famous when I grow up. I just want to do good jobs."
A good job came along in the form of Orange Is the New Black, created by Jenji Kohan for the industry-disrupting Netflix, which was just venturing into original programming. 
Being interviewed by Sevigny for Harper's Bazaar in 2014, Lyonne noted the similarities between her and her OITNB character, Nicky Nichols.
"We both use humor as a defense mechanism, and also as our main way to communicate," she said. "And we've both got some family issues and history with drugs and shenanigans. Nicky doesn't get drugs in prison, and I don't have drugs in my life anymore, so we both used substances to cope with life, and no longer do. I definitely relate to that part of her that's had to get accustomed to navigating her own feelings."
Talking about the camaraderie among the cast to the Los Angeles Times in 2016, Lyonne—who has since shared in three SAG Award wins for Best Performance by an Ensemble in a Comedy Series—said, "There's something great about being in my 30s and in this environment of encouraging, supportive women where we all want to do our best together. It feels very fulfilling. It's the kind of common ground you can only find in a group of outcasts and misfits—the power of the outsider. We're like the Bernie Sanders of TV, but, like, six months ago."
"It's been incredible both personally and in terms of my career," Lyonne also said about the Emmy-winning comedy(ish). "It really gave me a full second leg. There had been a lot of things that were slowly bringing me back from the edge. Doing theater was laying a foundation for reclaiming my passion—and relevance—for acting. I had confused it with being this dark experience because of how it had ended the first time.
"So when Orange Is the New Black came along I was ready to be back at work. I felt like the part had so much I could sink my teeth into, especially in terms of being the '70s male actor I've always dreamed of being."
Blair Raughley/Invision for Netflix/AP Images
Around that time she made The Intervention with pal Clea DuVall, which DuVall wrote with Melanie Lynskey, and Antibirth with Sevigny. She also started appearing on her boyfriend Fred Armisen's show Portlandia, which he co-writes and co-stars in with Carrie Brownstein, who in turn directed Lyonne in her short film The Realist Real for a KENZO ad campaign.
Long story short, Lyonne loves when she gets the opportunity to work with her lady friends, and amid all her other varied projects (she had a crossword puzzle published by the New York Times this week!), she teamed up with Amy Poehler and Leslye Headland to create what became the eight-episode Netflix series Russian Doll, which started with an idea Lyonne had kicking around in her head for 10 years.
In the buzzed-about series, Lyonne plays the bitingly funny and increasingly exasperated Nadia, who keeps dying over and over again (yet in diverse and fascinatingly macabre ways) after showing up to her friend's New York apartment for her own birthday party, only to find herself back at the apartment for the same party.
Jason Merritt/Getty Images
"The most major contribution I really gave was a lifetime of shenanigans and deep-diving that set me up well for when I got the call from the extraordinary, mindbogglingly amazing Amy Poehler to create a show together," Lyonne recalled the series' inception to E! News.
"She called me up about seven years ago and she said, 'Natasha, as long as I've known you, you've always been the oldest girl in the world.' And I said, 'what kind of an insult phone call is this, Amy? How did you get my number and what do you want from me?' And she said, 'what I'd like, young miss, is to create a series with you sort of based on something like that concept,' and then I was delighted and more than game." 
She doesn't mind the Groundhog Day comparisons, she told Variety in February, but Russian Doll "probably has a more clear cut, one-to-one addiction metaphor, as far as the idea is deeply personal to me of going from a very disconnected, removed life [where] self-destruction makes the only sense because my behaviors don't impact the world around me to a character who is by circumstance forced to look at this other idea, which is she accidents into a more connected life [and] realizes people are real, including herself." 
And the project came to fruition at just the right time for the by now veteran actress.
"I'm finally so relaxed," she said. "I feel really far from strum and drang of questions about the industry and 'Is there a place for me here?' I'm thrilled to be older—I'm thrilled to be done with being a child actor or a teenage actor or a round two, comeback actor. I'm so glad there are so many battles I've done in this industry that are now over, and I think I just feel such a relief and, in an artistic community, I think I feel really, deeply moved and supported."
Getting a call like that from Amy Poehler did feel validating, she told E! News. "It really does sort of tell your negative, self-critical thoughts to maybe take it down for just a couple of hours, 'cause some good news has come in."
Lyonne has also relished Russian Doll's all-female writers room and having all female directors—herself, Headland and Jamie Babbitt, who directed her in But I'm a Cheerleader—which she acknowledges was fully intentional.
"We started amassing this all female writers ring. And once we were kind of midway there, it was like why stop, let's lean all the way in," she said during a sit-down for Create & Cultivate in March. "Because it was literally just the people that were best for the job happen to be women...So it was really kind of like, surround yourself with your allies. And let's make it just all women writers and directors.
With an eye on playing a character who was universally relatable, "there was something about the way all of these women came together that gender was not an issue, because we were never relating to each other around it. And as a result the characters came out of that."
She's been dating Armisen for almost five years now and she called him "f--king brilliant" at Create & Cultivate.
"He's a huge inspiration and encouraging force in my life," Lyonne said appreciatively. "Watching him make...he made like five TV shows in the time I made Russian Doll. And so I love the men in my life. And I think a lot of them really are sort of more feminist than some of the women in my life even."
She's lived a lot of life since then, but she told Bust back in 2001, when she was 22 that she believed in being with one person (in as much as "there are very few people I want to have anything to do with") and ultimately did want to get married. "And the person that I choose to do that with is going to be very carefully picked, not some sort of flippant romance that feels like the real thing," she said. "I'm going to force it to go to a dark place before it comes to the light of marriage and togetherness."
Getty Images for ELLE Magazine
That might sound extreme, as well as a relic of an idea from Lyonne's I-may-not-make-it-to-30 past, but part of the relaxation she's feeling these days is the acceptance that, after going to pieces, she's not able to put herself entirely back together like new. 
"...It's not a shortcoming in a human life," she said at Create & Cultivate. "It's kind of that sort of the stuff that makes it... that's our grit."
"I really believe in the underlying goodness in the admission of brokenness," she told Laverne Cox for Interview a few months ago, when asked what from her own life had most informed Russian Doll.
"That's very important to me as a value system. I think we'd be a much happier species if we could just all admit how broken we are in so many ways. Then we would really discover that we're actually okay. And that doesn't mean not participating in life—it means having the freedom to participate in life as you actually are."