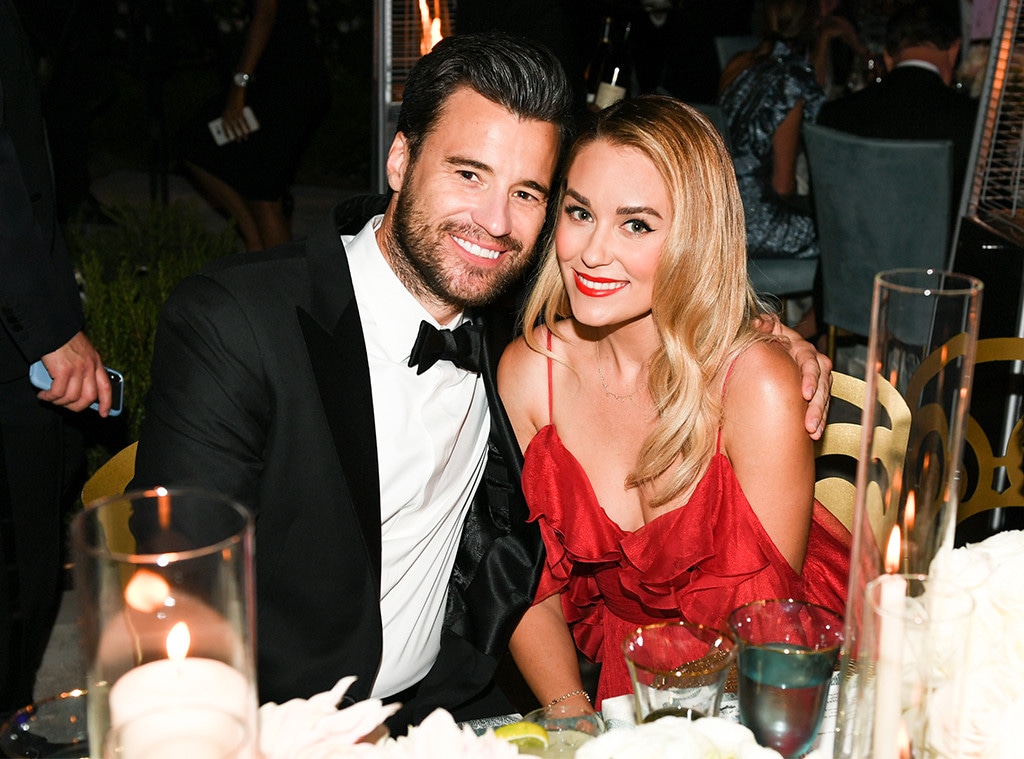 Billy Farrell/BFA.com
Lauren Conrad's family of three is about to turn into a family of four and she couldn't be happier.
The former The Hills star revealed on Instagram on Tuesday that she and her husband William Tell are expecting their second child together. "It's been hard to keep this one to myself! Very excited to share that our family will be getting a little bigger this year," she captioned the picture of herself cradling her growing baby bump.
According to a source, the Little Market co-founder is "due in the fall and very excited to have two babies that are close in age." Conrad gave birth to a baby boy named Liam James Tell in July 2017.
The insider told E! News that L.C. has a full plate and is staying busy, but she's "starting to feel good." The source said, "She's been a bit busy running around after a toddler, running her business and dealing with her first trimester." 
Due to all of the exciting things going on in her life, the source said she "hasn't had much time to prepare." However, she's "looking forward to decorating another nursery and has some ideas of what she would like." Knowing L.C., this second nursery will surely be top notch and expertly decorated.
However, the former Laguna Beach starlet explained to Redbook in an interview in September that her tidy-looking lifestyle isn't always what meets the eye. "It's really funny to me when people have this idea that I have things very put together. My life is a bit of a mess, and I don't broadcast that, but I like it that way," she explained.
According to the source, the 33-year-old's "belly popped very quickly" and she's had "a hard time hiding it." The source said Conrad "wanted to keep the news under wraps until she knew everything looked good, but it was starting to be a challenge."
Conrad initially did not "share the news with many people and she's so glad now that the cat is out of the bag."
So far, the soon-to-be mom of two has not yet announced the baby's sex.
L.C. told E! News in December 2017 that she was still "learning and figuring out what I'm doing" a few months after giving birth to Liam. She also said she was "back on email after a week" and hitting the ground running with her career. Plus, her husband happens to be super supportive. A source told E! News after she gave birth, "Lauren and William have done a great job balancing life and work with parenthood. They're both super hands-on."
As Conrad, Tell and Liam await baby number two, there's one part of her past that she won't be reliving: The Hills reboot. The new version of the show, called The Hills: New Beginnings, will premiere on June 24 and features some familiar faces including Audrina Patridge, Stephanie Pratt, Brody Jenner, Spencer Pratt, Heidi Montag, Mischa Barton and Whitney Port. L.C.'s former cast member Kristin Cavallari is also skipping out on the reboot.
"I really struggled with leaving because I wasn't happy doing it anymore," she told Cosmopolitan in 2015. 
For now, L.C. is focusing on her successful businesses and some major milestones with them. Her Kohl's Collection called "LC Lauren Conrad for Kohl's" is on the verge of celebrating its 10th birthday. It's also nearing Mother's Day, so her non-profit The Little Market will surely be a perfect place to shop for all those holiday needs. It'll be an extra special one for L.C. too as she prepares for the baby.
Plus, she just announced a new Cadence 13 podcast series called Lauren Conrad: Asking for a Friend, which launches May 8.
The first source added, "It's an exciting time for her and she feels very lucky to be expanding her little family."
Congrats again on the pregnancy!