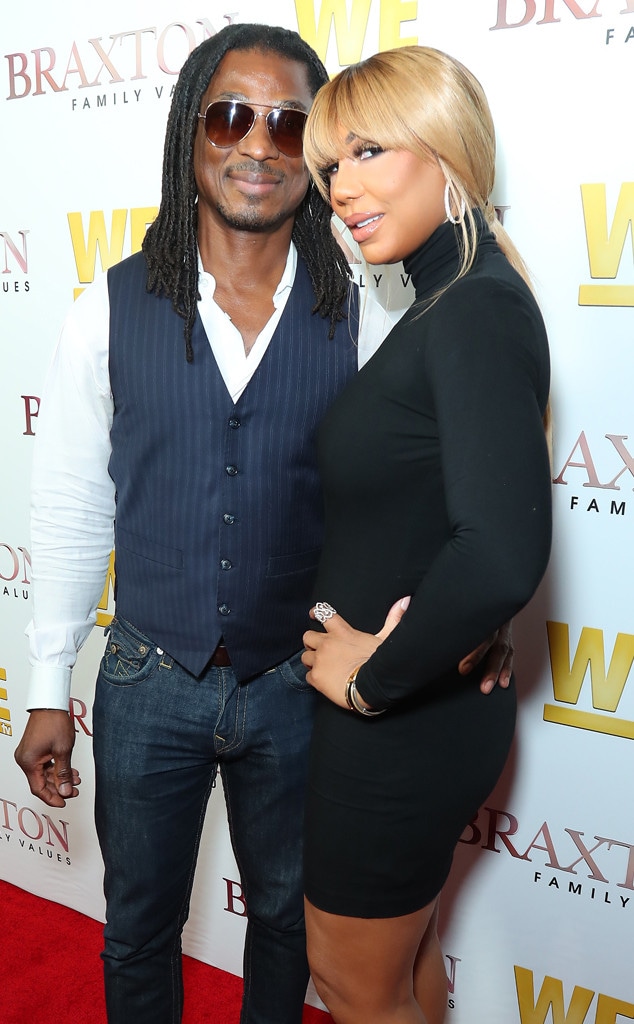 Leon Bennett/Getty Images
Tamar Braxton is ready to reveal her "fine" new man.
Days before Braxton Family Values kicks off a new season on WE tv, one of the reality show's biggest stars celebrated with her boyfriend at a premiere party.
In photographs obtained by E! News, Tamar walked the red carpet for the first time with her boyfriend David Adefeso.
She also made things Instagram official by sharing a photo with her leading man online. "Whew chile," Tamar wrote online to her 3.2 million followers.
So who is this special man making Tamar smile from ear to ear?
"He's so fine I can't take it sometimes. He's like a whole snack, a lunchable," she teased to Wendy Williams during a recent appearance on her talk show. "He lives in LA. He's originally from Nigeria but he lived here for a while. He went to Harvard Business School. He's so amazing. He's so kind."
And in an exclusive sneak peek of Thursday's Braxton Family Values premiere, Tamar gushed to her close friend about David.
"He's wonderful and beautiful and amazing and he smells good and he's like a snack and he's chocolate," she gushed. "So I'm doing just fine with my new ride."
The relationship comes after Tamar and husband Vince Herbert decided to divorce in 2017. They remain focused on co-parenting their son, Logan.
"I wasn't just divorcing my husband, I was divorcing my best friend," Tamar shared in the new season. "I wanna call him, but I can't really do that... I have to let him live his life like he has to let me live my life."
As for how much of David we will see on the new season, you will just have to tune in and find out.
What fans do know is the fact that Tamar is smitten with David. And yes, she somehow survived not seeing him for 30 days when she competed on Celebrity Big Brother.
"He is amazing. Absolutely [in love]! Head over heels like never before. I'm 17 again," Tamar shared on E!'s Daily Pop back in February. "It's amazing. He's fine. It's been a really good eight months."
Braxton Family Values premieres Thursday night at 9 p.m. only on WE tv. And mark your calendar! Tamar sits down with Justin Sylvester for E!'s YouTube series Just the Sip premiering Wednesday April 10.