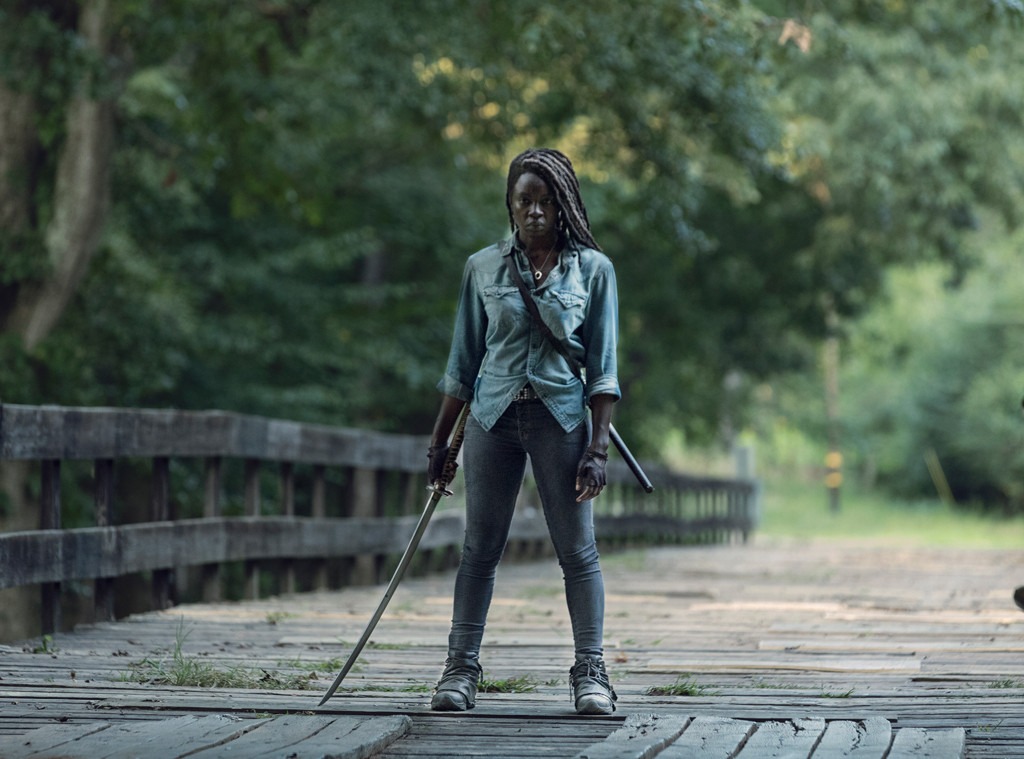 AMC
The Walking Dead ended season nine, a season of change, with a big snowstorm—and no significant deaths (those happened the week before).
The AMC drama featured your favorite zombie apocalypse survivors dealing with grief, battling the elements and getting ready for the next big showdown—the Whispers war. But they might not be going to war alone. In a scene, Ezekiel (Khary Payton) used his Hilltop radio to talk with Judith (Cailey Fleming), but after they finished another voice came through asking if anybody was out there. In the comic book series, that voice comes from a woman in the Commonwealth, another community of survivors who have developed a society based around a class system involving jobs from "before" the dead started walking.
"We always like to have a little bit of mystery for the audience. The radio voice falls in that mold. Any time we have a mysterious moment like this, whenever we have different entities and people come into our characters' world, it's something that's going to turn the story in a new direction. Hopefully it's all something you'll enjoy seeing in the next season," showrunner Angela Kang told The Hollywood Reporter.
While war is coming, and possibly the Commonwealth, The Walking Dead is also gearing up for another big exit with Danai Gurira poised to exit.
"We love Danai. We're so happy for her and the incredible moment in her life and her career that she's having, both in terms of writing and acting. We're hoping to treat fans to a lot of very cool, meaty stories for Michonne. We have seen her character go through an evolution this year. We want to continue having her reflect on the ways to handle leadership in this world," Kangs told THR. "What legacy is she going to leave behind for the other leaders and for her family? Michonne started off as such an isolated individual. She's become someone who has had a giant impact on the other people in the Walking Dead story. That's a story we're continuing to build as we speak. I'm thrilled we get to continue to work with Danai next year, because she's been an amazing part of the show, and such a rock for our group."
As for what's next for the group as a whole in season 10, Kang said expect a time jump—but not nearly as big as the ones that happened in season nine—and the radio voice will come into play.
"We'll find out how this radio voice, what they have to do with our people and their world. We're having fun working on the pieces of this season, so hopefully it will go well. I'm knocking on a lot of wood," Kang told EW.
The Walking Dead will return for season 10 in the fall.