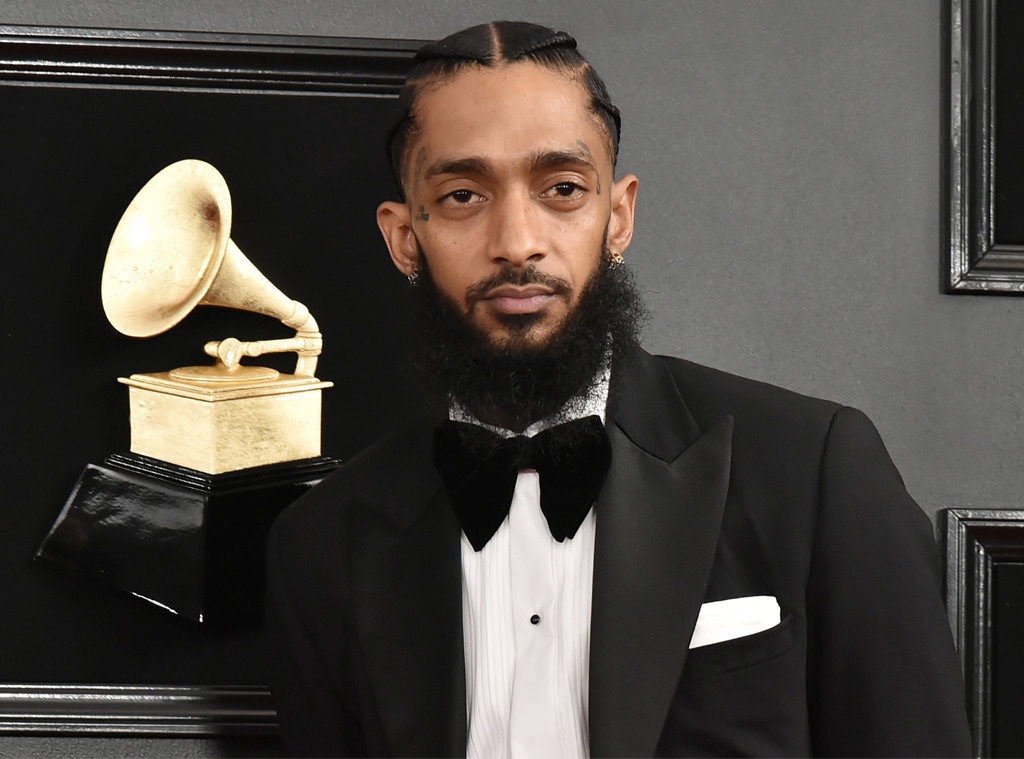 David Crotty/Patrick McMullan via Getty Images
UPDATE: LAPD tweeted on Sunday evening that they are searching for a suspect in the fatal shooting of rapper Nipsey Hussle. "The suspect in the shooting is described as a male black & LAPD South Bureau Homicide is conducting an investigation to locate him and anyone else involved," the department's official Twitter page wrote. "You can expect the area of Slauson & Crenshaw to be impacted by streets closures & heavy traffic for several hours."
Many people have posted videos on social media showing crowds of people gathering around his store in order to pay their respects.
Los Angeles Mayor Eric Garcetti offered his condolences to the L.A. native. "Our hearts are with the loved ones of Nipsey Hussle and everyone touched by this awful tragedy," he wrote. "L.A. is hurt deeply each time a young life is lost to senseless gun violence. My Crisis Response Team is assisting the families coping with shock and grief."
________
The Grammy-nominated rapper Nipsey Hussle was shot and killed on Sunday, multiple outlets report. He was 33.
According to NBC News, Hussle, whose real name is Ermias Davidson Asghedom, was fatally shot outside of his store The Marathon Clothing in South Los Angeles. Los Angeles Police tweeted on Sunday afternoon, "At approximately 3:20 pm there was a shooting reported in the area of Slauson Ave and Crenshaw Blvd. 3 victims were transported to a local hospital where one was pronounced deceased."
The tweet continued, "We have no suspect info at this time and will provide more details as they become available."
Hussle was nominated at the 2019 Grammys in the Best Rap Album category for Victory Lap. He ultimately lost to Cardi B's Invasion of Privacy. 
He posted a cryptic tweet earlier in the day hours before the shooting. "Having strong enemies is a blessing," he wrote.
Many fellow artists and celebrities have taken to social media to mourn the 33-year-old rapper.
"F--k. My whole energy is just at a low right now hearing this. We just linked for the first time in years and said we were gonna do a new song this summer cause it had been too long," Drake captioned a photo of Hussle on Instagram. "You were having the best run and I was so happy watching from distance fam nobody ever talks down on your name you were a real one to your people and to the rest of us. I'm only doing this here cause I want the world to know I saw you as a man of respect and a don. Rest easy my g."
Randy Shropshire/Getty Images for Warner Music
Meek Mill said the loss "broke me." He wrote, "we really fighting for our lives against our own kind and really have to take risk and match the level of hatred that we are born in .. I'm tired. prayers for my brother and his family."
Machine Gun Kelly called the "Racks in the Middle" rapper "one of my favorite artists ever."
Many people, including SZA, Eva Marcille and others also sent their best wishes to his girlfriend Lauren London.
SZA posted on Instagram and wrote, "MY GOODNESS GRACIOUS !!' What a brilliant human ! Omg I can't believe it!! You were SO KIND AND COOL!! HOW!! thank you for always speaking your TRUTH !!!!"
She continued, "I'm so grateful for everything you've ever taught me and ppl like me from just watching your videos and listening to ur music . May God bless your spirit . sending INFINITE love to @laurenlondon and your family."
La La Anthony wrote, "Heartbroken for Lauren and his family. Praying for you guys during this difficult time. it's a sad day for all of us."
Pharrell Williams praised Hussle's worth ethic and personality traits. "You were about something..positive and for your community in every chance you had to speak," Williams tweeted. "..and because of that You inspired millions..millions who will uphold your legacy forever. rest amongst the stars."
Rihanna added, "This doesn't make any sense! My spirit is shaken by this! Dear God may His spirit Rest In Peace and May You grant divine comfort to all his loved ones!"
His record label Atlantic Records expressed their sadness on social media on Sunday night. "Words can not express our sadness. Nipsey was not only one of the greatest artists we worked with but an amazing father & leader in his community. One of the kindest & brightest stars in the universe, he was inspiring to all. We will miss him, his music & everything he stood for," Atlantic Records wrote.  
They said in a subsequent tweet, "Our deepest sympathy, love and prayers go out to his family. May Nipsey Hussle Rest in Peace."
Larry Busacca/PW18/Getty Images for Parkwood Entertainment
Hussle opened his store The Marathon Clothing in June 2017 and called it a "smartstore" that allowed customers to buy products from the store and in turn use an app to hear exclusive content from the rapper.
He explained the concept to Billboard at the time and said that this was a "long time coming."
"We wanted to use a model like Starbucks where there's an experience in it. It's free WiFi, you can come and get some work done. It's jazz in the background," Hussle explained to the website. "While you're sitting down, there's a ton of products around you that cater to the most likely patron that's going to walk into a Starbucks—a college student, a professional who just got off work. The model for this is having that curated experience."
He talked to the Los Angeles Times in 2018 about what it was like growing up in his neighborhood and why he felt it was important to give back. 
"We dealt with death, with murder. It was like living in a war zone, where people die on these blocks and everybody is a little bit immune to it," he told the newspaper. "I guess they call it post-traumatic stress, when you have people that have been at war for such a long time. I think L.A. suffers from that because it's not normal yet we embrace it like it is after a while."
One local resident told the Times, "He did so much for our neighborhood. That's why I'm here today. This has to stop."
The 33-year-old talked about his career with Forbes last year and what being "self made" meant to him. "Being self-made means never making an excuse as to why you can't take steps toward whatever your goal is," he said. "There's always something you can do."
Hussle added, "Being self-made also means being comfortable working with what you have. It's about realizing there are different levels throughout your journey, and you have to be patient. Most people want to skip the process, not knowing that when you skip steps, you miss the lessons."
Steph Curry, LeBron James, Swizz Beatz, Ella Mai, Offset, Issa Rae and so many others mourned the rapper on social media and lamented the loss.
Hussle and his girlfriend have a son named Kross Asghedom. Hussle was also the father of Emani Asghedom, who accompanied him to the 2019 Grammys.
Our thoughts go out to Nipsey Hussle's family and loved ones at this difficult time.
(This article was originally published on March 31, 2019 @ 5:51 p.m.)