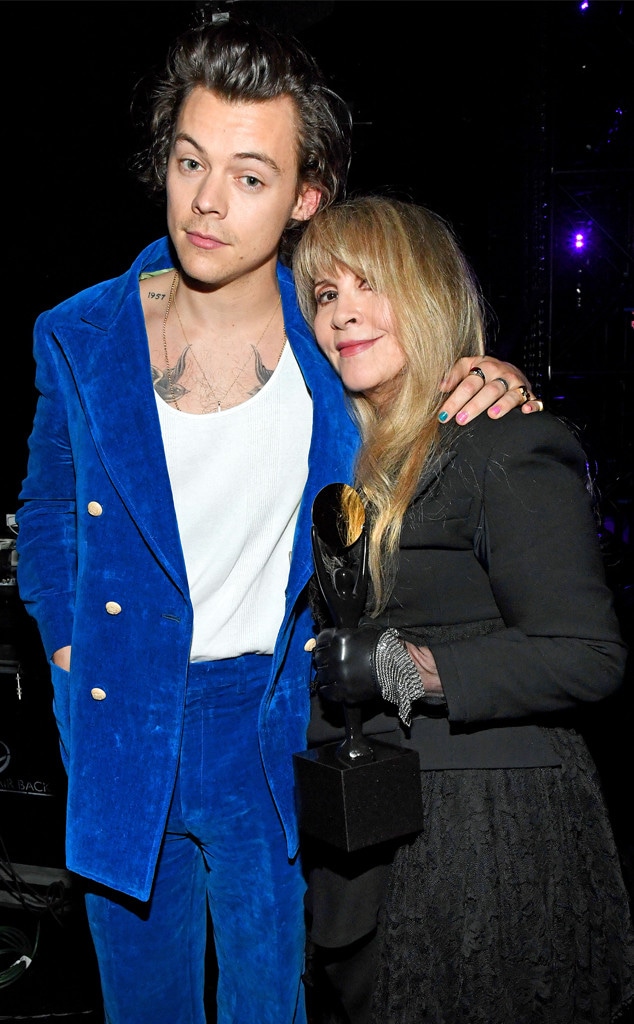 Kevin Mazur/Getty Images For The Rock and Roll Hall of Fame
Harry Styles and Stevie Nicks are making headlines for the funniest reasons. 
On Friday night, the One Direction and Fleetwood Mac singers had the crowd experiencing a vast range of emotions while talking on stage. Styles kicked off the roller coaster of reactions when he introduced the "Dreams" singer in some all-too familiar terms that had audience members scratching their heads. "She is everything you have ever wanted in a lady, in a lover and in a friend," the 25-year-old declared. "Stephanie Nicks, I love you, we all do, and that is true, Stevie." 
How Harry Styles knows about Stevie Nicks' role as a lover, we may never know. 
One thing that is for sure, is that the Brit is a member of One Direction and not NSYNC. The 70-year-old made the simple mistake when she thanked Harry for doing the honor of inducting her into the Rock and Roll Hall of Fame. "When he decided to make a solo record from NSYNC — sorry, not NSYNC," she said, quickly realizing her mistake. "I'm never going to live that one down, I know."
They later performed a medley together that will absolutely rock your socks off. The momentous occasion had even Harry on his knees, bowing down to the musician who made history at the event.
For the first time in the music history, a woman has been inducted into the Rock and Roll Hall of Fame for the second time, which is a pretty big deal. In a statement shared to Twitter, the singer said, "I have a lot to say about this — but I will save those words for later. For now I will just say, I have been in a band since 1968. To be recognized for my solo work makes me take a deep breath and smile. It's a glorious feeling."
Congratulations, Stevie!
To see the singers performance in all its glory, watch the 34th Annual Rock & Roll Hall of Fame Induction Ceremony when it airs April 27 at 8 p.m. on HBO.