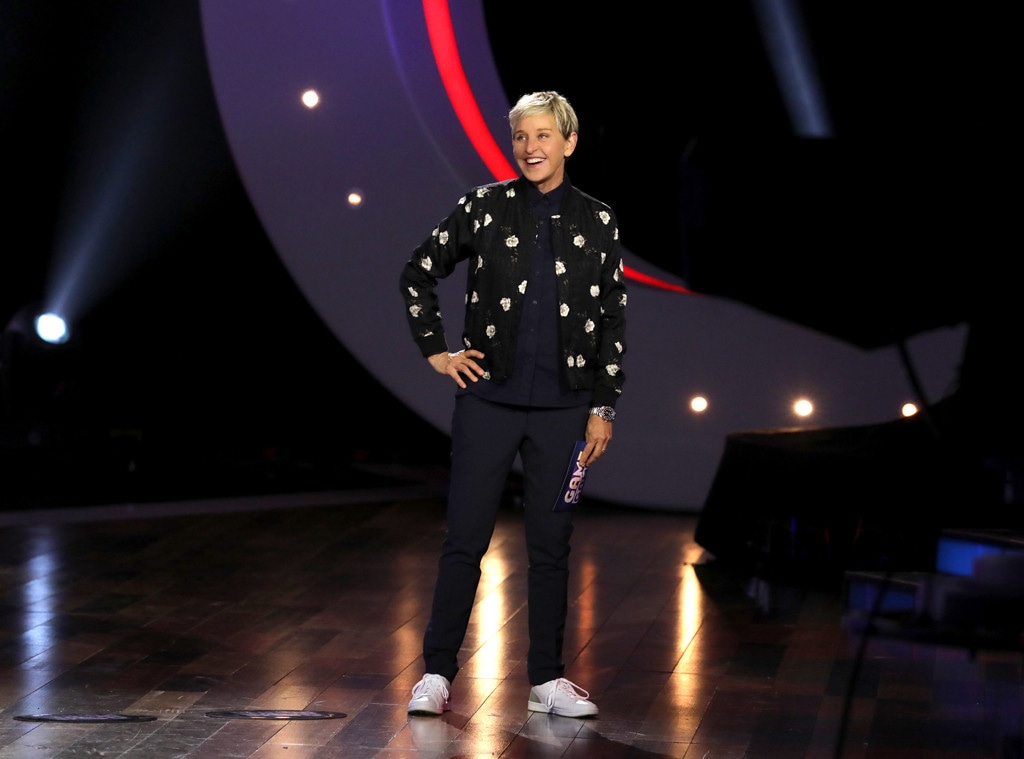 NBC
The 2019 Webby Awards has announced this year's group of nominees. 
Among those selected by the International Academy of Digital Arts and Sciences are celebrities like Ellen DeGeneres, Stephen Curry, Stephen Colbert and more. 
"With all that's going on across the internet it can be easy to miss the bright spots—so we are especially excited to elevate the companies and individuals who are harnessing the internet to make great work, inspire people, and improve the world," said Claire Graves, Executive Director of The Webby Awards, in a press release. "The 23rd Annual Webby Nominees are leading the charge on creating the kind of Internet we want."
Winners will be announced on Tuesday, April 23 and celebrated at a star-studded event hosted by Jenny Slate on Monday, May 13 in New York City. Good luck, and check out the complete list of nominations below! 
Best Branded Editorial Experience (Advertising, Media & PR)
AT&T You Will
The Night Is Young, VOGUE x Estee Lauder
2018 State of Curiosity Report
Daniel and the Sea of Sound
Showtime's Escape At Dannemora, Anatomy of a Prison Break
Best Cause-Related Campaign (Advertising, Media & PR)
Stop Traffick
Save our Species
Project Revoice
Busch x National Forest Foundation
#ExcuseMe
Best Event Activation (Advertising, Media & PR)
Blackout Track
Price on Our Lives
The World's Most Claustrophobic Cinema
Mr Robot: Ecoin
The Flip
Best Host (Podcasts)
Important, Not Important
Ear Biscuits
Conversations with People Who Hate Me
Pod Save the People
Serial Season 3
Best Overall Social Presence - Media/Entertainment (Social)
Deadpool 2 Social Media Campaign
HBO Brand Social Media
The New Yorker on Social Media
The Tonight Show Starring Jimmy Fallon
VICE
Best Use of Mobile Media (Advertising, Media & PR)
The Whopper Detour
Lufthansa "Walk-in Ads"
Threaten Your Spoiler Friend
KFC, Get The Original
Nike Training
Best Web Personality/Host (Video)
Stephen Curry's 5 Minutes From Home Series
First We Feast's Hot Ones
Adam Savage/TESTED.com
Bill Burr's Guide To Driving Etiquette
Real America with Jorge Ramos, Families & Refugees Risk It All On Migrant Caravan
Best Writing (Podcasts)
Stuff You Missed in History Class
Adventures in New America
Serial Season 3
The Memory Palace Episode 125: Snakes!
Masters of Scale
Celebrity/Fan (Social)
The Ellen DeGeneres Show
Watching Oprah: The Oprah Winfrey Show and American Culture
Tha Carter III Anniversary
@ConanOBrien
Power of Young Hollywood
Comedy Shortform (Video)
The Late Show With Stephen Colbert
Mean Tweets, Avengers Edition
Tide CEO: You Gotta Stop Eating Tide Pods, CH Shorts
"How to Write a New Yorker Cartoon Caption: Child-Prodigy Edition"
The Simpsons, "A Tale of Two Trumps"
Entertainment (Apps, Mobile & Voice)
Ellentube
Fandango
Marvel Unlimited
Neverthink
Reelgood for iOS
Music Video (Video)
"This Is America"
"Shallow"
"The Space Program"
"Beyond
"On Your Own"
Fashion & Beauty (Video)
Lady Gaga Explains Why Donatella Versace Is an Icon
Complex's Sneaker Shopping
BEAT. Contour. Snatched. How Drag Queens Shaped the Biggest Makeup Trends
Ansel Elgort, Face to Grace Series
Gigi, Bella, Anwar, and Yolanda Hadid In the Best Looks of New York Fashion Week Spring 2019
Migracam
Clean Swell
THE VOICE OF VOICES
Notable Women
Imaginary Friend Society AR
Experimental & Weird (Video)
MONA The Eye
#GIVEaDAM
Haunting London
LEGO Systems - Ninjago Dragon Cam
Colonel Sanders Cat Climber
Variety (Video)
John Krasinski Breaks Down A Quiet Place's Lantern Scene | Notes on a Scene | Vanity Fair
The Star Wars Show
The Tonight Show Cover Room
V Live, Live V
CHANNEL SURFING
News & Magazines (Apps, Mobile & Voice)
The Guardian App for iOS and Android
Bloomberg Mobile App
CNET: Best Tech News & Reviews
The New Yorker Today app
Reuters News App
Health, Fitness, & Lifestyle (Apps, Mobile & Voice)
Headspace, Alexa
Sleep Sounds for Amazon Alexa
Bedtime Explorers
Nike Coach
Men's Health Minute, Powered by SpokenLayer