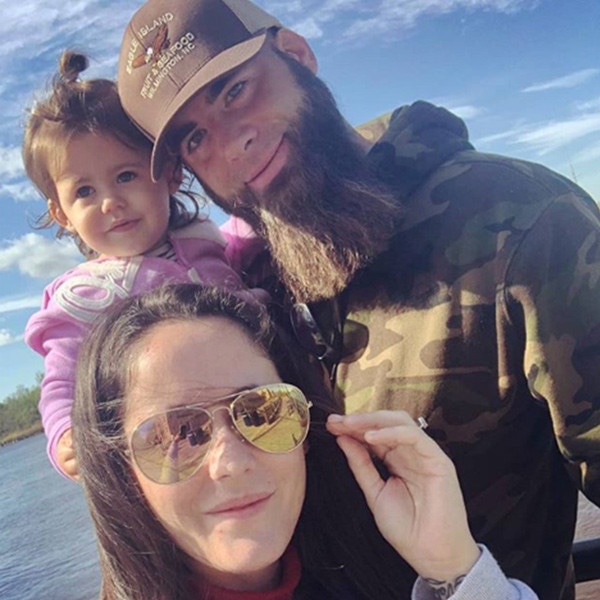 Instagram
Don't believe everything you read, folks.
While Teen Mom 2 stars are no strangers to crazy headlines, one persistent rumor has been surrounding Jenelle Evans and David Eason.
Could the pair be separating and getting a divorce? We went straight to the source to get the scoop.
"Things are fine between me and David," Jenelle shared with E! News exclusively. "I heard since he's not on social media as much we broke up... and tons of other rumors but I just don't post unless I have makeup on and when I don't, I take videos of my animals and kids a lot."
She continued, "When you're married for a while, you don't take Snapchat selfies every day of each other. You're occupied with family and life."
That family includes three growing kids who continue to keep mom busy. According to Jenelle, all of the children are doing great!
"Kaiser just learned all about leprechauns and won't stop talking about it," she shared with us. "Jace is trying to learn BMX biking. Ensley is sassy like crazy and loves to boss around her brothers."
And in between parenting, Jenelle is also preparing for the Teen Mom 2 reunion taping. While a date has yet to be announced, the MTV star warned fans that she's experiencing some health problems that could make it difficult to travel all the way to New York City.
"I've been in a lot of pain, more than usual, for the last two weeks," Jenelle explained to us. "I'm seeing a doctor next week to see what they say about traveling for the reunion but that appointment is also to discuss surgery possibilities."
She added, "I wanted to be honest with everyone now before confirming the trip and cancelling last minute and wasting everyone's time and money… It is really disappointing though because I had other things planned during my trip other than the reunion and this is holding me up from everything."
As they say in reality TV, this is to be continued!
New episodes of Teen Mom 2 air Monday nights at 9 p.m. only on MTV.