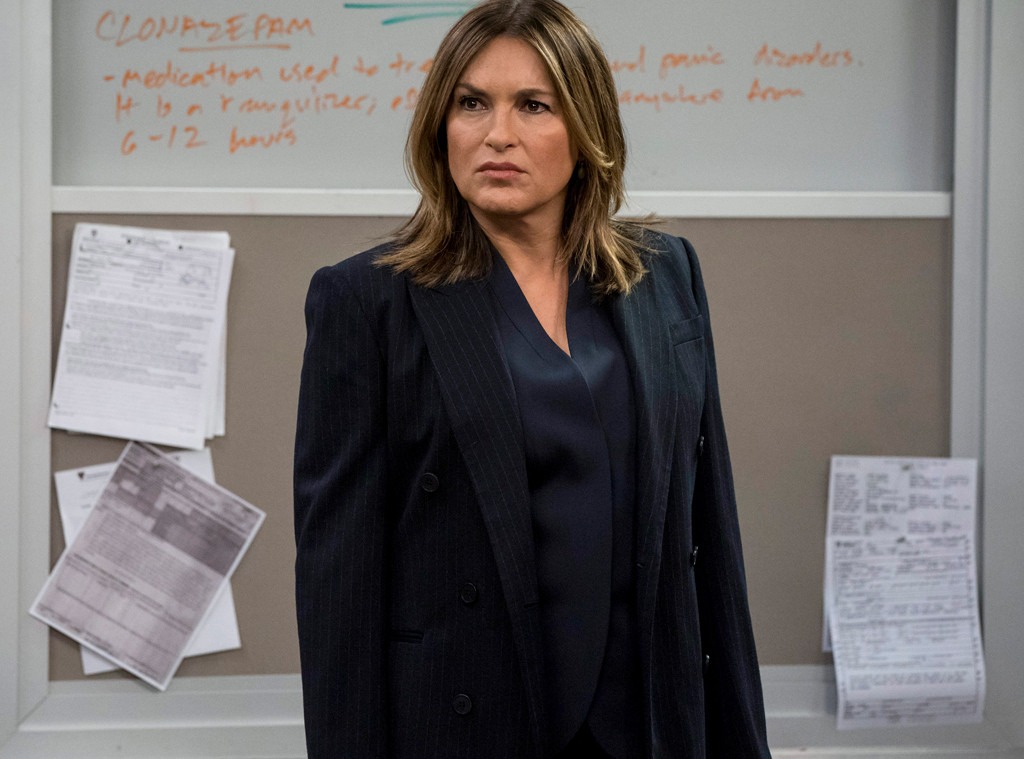 NBC
Law & Order: SVU and NBC just made TV history with the season 21 renewal. The series starring and executive produced by Mariska Hargitay is now the longest-running primetime live-action series in TV history.
With the renewal, SVU beats Gunsmoke, which ran for 20 seasons between 1955-1975, and the Law & Order mothership series, which ran from 1990-2010.
Hargitay has been with the show since the beginning as compassionate detective-turned-lieutenant Olivia Benson. Of course she'll be back for the landmark season.
"I'm deeply proud to be a part of this groundbreaking show, and humbled to make television history today," Hargitay, who has also directed numerous episodes, said in a statement. "The longevity and continued success of SVU is a testament not only to the show's powerful storytelling and ability to connect with viewers, but to its necessity. We have told important stories for 20 years, and we will continue to tell them."
Paul Telegdy and George Cheeks, co-chairment of NBC Entertainment, announced the renewal.
"We tip our cap to Dick Wolf, Mariska Hargitay and the amazing cast and crew of SVU, who now all go into the record book," Telegdy and Cheeks said in a joint statement. "This incredible run is an example of what happens when producers, writers and actors all come together and create a show that, year after year, speaks to its audience in a powerful way. We couldn't be more proud of this remarkable achievement."
The series currently stars Harigtay as Lt. Olivia Benson, Ice T as Sgt. Odafin "Fin" Tutuola, Kelli Giddish as Det. Amanda Rollins, Peter Scanavino as Det. Sonny Carisi and Philip Winchester as Asst. District Attorney Peter Stone.
"As SVU moves into its third decade, Mariska has become an iconic figure as a star, advocate and crusader for women," Wolf, SVU creator and executive producer, said in a statement. "She is an enduring champion of the movement to end sexual violence, and dozens of episodes have dealt with the very same issues that have shifted into the spotlight in this country in the past two years. Mariska is a delight as #1 on the call sheet and, to me, a true friend."
Hargitay was nominated for eight Emmys so far, winning in 2006. She won a Golden Globe for her work in 2005. Inspired by the series, she created The Joyful Heart Foundation, a nonprofit dedicated to supporting survivors, ending domestic violence and helping change response to sexual violence. The organization is currently committed to ending the backlog of untested rape kits, the quest was spotlighted in Hargitay's documentary I Am Evidence.
Law & Order: SVU currently airs Thursdays, at 10 p.m. on NBC and averages a 1.9 rating in the key 18-49 demographic and 7.6 million viewers overall when seven days of DVR viewing is factored in. SVU is currently sold in more than 250 territories around the world.
Cast changes and continued collaboration behind the scenes keep her coming back. "I'm just trying to go a little bit deeper every day and I'm not done yet, because there's still so much to mine," she said.
Rest easy now, SVU diehards, Benson remains on the case for another year.
(E! and NBC are both part of the NBCUniversal family.)