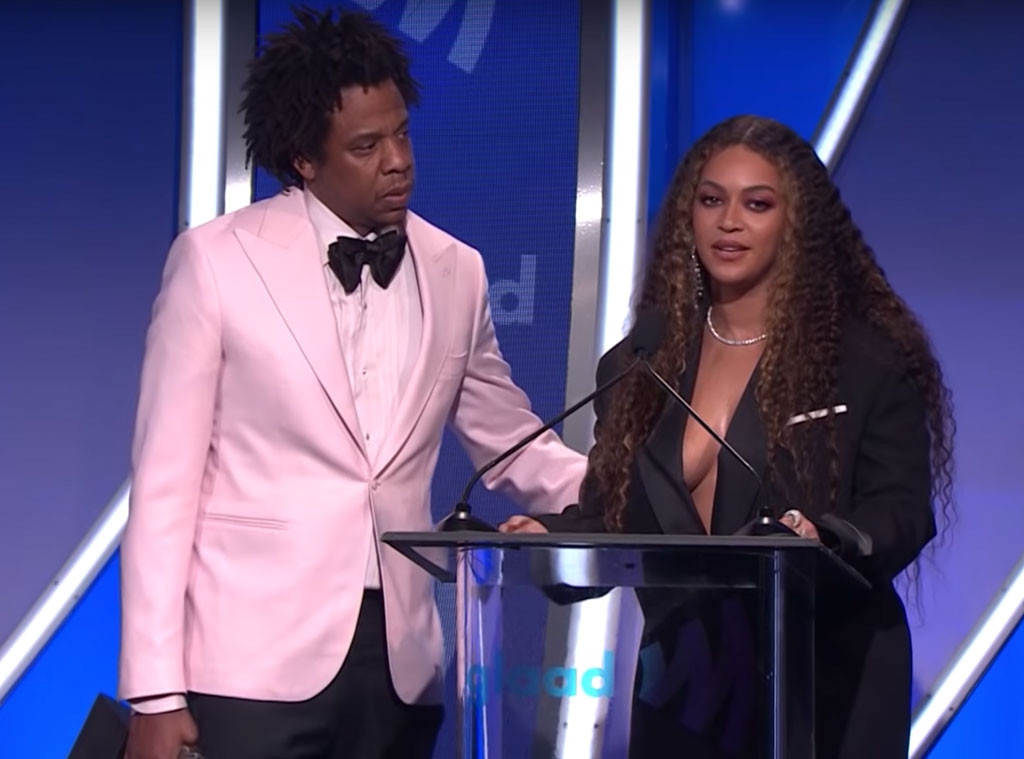 YouTube
Beyoncé's 2019 GLAAD Media Awards speech was irreplaceable. 
It wasn't long before the global superstar had guests cheering after taking the stage alongside her famous husband, Jay-Z, to accept the prestigious Vanguard Award on Thursday night in Los Angeles. 
During the star-studded ceremony, the 23-time Grammy-winning songstress told the crowd she was "overwhelmed" as she delivered an impassioned speech following a medley performance by Shangela as well as an introduction from Morris Singletary, Janet Mock, Ty Hunter and Lena Waithe. 
"We were not expecting any of those incredible presenters and just super honored and overwhelmed. I have already cried. I put a run in my stocking," the mother of three told the crowd as she began.
"I would say that one of the most beautiful memories from our tour was looking out every night and seeing the hardest gangster trapping out right next to the most fabulous queen, full out, respecting and celebrating each other. That was dope! That's the beauty of great partnership, connecting people who at first glance seem worlds apart," she continued at the event, sponsored by Ketel One Family-Made Vodka.
"Whether it's our fans, or our family, the LGBTQI community has always supported us and lifted us up. We're here to promote love for every human being, and change starts with supporting the people closest to you. So, lets tell them they are loved. Let's remind them they are beautiful. Let's speak out and protect them. And parents, let's love our kids in their truest form."
As the triple threat continued, she made a plea. "We would like to request that we continue to shift the stigma in this community, especially the stigmas in black families, towards accepting queer black and brown family members," she said. 
The star then grew emotional as she honored her late uncle, who passed away from HIV. "‪Lastly, I want to dedicate this award to my Uncle Johnny, the most fabulous gay man that I have ever known...who helped raise me and my sister. He lived his truth. He was brave and unapologetic during a time when this country wasn't as accepting, and witnessing his battle with HIV was one of the most painful experiences I've ever lived," she said, her voice beginning to tremble. Jay-Z rubbed her back to comfort her.
"‪I am hopeful that his struggle served to open pathways for other young people to live more freely. LGBTQI rights are human rights. To choose who you love is your human right. How you identify and see yourself is your human right. Who you make love to and take that ass to Red Lobster is your human right," she continued, the audience cheering and laughing. 
‪She then turned her attention to the rapper, telling him, "I just want to say to you, Jay, that I am so proud of you for making incredible strides towards changing stigmas in the hip-hop community. It's a privilege to watch you take those steps and to stand right next to you. I love you and we're super grateful and honored."
The "Story of O.J." star used his time at the microphone to recognize his mother, Gloria Carter, who was honored at last year's ceremony.  
"Life, this journey, is filled with highs, lows, and a lot of learning. This is a momentous night. I also want to, because I didn't get to do it last year, honor my mother, who received the award last year, and follow in her footsteps of spreading love and acceptance and her beautiful speech at the end of the song "Smile," for her allowing me to tell her story," he said. "So, I want everyone to acknowledge that, and her strong message of love who you love and souls that connect."
See more of the night's famous attendees in E!'s gallery below. 
—Reporting by Spencer Lubitz