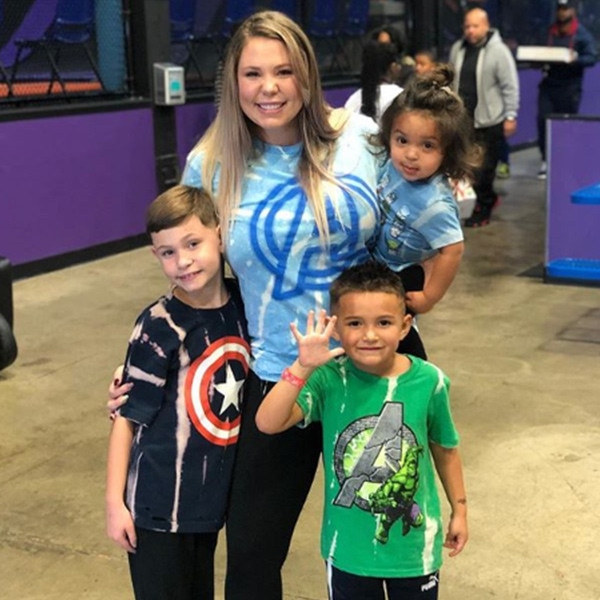 Instagram
Kailyn Lowry knows her life hasn't exactly been drama free.
As viewers have seen this season on Teen Mom 2, the proud mother-of-three has experienced a few obstacles while co-parenting with her exes.
Along the way, her feud with Janelle Evans has also gone up in flames—literally—after she sent over some PotHead hair care products. 
But as the current season of MTV's hit reality show hits the halfway mark, Kailyn is opening up about her relationship with co-stars and family members.
"I try to play off as this tough guy, but it is kind of emotional that I wasn't able to make any of the relationships work with my kids' dad," she explained to E! News exclusively. "A lot of the things I would want to do with a partner, I'm doing them alone. So it's been an internal struggle for me for sure."
The Coffee Convos podcast co-host also revealed that dating isn't an easy task these days. As a result, going out just isn't happening at the moment.
"I don't date because, you know, I am on TV and I don't trust people," she explained to us. "I mean, even if you're not on TV you can't really trust anybody now."
Kailyn continued, "I just think I'm going through the motions of life right now and doing what I got to do and focusing on whatever I need to focus on and if [dating] happens, it happens."
Today, the businesswoman is thinking ahead to the upcoming Teen Mom 2 reunion. For starters, she hopes to be interviewed separately from the cast to avoid any drama.
"I'm trying to rebuild my reputation and the things I've done in the past reunions so I don't want that to happen again," she told us.
And when asked about Jenelle and her mom's critical response to her PotHead hair care products, Kailyn isn't interested in fighting back. Instead, she hopes the footage speaks for itself. 
"I definitely have reached out to her both on text and on Twitter. I've reached out to Larry who is an executive producer and asked him if Jenelle is okay and there have been several times where I've reached out and to no avail," she shared. "It is what it is."
She added, "They can say what they want. At the end of the day, people are going to think what they want to think anyway."
Looking ahead to the next year, Kailyn is hopeful that everyone can just get along. After all, who has time for the drama?
"I don't want the animosity or the drama or any of that," she declared. "We're all too old for this. I'm not in denial about my bad choices and stuff like that. I'm completely aware and I'm trying to pick up the pieces of the mess that I've created so I can hopefully move on as an adult and hopefully the viewers and the people who support me and follow me will see that."
Watch Kailyn's journey for yourself when Teen Mom 2 airs Monday nights at 9 p.m. only on MTV.