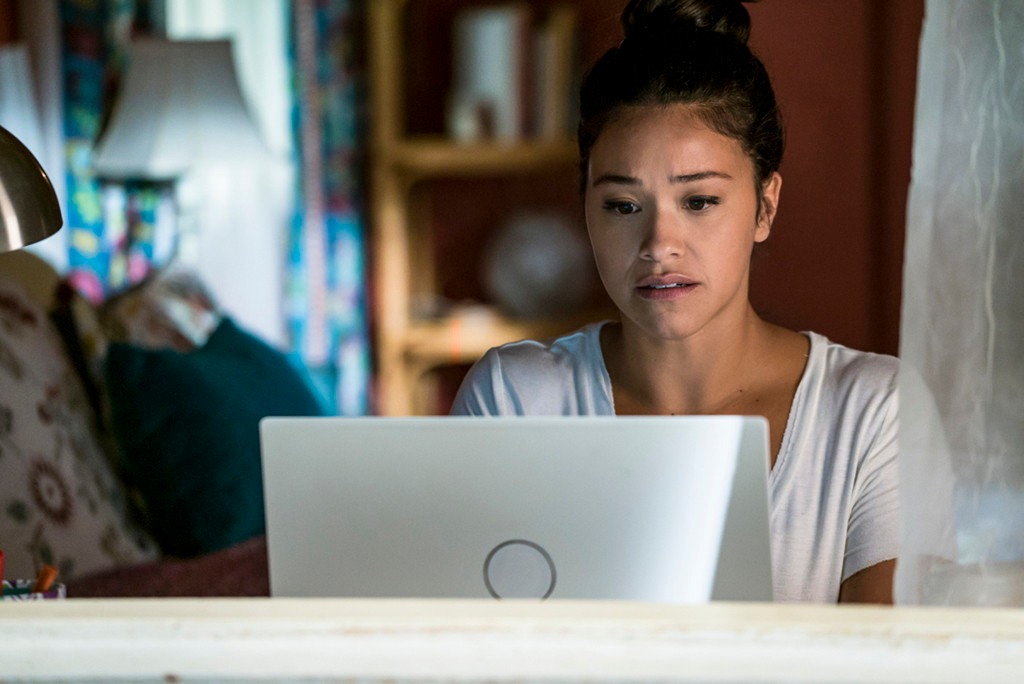 The CW
Gina Rodriguez had one hell of a job to do during the Jane the Virgin final season premiere. 
It was already an emotional mountain of an acting job due to the fact that she had to react to the return of the husband she thought was dead, but Rodriguez also directed the episode, and she had to direct herself doing a six-page monologue, filmed all in one take. On screen, it took up seven minutes and 15 seconds. 
That is bonkers on every level, and Rodriguez didn't just show up to filming with the monologue memorized. She arrived at the table read with the whole thing on lock. We were there, and it was wild. She stuffed a whole cupcake in her mouth! 
"Well, yesterday [EP] Brad Silberling said he would give me a hundred bucks if I came memorized, so I would say it took me about an hour and a half," Rodriguez told reporters after the table read when asked how long it took her to learn. 
And how many times did she run through the whole thing before performing it in front of the entire cast, a bunch of crew members, and a group of press? 
"Maybe about four," she said. 
It was a hundred bucks well earned. 
That Jane soliloquy, which came after Jane learned that her husband was alive but had amnesia and had absolutely no idea who he or she was, happened in the Villaneuva house while Alba and Xiomara just sat and stared. Jane worked through a whole lot of feelings in those few minutes, wondering if she's still married to her dead/no longer dead husband because Google had no answers, and wondering if Michael is still Michael even if he's not Michael, and she should really write, but she should also make tea, and change her pants, and what does she even write now that her husband has come back from the dead, but may never remember who he is, because the brain isn't an exact science? 
Rodriguez said that this stream-of-consciousness speech was a major part of the pitch that EP Jennie Snyder Urman made to the network about the final season, which Rodriguez was on hand for. 
"She could have done the entire six-page monologue better than me," Rodriguez joked. "She said it in the season pitch 'and then this big soliloquy by Jane, it's going to be many pages long! I was sitting next to her, and she's like, 'you're doing that.'"
"I wanted to set a precedence for this last year," Rodriguez said. "We've been given this opportunity so we're not going to take it for granted. We're going to do great art again, as we've done for four years. One more year we're going to do with all of our hearts. So I wanted all of the actors to see that I will embody that whether they want to join me or not. I will bring everything I possibly can to this last year, because God forbid I never get this chance again. I wanted them to feel that." 
It wasn't just a feat of acting and memorizing, but it was also a summary of where Jane is and where she's been over the past four seasons. 
"It's what I told Jennie too when she wrote it and she was like, all right, how do you feel about this? I was like, it just makes so much sense. It's so easy to memorize because it falls and I know the story and it's not like she threw in some wacky new information. she had me talking like a normal human being would that goes from one thought to the next very seamlessly and realistically, and so it's well written," Rodriguez said. "I think any artist will know that if you read something that's not the greatest, it's hard to memorize. When you've got magic, it's butter. It's nothing." 
It also helps if you're an actor like Gina Rodriguez, probably.
Jane the Virgin airs Wednesdays at 9 p.m. on The CW.