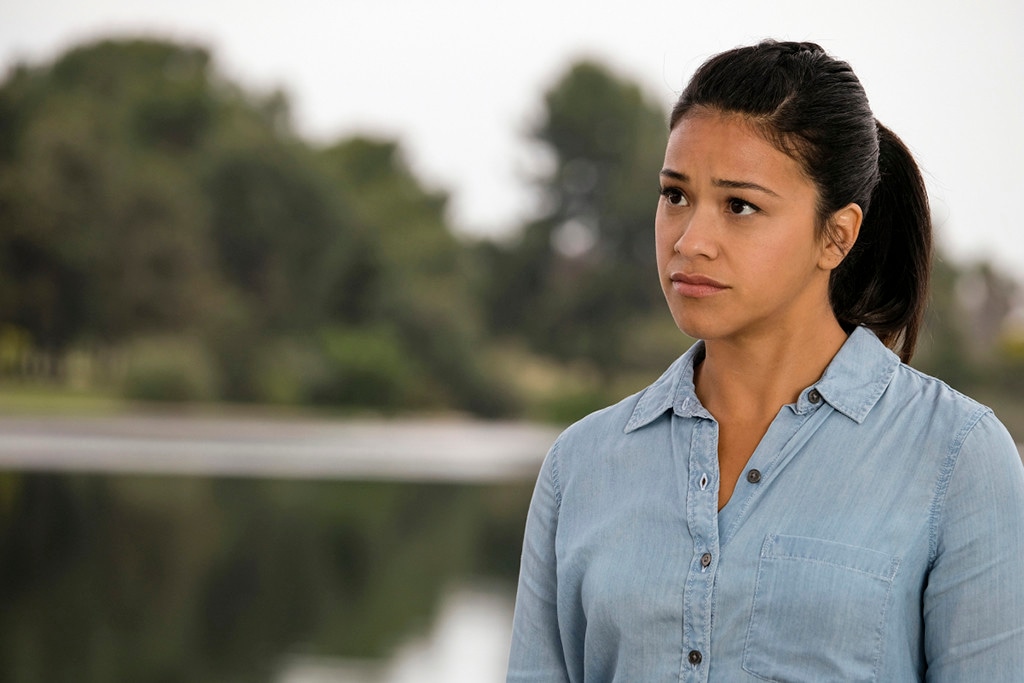 The CW
Jane the Virgin finally returns tonight, and after the premiere airs, everyone involved in the show will finally be able to talk about the final season. 
So far, they've had to keep pretty dang mum due to the fact that a major element of the season—and the jaw-dropping cliffhanger at the end of last season—is still a major mystery. Michael (Brett Dier), Jane's (Gina Rodriguez) thought-to-be-dead husband, appears to be back. But is it actually Michael?
We can't tell you, but we can say that whoever this Michael-like person is, he's throwing a huge wrench into Jane's plans, which, until 30 seconds before the end of the season four finale, were to get engaged to Rafael (Justin Baldoni).
You'll find out exactly what's up with this maybe-Michael at the very beginning of the premiere, but for now, all that creator Jennie Snyder-Urman could tell us ahead of the show's Paleyfest panel was that Jane "ends happy."
"She really has big moves that happen to her in her professional life. I think her writing takes a really big part of this final season. There's a lot of interesting relationship changes that happen this season, and she goes on some adventures this year," Urman tells us of Jane's journey to the end.
One of those adventures includes an episode featuring only two characters.
"We've tried some different things, and I think it's gonna be satisfying," Urman says. "I hope it's satisfying."
While she can't say a single word about if Michael is Michael (literally, we've tried so many times), Urman could tease how Jane will react to the guy who appears to be Michael.
"I mean, what can you do but faint? I mean, it's seeing a ghost, and seeing a ghost that you mourned so intensely for three, four and a half years now. So it's intense for her, and it changes everything."
Jane has had a whole lot of time to mourn Michael and move on to a happy life with Rafael, so seeing his face again is "so confusing for her."
"You find out who's back very quickly, and from that, so much changes for her, and there's so much to unpack. If it's him, it's crazy. If it's not him but looks like him, it's crazy. It all brings up a lot and changes the course that she thought she was on."
One thing we do know about Jane's ending is that her writing flourishes, since there's a whole spinoff in development based on stories she wrote. Urman says we won't see her write the first season, which takes place at a Napa Valley vineyard, during the final season, but "she might pitch it as a novel to someone at one point."
Some fans might have been a little confused to learn that Ivonne Coll, who plays Jane's grandmother Alba, is playing a completely different role in the spinoff, but it sounds like she might not end up being the only actor we could see doing that, since the idea of the spinoff is having a whole bunch of actors who can play anyone.
"I really wanted an anthology that we can build, because these are telenovelas where we can have a troupe of Latinx actors who come in and out and can play parts and change, and I just love Ivonne and I thought, would she do it, and she said yes," Urman explained.
As for the rest of Jane the Virgin's many characters, Urman says she's excited about what's in store for everyone, because they're all making "giant moves."
"I'm excited for the Petra/Jane relationship which we get really into this year. I'm excited for everyone's growth and changes for them all to get closer to their dreams, because I root for them too," Urman said, before ominously adding: "But I'm pretty into Luisa's journey…"
When last we saw Luisa, she had been trying to take care of herself, and had told Rafael that Rose would be able to give him info about his parents. He promised not to tell Rose where Luisa was, but then of course, that was the one thing Rose wanted in exchange for the information she had to share with him, so Luisa's likely pretty pissed off.
Luisa was a central figure in the entire premise of this show, since she was the one who accidentally artificially inseminated Jane with Rafael's sperm, so we can't say we're surprised that she'll pop back up to become a central figure as the show says goodbye, as well.
Finally, we've just got to prepare you for what should be Gina Rodriguez' Emmy moment, a six-page monologue, filmed all in one take, that comes as part of her reaction to the Michael situation. Trust us—you will be bowing down and wondering how the hell you survived almost a year without this show.
Jane the Virgin returns tonight at 9 p.m. on The CW.