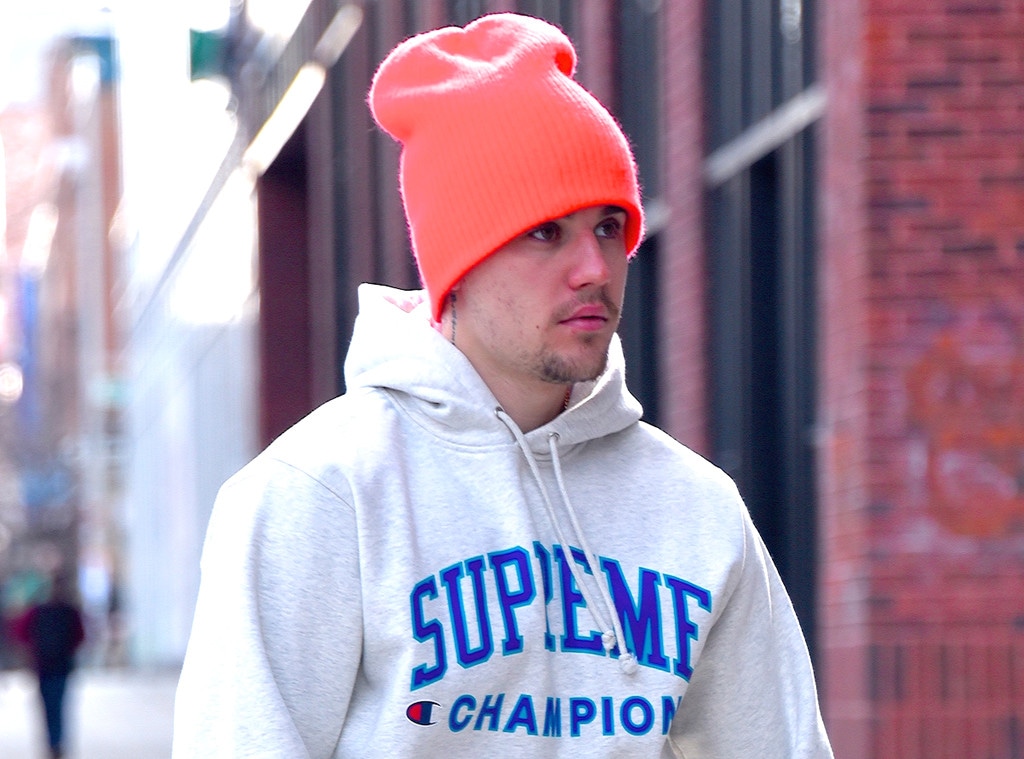 Robert Kamau/GC Images)
Justin Bieber dealt with a bit of an unwelcome guest on Tuesday after a woman entered his hotel room uninvited.
The Laguna Beach Police Department confirmed to E! News that this intruder, whose name has not yet been released, was arrested in the afternoon. Sgt. Jim Cota with LBPD told E! News that officers arrived at Bieber's hotel "at 12:17 this afternoon responding to reports of a suspicious circumstance."
Sgt. Cota explained that police "met with a 36-year-old woman who had been escorted out of Justin Bieber's hotel room by his personal security." He said that the woman "spent the night partying at the hotel in a room that was not under her name." 
The hotel room that she was partying in also happened to be "located just down the hall from where Justin Bieber was staying." The partying seemed to last all night and into the day time which was evidenced by the "loud music coming from the room all night", explained Sgt. Cota.
"When the group failed to check out today, hotel security escorted them out," he said.
"The 36-year old woman then went back in to the hotel to try get back into her room, but told officers she mistakenly entered Justin Bieber's room instead," he elaborated.
The "Sorry" singer reportedly "told the woman to leave" and she was then escorted away by Bieber's personal security detail.
Sgt. Cota's only other detail about the woman other than her age was that she's a resident of Huntington Beach, Calif. and she "was arrested and is currently in the process of being released."
Law enforcement is now looking into whether or not the woman "deliberately tried accessing the room because she knew Justin Bieber was inside."
Despite the surprise and unwelcome guest, the 25-year-old is apparently "doing fine." Sgt. Cota told E! News Bieber "did not stick around at the hotel to speak with officers personally."
So far, neither Bieber nor his wife Hailey Bieber has made comments about the intrusion on social media. However, he has been very open about other relevant topics in his life. Bieber recently asked fans to pray for him because he's "been struggling a bit."
"Just feeling super disconnected and weird.. I always bounce back so I'm not worried just wanted to reach out and ask for your guys to pray for me," he wrote on Instagram on March 9. "God is faithful and ur prayers really work thanks .. the most human season I've ever been in facing my stuff head on.."
On Monday, the "What Do You Mean?" artist opened up on social media about his battle with depression and other "deep-rooted issues" he's currently grappling with. He addressed his fans' request for a new album and wrote, "I've toured my whole teenage life, and early 20s, I realized and as you guys probably saw I was unhappy last tour and I don't deserve that and you don't deserve that, you pay money to come and have a lively energetic fun light concert and I was unable emotionally to give you that near the end of the tour."
Bieber said he is "focused on repairing some of the deep rooted issues that I have" in order to not "fall apart, so that I can sustain my marriage and be the father I want to be."
Bieber said he will come out with music eventually, but working on himself takes precedence. 
"Nothing comes before my family and my health," he penned. "I will come with a kick ass album ASAP, my swag is undeniable and my drive is indescribable."
Just one day later, Bieber had to come out and fire back at someone on social media who called his marriage a "joke" and accused him of marrying the model as a means of "getting back at Selena Gomez."
He commented back, "I absolutely loved and love Selena she will always hold a place in my heart, but I am head over heels in love with my wife and she is absolutely the BEST THING that has ever happened to me period."
Bieber added later on in his response, "Hailey is my Bride period if you don't like that or support that means you don't support me and if you don't support me you're not a fan nor a good person, if you were raised right your parents would have said if you don't have something nice to say don't say anything."
Sources tell E! News that Hailey has been a rock and utterly supportive of Bieber as he deals with his depression. One source explained that his openness about his mental health struggles are part of his therapy.
The source said, "It's not an easy time for him but he's doing the best he can and really digging in. Hailey is there every step of the way and he's tired of people criticizing her and putting them down. He's sick of the cruelty and can only ignore it for so long."