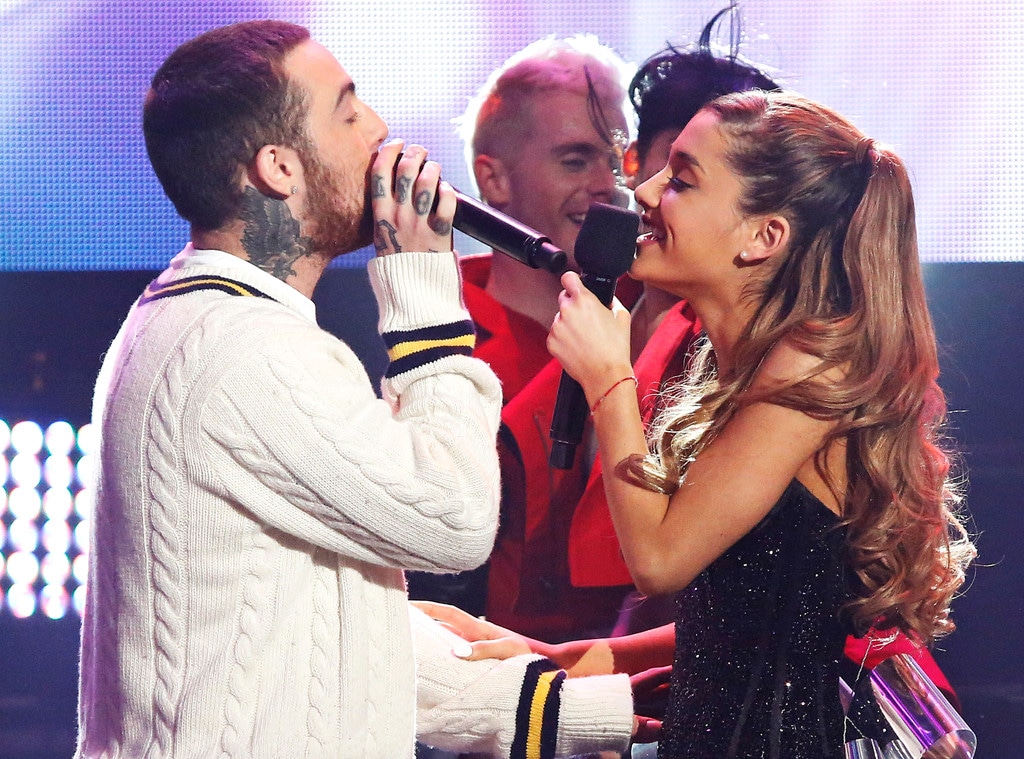 Kelsey McNeal/ABC via Getty Images
Ariana Grande is thinking about Mac Miller a bit extra today.
Grande released her song "The Way" on March 25, 2013, which happened to be the first time the two of them had collaborated on a song together. The track was an instant hit and spent many weeks on Billboard's Hot 100, a list that the singer would come to know quite well in the years to come.
The 25-year-old singer honored Miller on Instagram both in a note and in photos. One part of her Instagram Story just said "six years" with a heart emoji at the bottom. It was written in white text over a black background.
Grande also shared photos with the rapper's dog, Myron, who appears to be living with her. She uploaded one picture of the pitbull wearing a harness looking like he was more than ready to head out on the town for a walk. She captioned that one with a smiley face. Grande also shared a selfie with the pup with his head resting on her shoulder.
"real protective wit my soullll where YOUUUUUU been," she wrote.
Grande has been making references to her ex Miller ever since his sudden and tragic death on Sept. 7 from mixed drug toxicity. Some of these have mentioned him by name whereas others are more subtle. For instance, she calls him "an angel" in the first verse of "Thank U, Next" but in other tracks she sings about feeling haunted by his death. In "Ghostin" she croons, "I know that it breaks your heart when I cry again/Over him, mmh/I know that it breaks your heart when I cry again/'Stead of ghostin' him."
Many fans believe her stunning baby blue Zac Posen Grammys dress was another shout-out to Miller and his song "Cinderella" because she really did look like that fairy tale princess that night.
The chart-topping singer kicked off her Sweetener tour in Albany, N.Y. on March 18 and honored him before the show by playing his music as fans awaited her arrival onstage. It seems that Grande is doing everything in her power to keep his music memory alive in any way she can.
Grande has a show in Washington, D.C. on Monday and Philadelphia on Tuesday (Miller's home state), so perhaps she'll mention him or play his music again on one of these stops.
The "Self Care" rapper and Grande first started dating in 2016 but broke up in May 2018. She told E! News in 2016 that she really loved making music with her boyfriend. "He's the best. It's always dope making music with him," she explained.
The two of them would go on to collaborate on a few other tracks together throughout their relationship. Grande shared with Cosmopolitan in March 2016 that she and Miller had been on each other's radars for a long time. 
"We have loved and adored and respected each other since the beginning, since before we even met, just because we were fans of each other's talent," she told the magazine.
Even after their split after two years together, each person spoke about the other with the highest regard. She wrote on Instagram a few days after their breakup, "Hi! This is one of my best friends in the whole world and favorite people on the planet Malcolm McCormick. I respect and adore him endlessly and am grateful to have him in my life in any form, at all times regardless of how our relationship changes or what the universe holds for each of us!"
She added, "Unconditional love is not selfish. It is wanting the best for that person even if at the moment, it's not you. I can't wait to know and support you forever and I'm so proud of you!!"