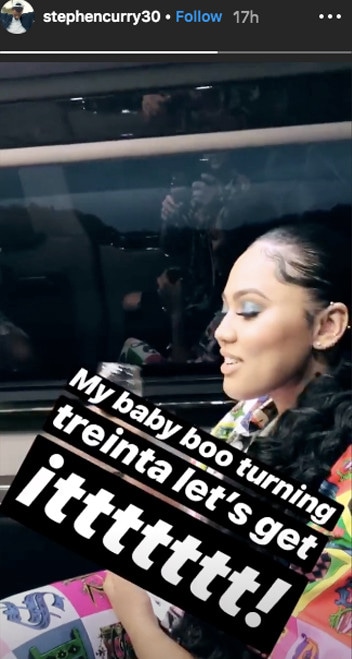 Stephen Curry/Instagram
Ayesha Curry is celebrating her 30th birthday with a bang!
Ranking higher on the list of #husbandgoals, Stephen Curry makes his wife's "dirty thirty" birthday even more unforgettable by throwing her a surprise party. 
The cookbook author admits she was totally "shooketh" with her B-day surprise.
"I'm not used to surprises," Ayesha reveals on her Instagram Stories, along with a video of her getting dolled up by a glam squad. "LOL I'm shooketh." 
Once she arrives on her party bus, she adds, "Oh my goodness. Hearts feeling full already."
It's safe to say the 31-year-old NBA player outdid himself with his wife's birthday bash. He even starts the night off with a toast, which he shares on Instagram Stories.
"Everybody put your glasses up. Shout out to Ayesha Curry turning dirty thirty, baby."
"My baby boo turning treinta (30 in Spanish) let's get ittttttt," Curry captions that same short video clip on his Instagram Story.
Naturally, some the couple's famous friends were in attendance, including Gabrielle Union, Jessica Alba, Tamera Mowry and Mia Wright.
"Happy Birthday @ayeshacurry," the Breaking In actress writes on Instagram. "So glad we could sneak up to the Bay and surprise you!"
The 46-year-old star continues, "S/O to @stephencurry30 for keeping her laughing and smiling and on the dance floor all night and that bomb ass food!!! Good times!! Until the next adventure..."
"What an honor to be amongst 3 amazing women, who are beautiful inside and out," Mowry captions her Instagram post. "Happy 30th birthday @ayeshacurry. I'm so blessed to have known each of these women individually, and then hang with them all together last night."
It's safe to say the Curry's know how throw a party! 
With that said, can we be invited to the next bash? Please and thanx.