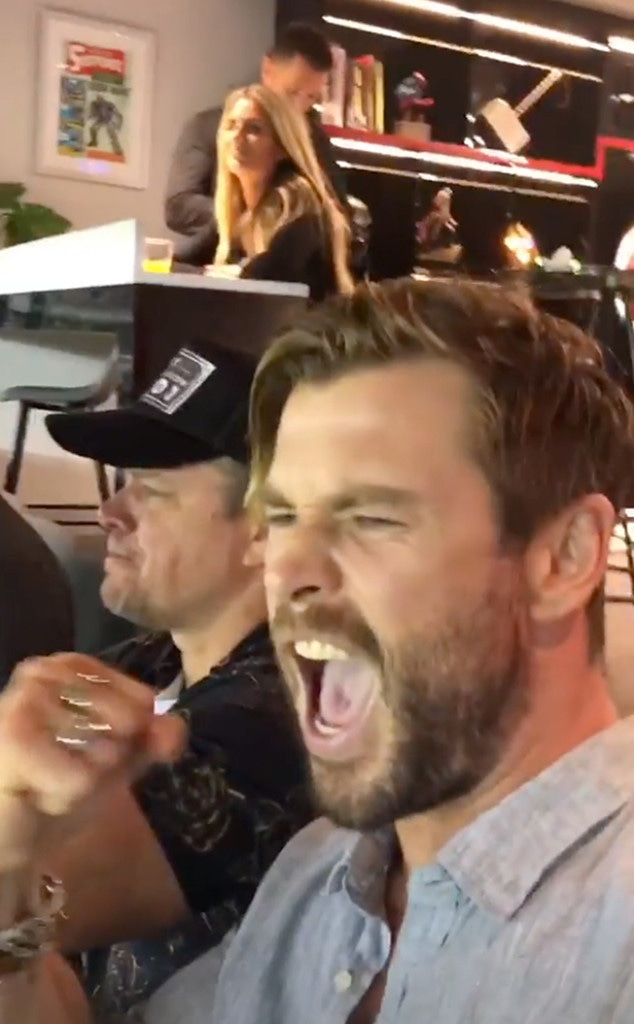 Instagram / Chris Hemsworth
Thor and Jason Bourne's bromance continues!
Chris Hemsworth and Matt Damon recently reunited in the former actor's native Australia. On Saturday, the two attended a Australian Football League (AFL) game at Marvel Stadium in Melbourne.
They watched the soccer match and cheered along with other male friends from inside a Marvel superheroes-themed corporate box, which contained memorabilia such as Thor's hammer and Captain America's shield.
Hemsworth posted several videos from their outing on his Instagram Story.
Earlier, Hemsworth posted pics of him and wife Elsa Pataky and Damon and wife Luciana Barroso having dinner with friends.
Hemsworth and Elsa, parents of daughter India Rose, 6, and 5-year-old twin sons Tristan and Sasha, have a home in Byron Bay.
Damon, his wife and their four daughters, Alexia, who is about 20, Isabella, 12, Gia, 10, and Stella, 8, occasionally visit Hemsworth's family.
Instagram / Chris Hemsworth
Instagram / Chris Hemsworth
Last year, Damon's longtime BFF Ben Affleck playfully responded to a false report that said his friend has stopped associating himself with him and was instead "buddying up" with Hemsworth."
Instagram / Chris Hemsworth
Quinn Rooney/Getty Images
Hemsworth later responded to Affleck's tweet.
Watch:
Elsa Pataky Says Acting With Chris Hemsworth Is "Natural"
"Sorry mate not my fault! He's just a big @Marvel fan, not @DCComics. How do you like them apples," he said, referring to his own role as Thor, Affleck's role as Batman and an iconic line from Good Will Hunting, which won Affleck and Damon a screenwriting Oscar.
And naturally, Kimmel got involved as well.