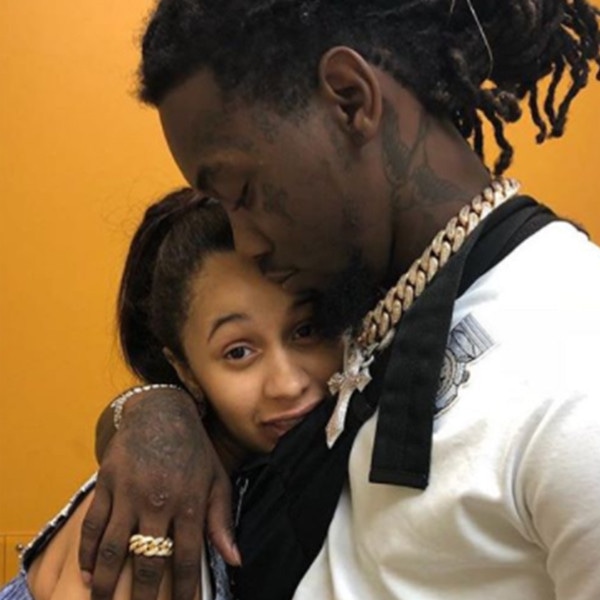 Instagram
For Offset, getting Cardi B back was not a game. 
As fans well know, the "Bodak Yellow" star was on the outs with her famous husband last year after his infidelity. She confirmed their breakup publicly in December 2018, which was followed by an emotional Instagram plea from Offset for her forgiveness. 
"We're going through a lot of things right now, a lot of things in the media. I want to apologize to you Cardi. I embarrassed you. I made you go crazy," he said in the video. "I was partaking in activity that I shouldn't have been partaking in, and I apologize. You know what I'm saying? For breaking your heart, for breaking our promise, for breaking God's promise and being a selfish, messed up husband."
A day later, he crashed her headlining performance at the Rolling Loud Festival in Los Angeles, complete with a cake and display of 2,000 white and red roses from Venus ET Fleur, worth $15,000, displaying the plea "Take Me Back Cardi." "I just wanna tell you I'm sorry, bro, in person, in front of the world," Offset told her as the crowd cheered. "I love you. Whatever I gotta do to show you that, I'm there."
While Cardi seemed less than pleased with the grand gesture, she told the press they were "working things out" a month later and have been mending their personal problems since. 
When Ellen DeGeneres questioned Offset about the public nature of his big gestures, the rapper explained that he was being vulnerable and showing his affection. 
"I love my wife, so it's serious, not a game to me," he told the daytime host. "We have schedules and we have shows...I just felt like if I gave a break between time—I just can't give that break between time."
The star continued, "I step to it as a man and say I'm wrong and step to it as a man and you don't have to take me back, but I just want you to know I love you and I care and I'm putting it all on the table."
However, some have not reacted positively to his public actions, including his headline-sparking proposal back in 2017. 
"I asked her to marry me in Philadelphia at the radio show in front of 60,000 people," he recalled. "When I did that, they were like, 'Oh, why you doin' that'—because it was just my affection, showing I'm not hiding. I'm not hiding my affection for you...just me being vulnerable."
Offset noted, "It kind of bit me with the response of people, but that's why our men don't be trying to be vulnerable because when you do it...there's something wrong with it either way."
During the interview, the star also explained his new album, Father of 4, and his goal to encourage other men to face their own mistakes. 
"I missed the first birthday of some of my kids due to incarcerations and being in trouble and being caught up in the system and I still don't run away from it. I have a father that I don't know of. He still runs away for it. I don't get it," he said. "Your son could be 30 years old and you've never seen him...you should still try."