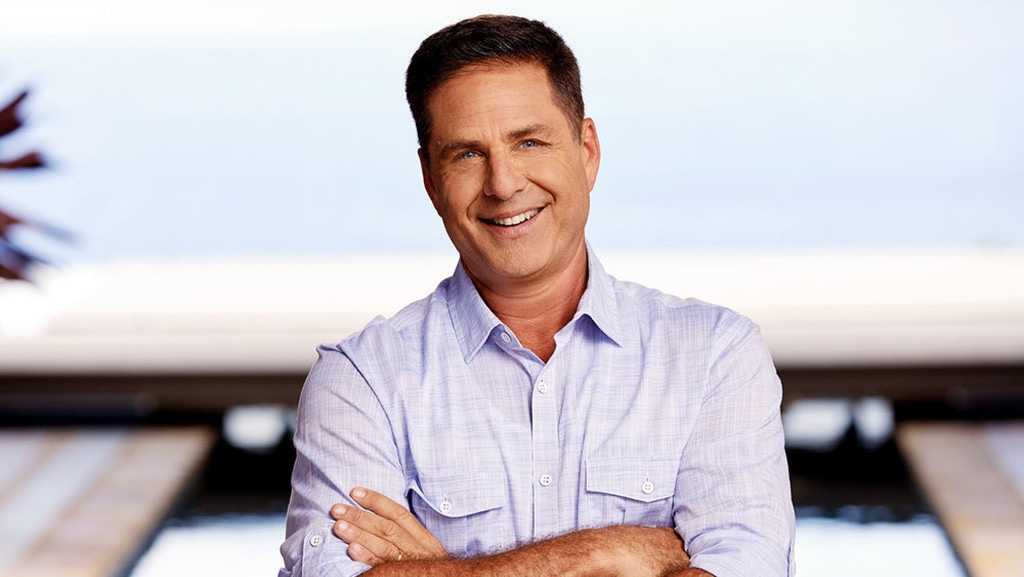 USA
They say you shouldn't judge a book by its cover, but you also shouldn't judge a couple by their fights. 
For anyone who watched the premiere of USA's Temptation Island reboot, it felt pretty clear which couples were ready to survive this journey and which were definitely not. Evan and Kaci were joking, laughing, picking out singles for each other to date, and seemed like a 10 year-relationship that wasn't about to end any time soon. Shari and Javen, meanwhile, couldn't stop bickering, even as they said goodbye to each other for a whole month. 
Now, Evan has asked another girl to be his girlfriend while Kaci's terrified and devastated, and Javen and Shari can think of no one but each other. That turn of events has even shocked host Mark L. Walberg, who got to know both couples, as well as John and Kady, and Karl and Nicole, over the course of the season. 
"I actually was pretty arrogant on the first day, thinking I know so much about stuff, and proved I know nothing about anything," Walberg tells E! News. "I really thought Shari and Javen...I remember saying to the executive producer, 'Do we have a backup couple? Because they're not going to make it through the night.'" 
They did make it through the night, and somehow, based on what we've seen and heard from both of them so far, seem to have made it through the whole season. We'll see them and the other three couples meet again after a whole month apart during the two-part finale, airing tonight and next Tuesday, with their reunion led by Walberg. Each member of each couple has to decide if they want to leave together, alone, or with someone else. 
"After the second day or so, [these couples] don't have any contact with one another other than the video messages or the clips that they get to see, so even what they see is sort of out of context and not even indicative of what's going on," Walberg explains. "So what you're going to see on the finale is the first time they're going to be sitting next to one another since this whole journey began." 
And this journey wasn't just a month apart. It was a month where they were isolated with other singles and forced to date them, making that month feel like a whole lot longer. 
"What was apparent to me is even though in chronology they're not away from each other that long, the amount of growth that each individual displays...they're different people when they come back together. So it's fiery, it's confrontational—more confrontational than I expected actually—and riveting." 
The finale confrontations are pretty heavy, and Walberg was occasionally right in the middle of them. Tonight's episode sees Walberg stepping in when he feels that a couple isn't being honest or making a decision that he believes. 
"Coming into the bonfire, each individual in the couples that had sort of talked about what they'd hoped to accomplish in the bonfire, and at this point I've got a pretty good idea of what's going on with everybody," he explains. "When [one couple] sit down, I think just the nerves of seeing each other first time and having to confront it is bigger than they are. And so I feel like they, they start to skirt the issue. Like she says some things before she comes on to the bonfire of what she's hoping to do. And then we get to the bonfire and she's not 100% straight, nor is he 100%, you know, rigorously honest with the other person, which I think at this point you owe it to one another. So, um, after they kind of, in my opinion, hedge their bet a little bit and kind of said, well, you know, we'll talk about this when we get home, and that wasn't at all what either of them had talked about before they came to the bonfire." 
So, seeing that neither person is being honest, Walberg speaks up.
"I have to say, look guys, is this really where you're at? I know it's scary to talk about it, but I'm not buying this at all," he tells us. 
All of the couples come out of this experience changed in some way, which is the point, even if that may not be why they went to Temptation Island in the first place. 
"I say people come to Temptation Island for two reasons, at least. One is the one they say on TV: we're have trouble with a relationship, we're hoping to find the answers to our questions. And the other, which probably weighs a little heavier at the beginning, is: And then I'll be on TV, and social media would go crazy and I'll become a star and all this great stuff will happen," Walberg explains. "And what I tell them is regardless of your reason, truthful or not truthful, the process, even though it's a silly reality show, becomes real really quickly and those answers to your questions happen, but the questions change, so you get answers but entirely different questions than you thought you needed answers for and you see with Kaci. She thought it was about an ultimatum to get married, and then about a week in, she was like, I don't care about that at all, I just want my man back." 
Unfortunately, Kaci's man seems to be very busy with another woman, so that may not be happening...but we'll all have to tune in and see what happens tonight and next Tuesday. 
Stay tuned for the rest of our interview with Walberg! 
Temptation Island airs tonight at 10 p.m. on USA Network. 
(E! and USA are both part of the NBC Universal family.)