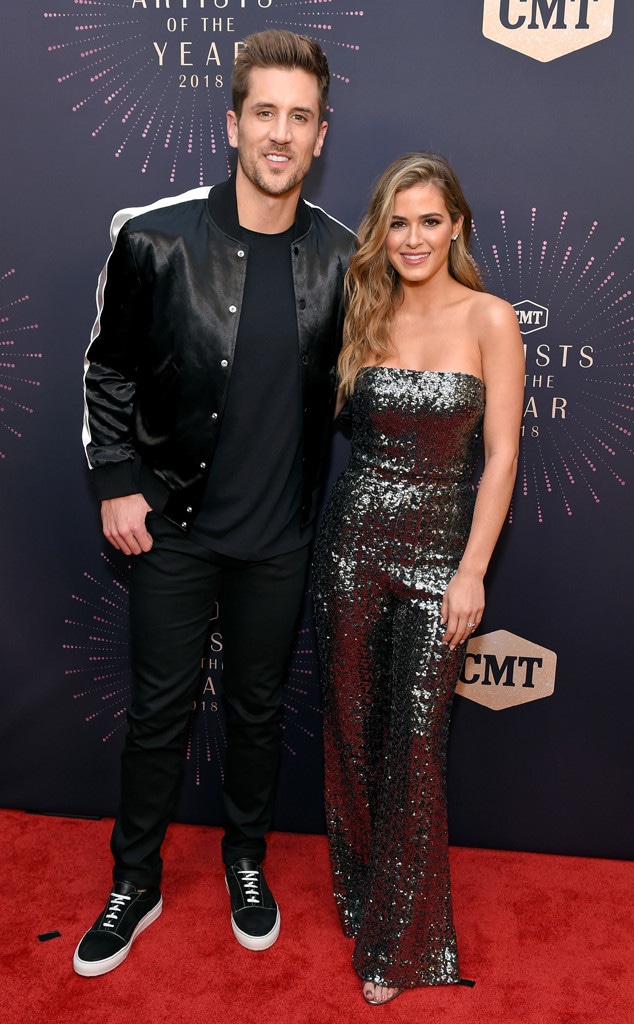 Jason Kempin/Getty Images for CMT
JoJo Fletcher and Jordan Rodgers are opening up about their relationship in a new episode of Engaged With JoJo & Jordan.
The Bachelorette couple holds nothing back when it comes to their love life, including the preconceived notions the 28-year-old star made about her man on the reality TV show. On the pair's latest YouTube video, JoJo recalls thinking Jordan would "leave me broken hearted."
The Dallas native says she was "a little emotional" after reading a fan comment about how they thought "Jordan was in it for the wrong reasons."
In addition to the follower's comment, the reality TV personality says, "Kinda thought the same thing about Jordan when I met him, and it was a struggle the whole time we were together. I knew how great we were, and how much I cared for him, and I was falling in love with him, but there was something. So this was an example of where I totally judged him."
She continues, "The whole time I had this thought in the back of my head like, 'Dude this guy's gonna leave me broken hearted.'"
Although, she admits she couldn't be more wrong about her fiancé. If anything, she gets defensive over the "nasty stuff" people say about the 30-year-old star.
"All the nasty stuff people said about Jordan, it kind of made me sad because I loved him and I wanted to defend him. They don't get to see how everything played out throughout that whole day or that whole time," she says.
"You don't know this person, you don't know everything about them, so to pass judgment on certain scenarios or situations kinda stinks."
For JoJo, "when it came down to Jordan and Robby [Hayes]," she says her "heart was with Jordan."
Even though the couple laughs about this now, the Dallas beauty confesses she thought Robby was the safe choice. Obviously, in the end, she chose the sports commentator. "In that moment, I was like 'I'm gonna follow my heart, I love this man so much. You know what, if I get a broken heart or heartbroken, then whatever, I followed my heart.'"
"And [Jordan] has been the safest thing that I have ever experienced in my whole life so, I was wrong," the reality TV personality says.
The only thing JoJo dislikes more than people passing judgement onto her man, are social media comments about her and her Bachelor Nation friends' appearance.
"All of my girlfriends from the show, people like to comment on all of our pages that we've had a nose job or chin implant or this," the 28-year-old TV personality vents. "First off, who cares? Whether or not they've done something, the problem here is you being mean about someone's looks."
Adding, "People also attack Jordan on his career or saying he's not good enough or that he has a career because of this show."
In the words of the sports commentator, "Use [social media] for good."