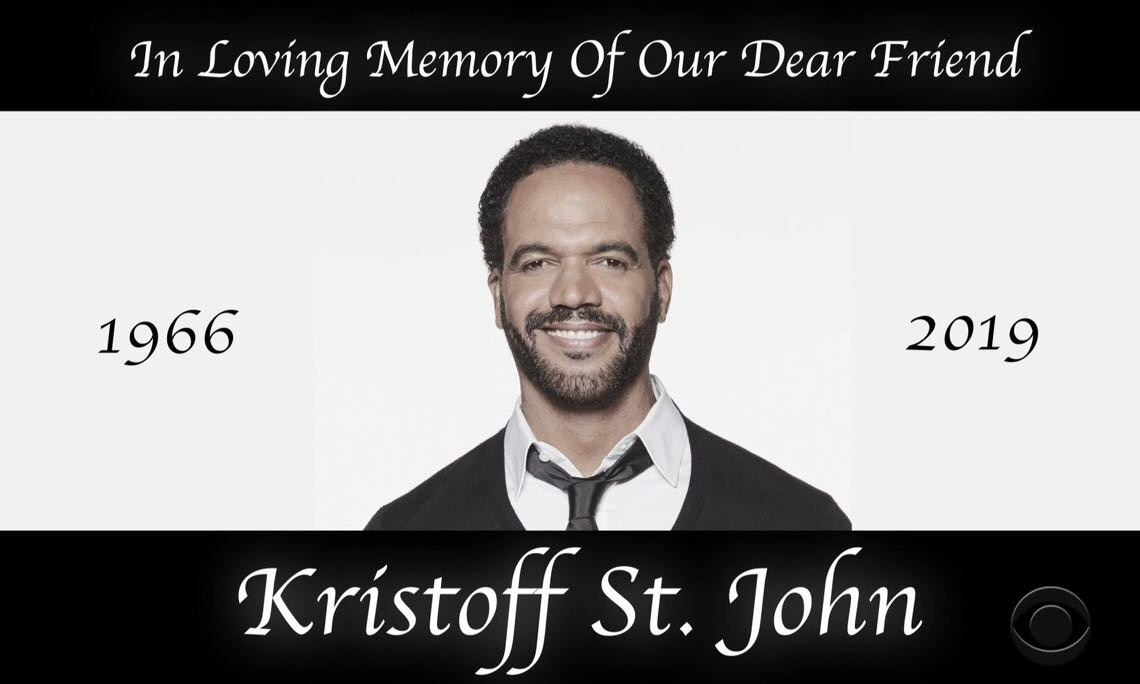 CBS
Kristoff St. John's co-stars are set to pay tribute to him on upcoming episodes of The Young and the Restless.
The actor and Daytime Emmy winner, who played character Neil Winters since 1991, passed away in early February at the age of 52. E! News learned at the time that police were called to St. John's home for a possible alcohol overdose on Sunday, Feb. 3, at 2 p.m., where they found him dead. The following day, an autopsy was completed but offered little insight into his final moments. St. John's cause of death had been deferred by the Los Angeles County Coroner until an "additional investigation" was completed.
St. John's death has since been ruled accidental and the cause of death was listed as hypertrophic heart disease. Other conditions contributing, but not related to the immediate cause of death included myocardial bridging of the left anterior descending coronary artery and the effects of ethanol. 
Just days after his passing, St. John's final episode of The Young and the Restless aired on TV. The episode showed St. John sharing scenes with co-star Bryton James.
A dedication was made at the end of the episode, which read, "In memory of our dear friend Kristoff St. John."
Now, E! News has confirmed that actor Shemar Moore, who portrayed Malcolm Winters from 1994 to 2014, is set to return to Y&R in honor of St. John. Moore's character, who was brothers with St. John's character, will return to the show on April 25 and April 26.
Monty Brinton/CBS via Getty Images
"Producers have developed a storyline that will bring the character of Malcolm back to Genoa City to bid Neil farewell, and reached out to Shemar Moore to make sure he'd be on board to return as the story wouldn't work without him," a source tells E! News. "Shemar didn't hesitate at the chance to reprise his role."
"Shemar has always felt a sense of loyalty to the cast and crew at Y&R, remaining in touch with his close friends there, even though it's been years since he's been a regular on the show," the insider continues. "Shemar is particularly proud of the legacy that he and Kristoff built together as the Winters brothers, and is happy to have this opportunity to pay tribute to Kristoff on-screen one final time."
As first reported by Entertainment Weekly, Mishael Morgan (Hilary Curtis Winters), Victoria Rowell (Drucilla Winters) and Christel Khalil (Lily Winters) are set to appear, as themselves, in an April 29 tribute episode. Y&R will address Neil's death on its April 23 episode.
–Reporting by Spencer Lubitz