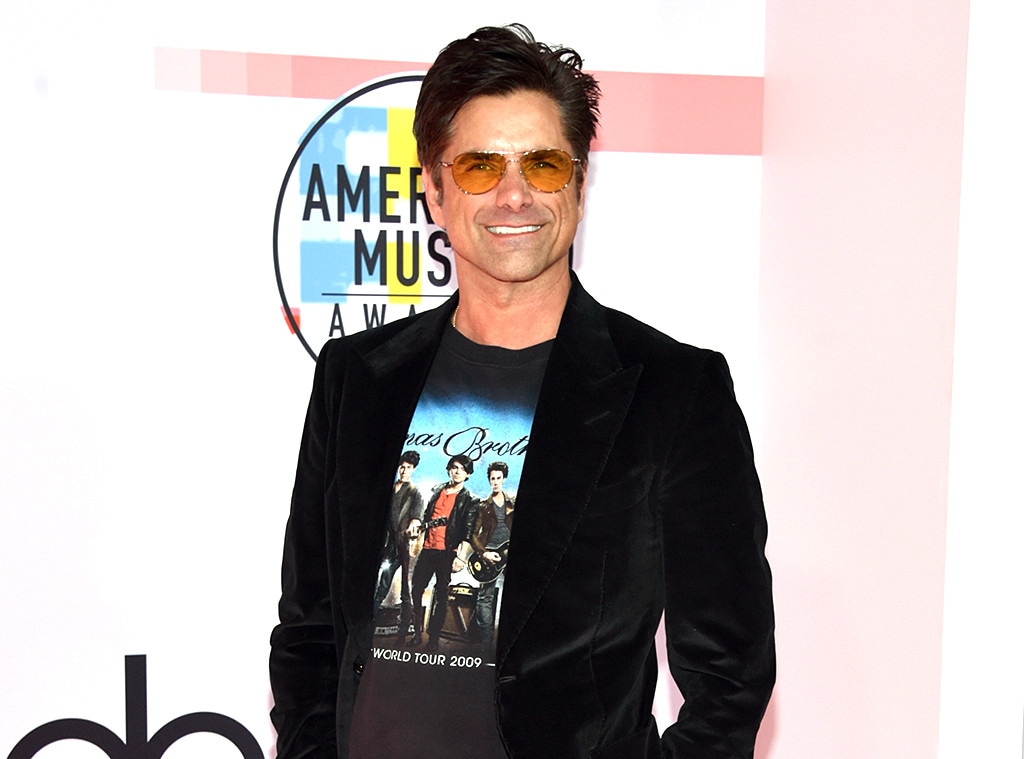 John Shearer/Getty Images For dcp
Perhaps John Stamos was in the know before any of us. 
Or the Full House alum is just a sucker for revivals. Either way, there was the actor and part-time Beach Boys drummer wearing a Jonas Brothers t-shirt as he teamed up with the legendary surf rock band to rehearse for a Fourth of July concert last year in Washington, D.C. 
His outfit choice didn't get a lot of pick up that day, what with his latest Instagram of then 11-week-old son Billy Stamos pulling focus, but when he selected a different Jo Bro tee—this one from the group's 2009 world tour—for his appearance at October's American Music Awards, Nick Jonas definitely noticed. 
His response, which took some four months to roll out, was worth the wait, kicking off the current Jonas-Stamos appreciation fest that is making the Internet fun again. 
In a move reminiscent of Ryan Gosling and Macaulay Culkin's super meta Inception-off, Nick turned up at New York City's JFK airport this February wearing a hoodie of Stamos rocking his Jonas tee. The timing of it all—he posted a photo of his streetwear to Instagram March 2 the same day he and older brothers Kevin Jonas and Joe Jonas released their instantly trending comeback track "Sucker"—would suggest the 26-year-old was smartly trying to drum up attention for the new single and accompanying music video. 
It proved not to be necessary. The thirst was already there for a Jo Bro reunion, as evidenced by the fact that the song shot to No. 1 on iTunes and debuted at the top of the Billboard Hot 100 charts. And even if fans weren't eager to see what they had been up to, their decision to tap significant others Priyanka Chopra, Sophie Turner and Danielle Jonas to star in their video would have been enough of a draw. 
But even if it was all a ruse, we're not mad at it. 
The stunt highlights all of the joyous possibilities that exist on the world wide web when it's not being used as a place for strangers to snipe at each other about their discordant political, religious and moral beliefs. And it's still going. 
Reacting to Nick's taunt—"It's your move @johnstamos,"—the 55-year-old You star commissioned a pillowcase of the singer wearing the hoodie of Stamos in his tee. Follow all of that? And when Chopra's husband made the next obvious move of napping under a comforter printed with the image of Stamos and his pillowcase, the '90s icon went all in. 
"#jobrosforlife," he captioned his next Instagram of tattoo artist Marisol Preciado inking him with Nick's visage at Treble Art Studio in Corono, Calif.
Because Stamos has been there, if not from the beginning, certainly long enough to be considered a stan. 
He and Nick first connected when each was tapped to appear in Hairspray at the Hollywood Bowl in 2011. Despite the nearly three-decade age difference, the fact that the production ran for just three nights in August and that Stamos' role as dancing show host Corny Collins gave him few chances to interact with Nick's heartthrob lead Link Larkin, the pair found time to bond over a love of acting and their shared musical roots. 
Years before he landed his breakout role on General Hospital, Stamos was a four-year-old kid mastering the art of drumming. He'd move onto the guitar, and a role in his high school marching band, eventually forming a band of his own, a group called Destiny that would play at amusement parks and parties in California's Orange County. All the while his love of rock and music in general was fostered by restauranteur father Bill Stamos. 
"I was always in a battle with my dad, who was better, Elvis Presley or Frank Sinatra," he shared with AL.com in 2014. "So he really turned me on to a lot of the other guys, so you'd see a lot of Sinatra and Dean Martin and Rat Pack stuff. My early years...Beatles. I grew up on a lot of classic rock stuff."
But it was his appreciation for The Beach Boys, formed just down the road from his Cypress, Calif. hometown two years before his 1963 birth, that would lead to Stamos' steadiest musical gig. 
One of the group's members, singer-songwriter Mike Love noted in a 2016 interview with Texas radio station Awesome 98, "became friends with John Stamos when he was Blackie on General Hospital. That's how long we've known him. He came out in 1985 to play with us at the Washington Monument, a few hundred thousand people were in attendance....He's been just a huge supporter of the Beach Boys, he was involved producing a movie about The Beach Boys and he loves nothing more than coming out and playing drums."
More than 30 years into the gig, Stamos still remembers the giddiness "of those early days when I would be sitting in the corner hearing them rehearse a song," he shared with USA Today last summer. "It was Fourth of July. We were at the Mall of America, and they were singing beautiful acapella. They're mortals, right. They're drinking coffee, talking and joking, and all of a sudden they kicked into 'America The Beautiful' and they became above human. Their voices together, I can't even explain it. It was euphoria." 
Paul Morigi/Getty Images for Capital Concerts Inc.
For Nick, musical success came much earlier in life. The Broadway veteran was barely 10 years old when a song he wrote, "Joy to the World (A Christmas Prayer)", featuring backup vocals from his fellow Beauty and the Beast cast members was released on the compilation album Broadway's Greatest Gifts: Carols for a Cure, Vol. 4. The single caught the attention of execs at Columbia Records, Nick relayed in a 2007 interview with Life Story magazine: "For that solo project I wrote a song with my brothers, it became a group project and we started recording together."
Added Joe, "They thought Nick had an angel-like voice, which is what got him signed. He was working on that solo project and one day Kevin and I said, 'Hey, Nick, do you think we can writing a song together?' We wrote 'Please Be Mine,' which was the first song we wrote together and the fans love it. We walked into the label one day and Dave Massey, Nick's A&R guy, freaked out and said, 'Whoa, there are brothers?' From that moment, we immediately became a group project and started working with different people every day. It was just really great and that's kind of the story.
"
By 2011, though, the group had hit pause, freeing Nick up for extracurriculars such as his turn in Hairspray and a 2012 stint as lead Finch in Broadway's How to Succeed in Business Without Really Trying. 
Having performed the part himself (for his 1995 Broadway debut, he replaced Matthew Broderick in the revival of the Frank Loesser musical), Stamos turned out to cheer his pal on. "He came and saw the show and overall is a pretty hilarious guy," Nick told MTV News at the time, adding that he was still hopeful he could meet actor Bobby Morse who originated the role: "Stamos actually sent me a picture of he and Bobby Morse to kind of rub it in my face, so I'm a bit jealous.
Ribbing aside, though, he noted he and the Full House vet shared an easy camaraderie. "It's like dynamite," he said of their ongoing bromance. "We watch a lot of YouTube videos. We talk about music quite a bit. He's a big music fan. He's a really good dude. He's been really kind through the whole process, because he played the role. He knows what it takes to do it. [It's a] cool older-brother type vibe in that sense. He's everybody's Uncle Jesse."
And in that mentor role, he's proved to be the perfect guy to usher in the new era of Jonas Brothers mania. 
"I'm the fourth Jonas Brother," he joked when ET's Keltie Knight made note of his vintage concert tee on the carpet of last fall's American Music Awards where the Fuller House actor was set to help Busy Philipps present Khalid with the Favorite Male Artist-Soul/R&B award. "I love those guys." 
While it's unclear yet if loves them enough to permanently stamp Nick's face on his forearm, Stamos' wife Caitlin McHugh has a suggestion for how the group's youngest member can up his game, writing on her husband's tattoo photo, "@nickjonas will have to name his firstborn John Stamos." 
Hopefully Priyanka Chopra is also a sucker for this charade...