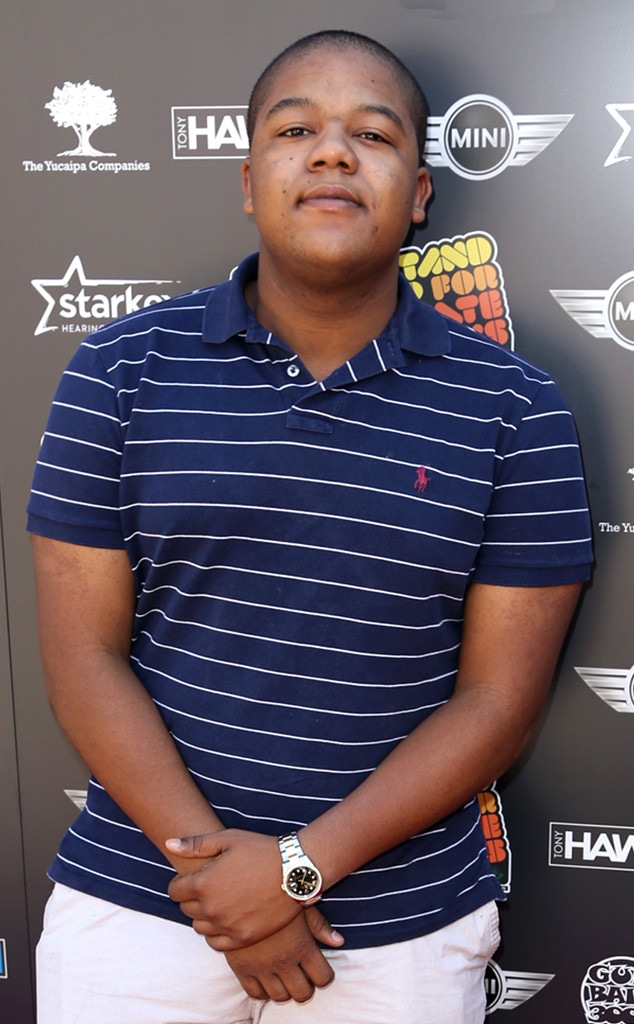 JMA/STAR MAX/IPx via AP Images
UPDATE: That's So Raven and Cory in the House star Kyle Massey is speaking out after a lawsuit was filed against him late last week. Massey's attorney Lee. A. Hutton provided E! News with a statement on the actor's behalf. Massey denied the allegations against him and called the claims "baseless."
"No child should ever be exposed to sexually explicit materials and I unequivocally and categorically deny any alleged misconduct.  In early 2019, Plaintiff's attorneys demanded $1.5 million threatening to go public to destroy my career if I did not comply," Massey said in his statement via Hutton.
It continued, "My family and I rejected this extortion attempt, because I have faith that the legal process will reveal the truth. I have retained attorney Lee A. Hutton to guide my family and me through the process and I ask my fans and the general public not to jump to conclusions based on the allegations alone but reserve judgment until the whole story comes to light, proving these allegations baseless."
________
Former Disney star Kyle Massey is being sued for $1.5 million for allegedly "attempting to commit a lewd act with a minor."
The suit was filed anonymously and thus refers to the accuser as Jane Doe, who is allegedly a minor and kept her name out of it due to "the highly sensitive and personal nature of the subject matter". Her mother, Anne Doe, filed on her behalf, according to court documents obtained by E! News.
Jane and Anne Doe allege that their relationship with Massey dates back to when Jane was 4-years-old when they allegedly met at Universal City. According to the lawsuit, the 27-year-old actor allegedly "maintained contact" with Anne and her family and became a "father figure" to Jane.
The daughter allegedly wanted to pursue a career in entertainment, so Massey, according to the lawsuit, "would offer to use his success and influence in the entertainment industry" to help her out.
Jane Doe allegedly reached out to Massey when she was 13 and supposedly texted him and said she would "LOVE to audition" for his show Cory in the House. The suit alleges that Massey offered to fly Jane out and have her live with him.
Massey allegedly called Jane "so sweet and so beautiful" in a text to Anne. "I'll take care of her," he allegedly wrote.
According to the lawsuit, things escalated when Massey allegedly "began to send Jane Doe numerous sexually explicit text messages, images, and videos." These allegedly include videos of Massey's girlfriend as well as "a Snapchat image of Massey holding his penis" as well as other alleged "lewd" texts.
Jane was allegedly 13 at the time and Massey 27.
Jane and Anne's lawsuit calls Massey's actions "repugnant" and say that Jane suffered "great pain of mind, body, shock, emotional distress" and more. 
Angel Massey, his mom and manager, told E! News in an email that "Kyle is the victim here." She added, "Kyle was a victim as a minor and now as an adult with this attempted extortion."
According to Angel, Anne Doe "requested a mediation and a confidential settlement of 1.5 million dollars to keep this 'matter' from going public." Angel says she "respectfully declined the offer because Kyle had not done anything wrong."
She added, "This lawsuit will reveal more information more favorable for Kyle as it unfolds."
E! News has reached out to Massey's legal team for comment.
(This article was originally published on March 16 at 5:00 P.M.)