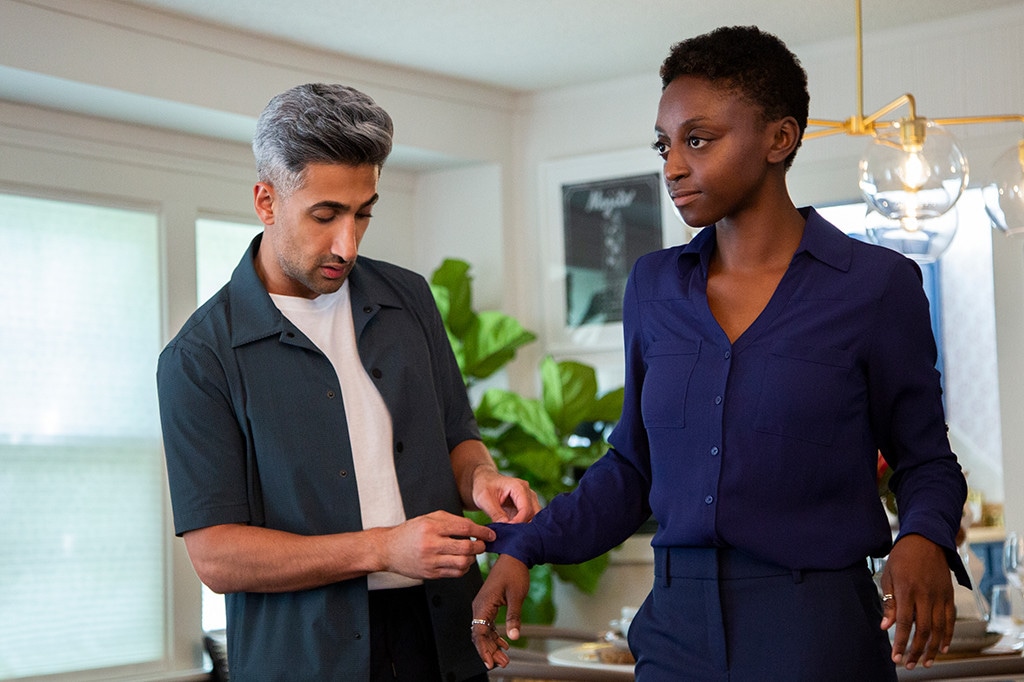 Netflix
Jess Guilbeaux, 23, has been on her own for years. She came out as a lesbian at the age of 16 and almost immediately was thrown out of her house. Her adoptive parents disowned her for being gay. Now, with the help of her "five gay dads" from Queer Eye, Jess is taking back her life and telling her story.
Nominated for the show by her childhood friend Carmen, Jess is the star of Queer Eye season three, episode five. Throughout her episode, Jess said she would struggle to let people in, and even cut herself off from her biological sister. She said she feared people were only reaching out because they pitied her. Enter Karamo Brown, Jonathan Van Ness, Bobby Berk, Tan France and Antoni Porowski. E! News spoke with Jess after her episode dropped on Netflix to get the inside story of how the Fab Five changed her life.
"I first of all forgot that I looked like that beforehand. I had forgotten what my hair looked like and everything, how I used to carry myself. It was hard to hear myself say such sad things, to be honest. I feel completely differently now," she said about watching her episode.
Now, she talks to her sister every single day, either by phone or text, and is living her life as the strong black lesbian woman she is. While she's reaping the benefits of having the Fab Five come into her life, doing the show wasn't always the easiest thing. For somebody who feared friends and family were pitying her, wasn't she nervous to put her life out there for millions to see?
"Absolutely. [Laughs.] I definitely was. It took a lot of my chosen family here, my friends, my roommates, saying, 'Hey, just be open to this experience.' Carmen especially was like, 'Girl, you're going to kill it,'" she said. "Then, it really sunk in for me was a moment I had myself when I was like, 'All I want is for—even if it's traumatizing for me and I get hate, I don't really care. I just want one kid to feel supported and heard. I want their voices to be heard, that they're not alone in what they're growing through.'"
Jess and interior design guru Bobby bonded over similar childhood experience. They were both adopted and both had a falling out with their religious families following their coming out. She said the most surreal part of working with them was just realizing they're people themselves.
"I think sometimes with celebrities, people get caught up in the life that they portray on social media and online. To meet these humans and talk to them and learn from them and hear about their past experience, I think that was the most amazing part, just because I felt connected to them. I felt like they were just like me, especially Bobby and Karamo," she said.
In regard to her adoptive parents, Jess said she has not heard from them and she doesn't know whether they'll watch her episode. If they do, she said she hopes "that they see me and they're proud of me and the person that I am today. If they're not, that's their own piece."
"Like every other kid, I want my parents to be proud of me. That's what I want," she said.
The Queer Eye guys didn't leave her with tips or a plan to continue on the path they helped start her down, but she's still employing the lessons she learned from them. "There are things that I learned from the show and just gone with it in my own way…In terms of how to use the advice and lessons that I've learned, I've just been like, 'Alright, so, strong black lesbian woman.' I just told myself that every day until I believed that," she said.
Jess is still serving at the local Greek restaurant in Lawrence, Kansas—she was even recognized there after the trailer was released—and has started performing drag. College is still on pause for financial reasons, but one day she said she hopes to finish.
"I've just been working really hard and learning how to love myself," she said.
At the end of the day, she decided to open herself up and put her story out there to help others.
"I just want people to hear this side of the story. I think the perspective of a queer black woman is not heard very much, especially ones that have been through a lot of things and didn't grow up with all the privileges most people have to this day," she said. "I just want that story and that narrative to be told and heard and I wanted people who were struggling or going through things in any regard, but also specifically who are queer or black or women, to feel that they have someone out there who is rooting for them."
Queer Eye season three is now streaming on Netflix.