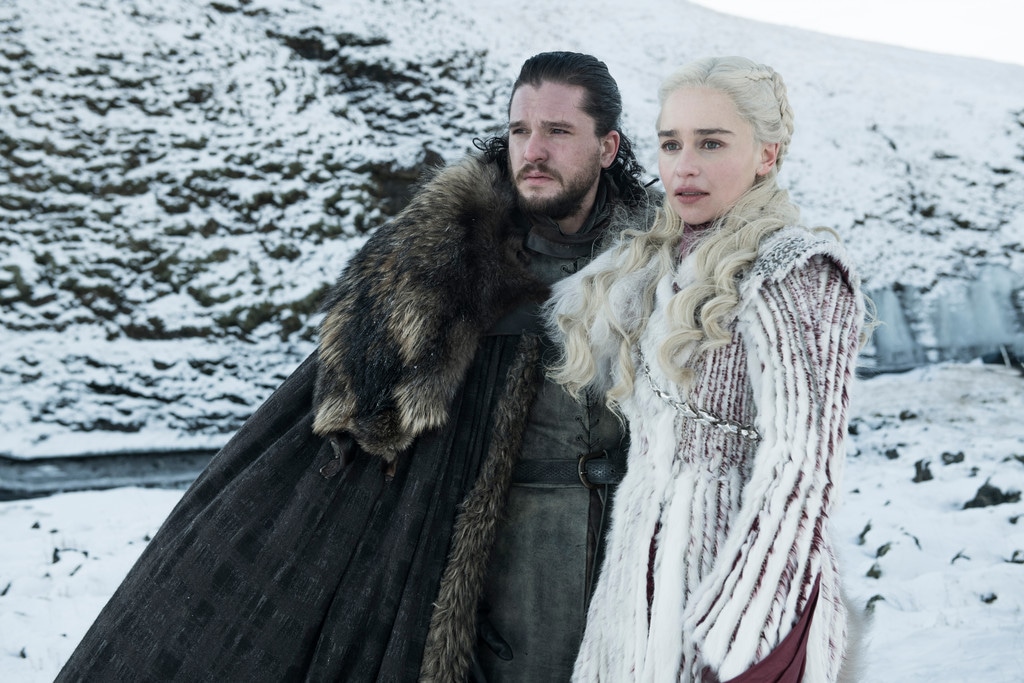 Helen Sloan/HBO
At this point, we care less about who ends up on the Iron Throne than we do about the fact that finally, all the different factions of Game of Thrones are coming together. 
Mostly, we're talking about Daenerys Targaryen (Emilia Clarke), who finally gets to hang out with the Starks. We've seen glimpses of her meeting with Sansa (Sophie Turner) as she finally comes to Winterfell, feeling, as Clarke says, "pretty cocksure and confident, and then stuff happens." It sounds like the moment was just as significant for Clarke as it will be for the show. 
"It's really surreal," Clarke told Harper's Bazaar of what it was like to bring Dany to Winterfell. "I mean, you play into what it feels like for the character as well, because it's new and it's odd, and you're coming into someone else's turf and you've got a lot of actors that you know really well, who were like, 'This is our home.' Then you come in and you're like, 'I know this only from the television; I've never been in this space here before in my life.'" 
"But also I must admit for the character, I felt it," she continued. "I felt with every one of those moments that obviously the show is packed to the gills with. I felt for her. I was like, 'Yes! Here we are! We're in, we're speaking with Sansa, we are that much closer.' It felt great. Very, very exhilarating." 
Clarke says she's really good friends with Turner, so there was a moment where they had to remember they were acting. 
"It was very fun, it was very silly, it was very then like, 'Oh, we're doing this now, we're having like an actor discussion,' as opposed to just me and Sophie. With all of those scenes meeting new people, it felt like every day was a little party." 
Dany also gets to wear some new outfits this season, which Clarke says is very much a sign of the character's journey. 
"Michele Clapton, our unbelievably talented costume designer, really takes each character's journey and reflects that in the clothing," she explained. "Every single piece that I put on made sense for the scene that I was in, and made sense with the place that the character's in at that time. There's a real throughline for this particular season, there's a real arc and I feel like fans, like hardcore fans, will clock what's happening within the reflection of the clothing. There's definitely a story to tell there." 
Clarke told the site that after long days on set, her days always end with "taking off your goddamn bra and getting into your pajamas," so after the end of the series, there was a similar feeling. 
"I think ending it was just the mother of all releases," she said. "It was just the metaphorical undoing of the bra, except it's like a 10-year experience." 
She said she had intended to make a speech after her final scene, but she couldn't get through it. 
"I mean, I got three words in before I just completely broke down," she said. "You just hold it in and you're holding it in and you're holding it in, and then I just burst into tears like a complete idiot." 
We will all likely be bursting into tears like complete idiots when this show ends. 
Game of Thrones premieres Sunday, April 14 on HBO.