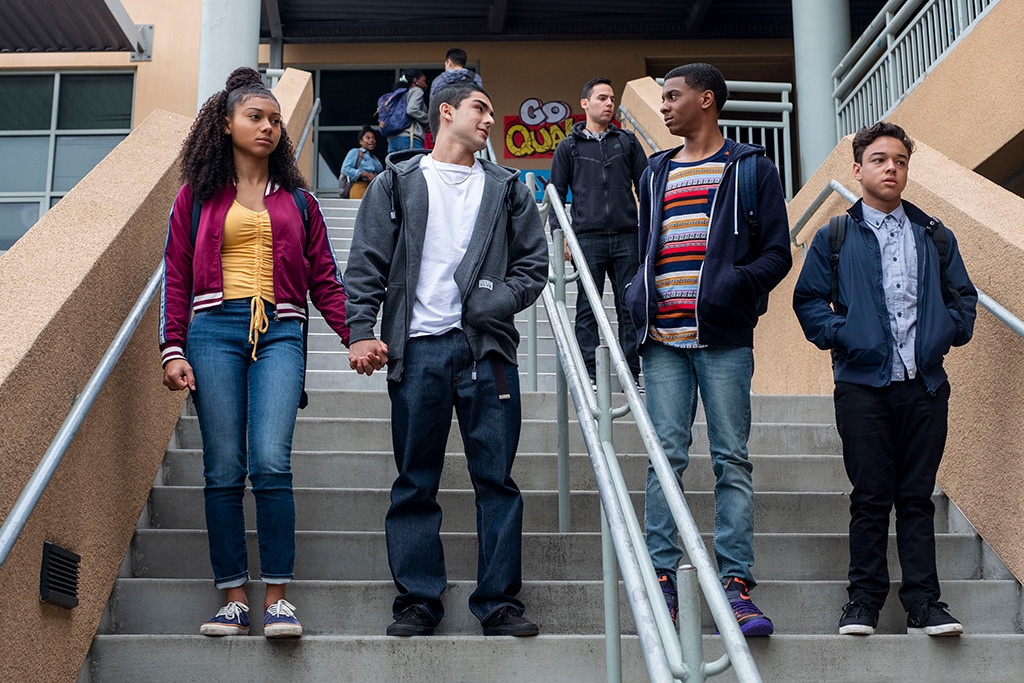 Netflix
Ruby lives! And he's getting back into the On My Block hijinks straight away.
"It's a new year, finally we can get back to normal," Ruby says.
In the season two trailer, below, Ruby (Jason Genao), Cesar (Diego Tinoco), Monse (Sierra Capri), Olivia (Ronni Hawk) and Jamal (Brett Gray) are all back together after the violent season one finale and Jamal has some news…he's rich.
Yep, he found the mythical $200,000 and he needs protection from Cesar. With that much money in their neighborhood, "who wouldn't be paranoid?"
Come for the friends sticking by each other, say for Abuela (Peggy Blow) stealing every scene.
"Every day, we can choose to love instead of hate," Ruby says. And then he's dancing in some kind of music video setting and we're here for it.
Netflix describes the new season pretty simply, "In the aftermath of tragedy and Jamal's discovery, the friends lean on each other like never before."
After the season one finale, co-creators Lauren Iungerich and Eddie Gonzalez teased there's some "real heavy stuff" the show will have to address, like Monse's mother and "There's also Cesar and what's going on with his brother," Gonzalez said.
"He's going to get disciplined," Iungerich said regarding Cesar's act of mercy in not killing rival gang member Latrelle (Jahking Guiilory), which resulted in the shooting.
"That's a big deal, and we're going to have explore that and the relationship between the brothers who are in a power dynamic in a gang. Oscar loves his brother, but he can't let his brother get away with bucking orders. So, there's a lot to explore but at the same time, Jamal found the f--king money. There's something awesome there. I think for us we have a lot we can explore and there's a lot of lightness. There are some really great things that we can't tell you that are going to come back into the show that are really fun and light. The joy for us is that we get to make this world feel really real, feel really rich, and I think next season we get to build on what we've laid down in the foundation of a first season and expand the world and tonally continue with the journey that makes the world really fun and a joy to watch and to relate to for kids who've never seen themselves represented this way," Iungerich told TV Guide.
Season two of On My Block premieres Friday, March 29 on Netflix.