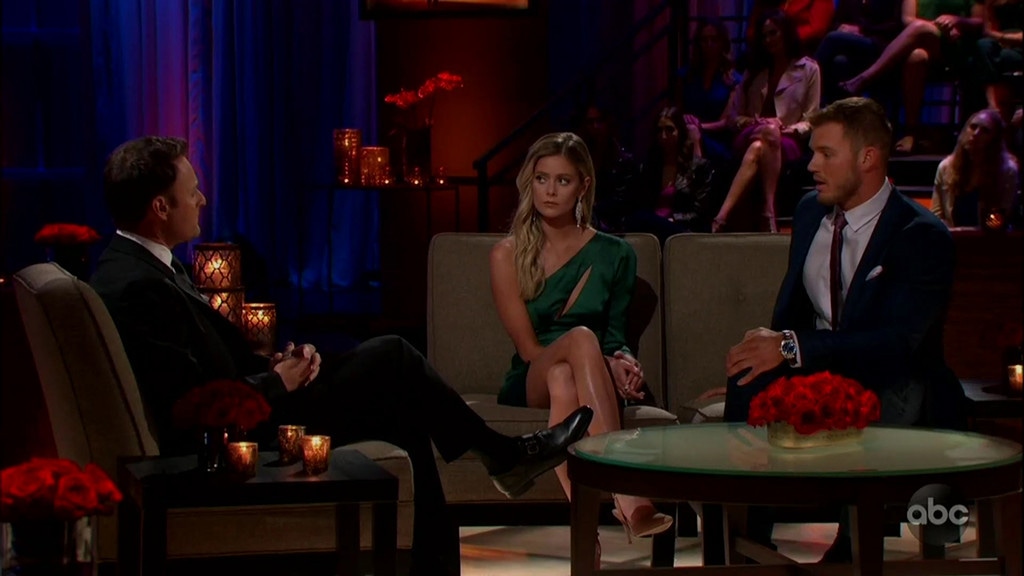 ABC
She may not have talked much all season, but Hannah G had some things to say when Colton dumped her during tonight's finale of The Bachelor. 
She was fully expecting to be the girl he proposed to at the end of this whole thing, and instead, Colton arrived at her door unexpectedly to tell her that while she was his "rock," he realized he couldn't be in love with two people, and he was definitely in love with Cassie...even if Cassie's not yet in love with him. 
In last week's episode, we saw Cassie, with some encouragement from her dad, tell Colton she didn't think she could be in love with him like he was in love with her, and she was leaving. After she left, he got so upset that he ran off into the darkness and nearly got lost. So on one hand, there was no way he could choose Tayshia or Hannah after reacting like that. 
On the other hand, he's throwing away these other two relationships for a relationship that wasn't really one at all. 
While Tayshia was somewhat understanding (or at least not that mad), Hannah was pretty mad.  
"I'm really thrown off right now," she kept saying. "I was so excited to see you. I thought it was for sure going to be us. I don't know how to take this right now.  I don't feel like this is happening at all." 
"I was, like, ready to move to wherever," she told him. Her whole family was so excited for her! She didn't think there could be a better connection than the one they had! 
"I'm about to go home right now, and I don't even get to explore, like, us," she said, and while she probably could have switched out the word "us" for "Portugal," her tears and her feelings felt real. "I didn't picture me telling you that I loved you when I was about to leave." 
On the live portion of tonight's finale, she sat down with Chris Harrison and cried a bit, explaining that she was pretty confused. 
"I think I've been hoping for more closure as I watch every week, and watch different relationships, even though that's weird to say. But seeing how strong our relationship was the whole time, and knowing him, I just don't know how he could just go in there and do that...I feel very confused. More confused than when it happened in Portugal." 
Hannah confirmed she'd been dreading sitting down with Colton on live TV tonight, but was hoping the talk would give her some answers, and allow her to sleep better at night "and finally live in the present," though she was able to say she's no longer in love with Colton. 
"I loved you, and I thought you felt the exact same way," Hannah told Colton when he finally sat down. "You told me you were falling in love with me and I should trust you every single minute I was with you." 
He tried to explain himself as best he could, that knowing how he felt about Cassie he couldn't be in other relationships, and that Hannah didn't deserve to be a "backup plan," but Hannah was still confused. 
"What Cassie did to you was exactly what you did to me, and I was left with nothing," she told him. "I thought that you were going to chase me, as crazy as that sounds. I would tell one of the producers, I was like, tell me to brush my hair if he comes, and you didn't. And I didn't have a reason to believe otherwise, and I just trusted you so much. I just take that word, like falling in love...you have to follow your heart, but for me, it's been really, really difficult."  
"I'd be lying if I said it didn't feel like a slap in the face, seeing you tell Cassie that you thought about her while you were with other people. That sucked," Hannah went on. 
But it wasn't all bad, because Hannah says she now knows what she deserves, other than to not be somebody's backup plan. 
"I want somebody to, I don't know, jump a fence for me," she said. 
Don't we all. 
Colton has now been left with no girlfriends and a deep love for the one who left on her own, so we'll have to see what that means and what comes next...and whether Hannah G could become the next Bachelorette after that confrontation we saw tonight. That announcement will come during tomorrow night's live finale at 8 p.m. on ABC.