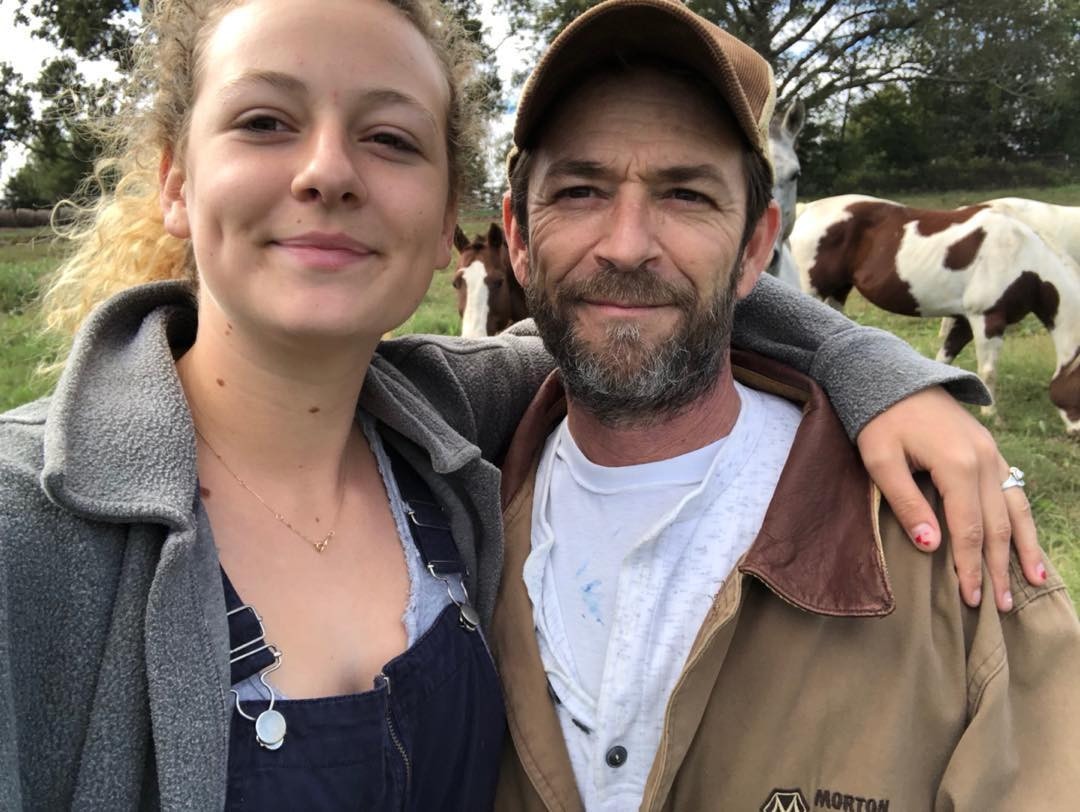 Instagram
Sophie Perry is going after trolls who think they know how she should live her life.
The 18-year-old took to Instagram on Monday and called out people who have been criticizing her physical appearance as well as her grieving process. Her father, Luke Perry, died suddenly on March 4 at the age of 52 after suffering a stroke a few days earlier.
In her post, Sophie thanked those who have offered their condolences, but spent more time explaining to her followers why she's fed up with the hate. She explained that she's "received a lot of attention online" in the days following her father's death. While most of the comments have been positive, "some people just can't be nice."
And to those people, she has a message. "I'm here to say that I did not ask for this attention, I did not ask to be thrown into some virtual spotlight, and while I don't mean to offend anybody, I'm also not going to cater to any one else's needs and beliefs," she wrote. "I'm 18. I swear like a sailor and sometimes I dress like a hooker. And I support causes and you may not. And most importantly. I am going to laugh and smile and live my normal life."
She also seemed to assure people that just because she looks one way on the outside, that does not mean anyone can see how she's feeling on the inside.
Sophie continued, "YES I am hurt and sad and crying and beside myself with what happened to my dad. It's the worst thing to ever happen in my life." She explained she is "torn the f--k up about" her dad's death, but she's "not going to sit in my room and cry day in and day out until the internet has deemed it appropriate for me to do otherwise."
She took another jab at the trolls and told them that the late Beverly Hills, 90210 star wouldn't want her to sit and cry all day in her room. She concluded, "So to those of you shaming me for my language and my wardrobe and most disgustingly, my grieving process, do us both the favor and just unfollow. It's a waste of both of your time."
Sophie has been speaking out little by little since his passing. On Tuesday, she shared a photo of herself with her arm wrapped around her dad and mourned her loss.
She was in Malawi right before his death but she "made it back just in time" to be there with her family. She wrote, "I'm not really sure what to say or do in this situation, it's something you aren't ever given a lesson on how to handle, especially when it's all happening in the public eye. So bare with me and know that I am grateful for all the love."
A few days later, Sophie praised her mom Minnie Sharp on International Women's Day. "You all know my dad is a super star, but I just want to share for a moment that I got really f--king lucky in the parental department," she captioned a selfie of them smiling. She called Minnie "the rock for everybody grieving in this family" and "the toughest and sweetest and most amazing woman."
Jack Perry and Luke's fiancée Wendy Madison Bauer have both shared words, too. Jack, a professional wrestler who goes by the name Jungle Boy, wrote, "I've learned so much from you, and my heart is broken thinking about everything you won't be here for. I'll miss you every day that I walk this earth. I'll do whatever I can to carry on your legacy and make you proud."
Bauer released a statement of her own on Saturday and reminisced on their relationship. "I want to express my gratitude to everyone for the outpouring of love and support. The countless, heart warming stories of Luke's generosity and kindness have been a great source of solace during this difficult time," she said. "The past 11 1/2 years with Luke were the happiest years of my life, and I am grateful to have had that time with him. I also want to thank his children, family, and friends for their love and support."
The statement went on, "We have found comfort in one another and in the knowledge that our lives were touched by an extraordinary man. He will be dearly missed."