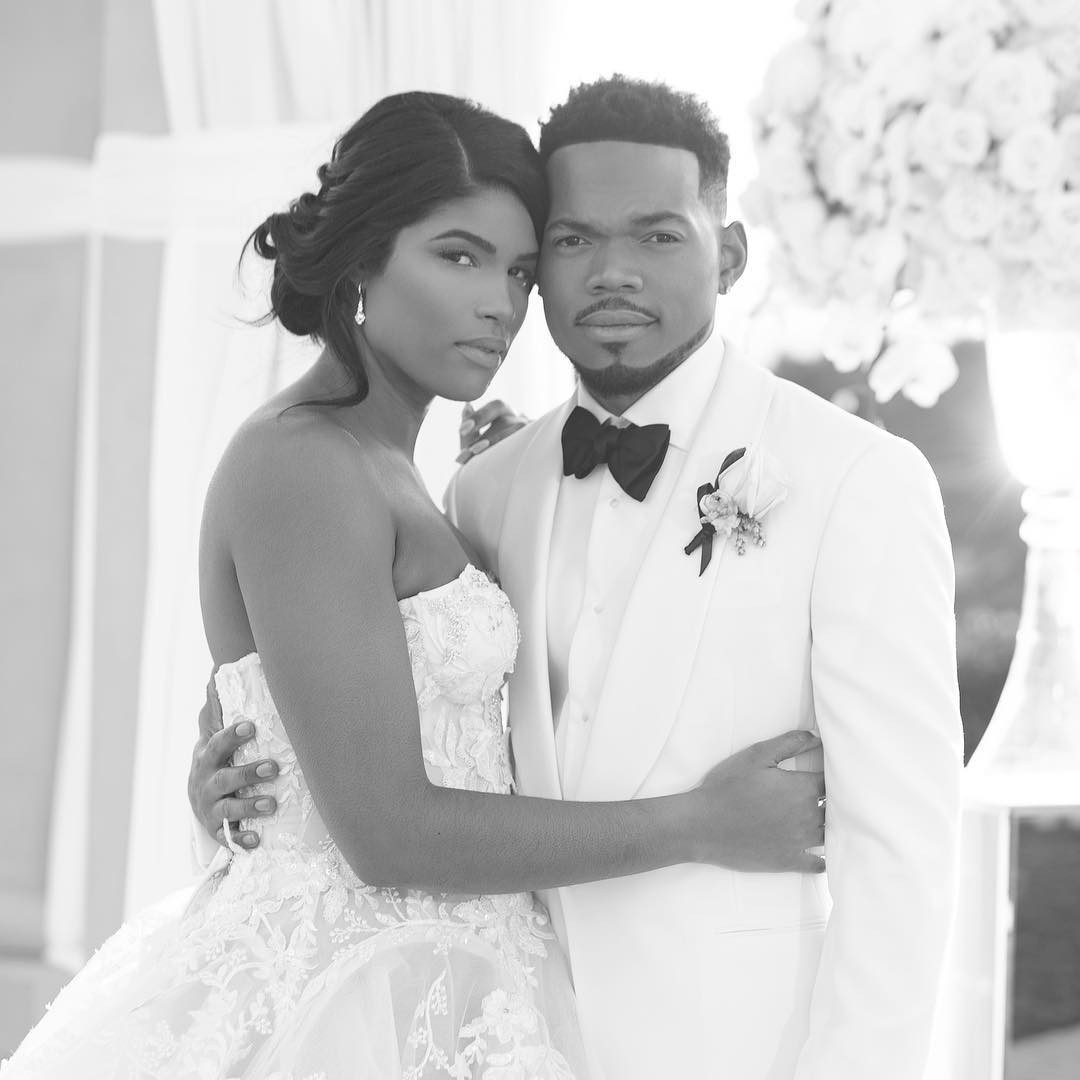 DUKE IMAGES/@dukeimages
Chance the Rapper is giving fans an inside look at his fairy tale wedding to Kirsten Corley.
On Monday, the rapper took to Instagram to share the first pictures from the Saturday nuptials, which took place at the Pelican Hill resort in Newport Beach, Calif. His caption was simply "The Bennetts," because, let's be honest, the pictures speak for themselves. 
In the pictures, Kirsten wears a strapless Galia Lahav ballgown and looks stunning with natural-looking makeup and a romantic up-do. By her side is Chance in a white tuxedo jacket and black bow-tie. A green cliff side and the ocean is the backdrop for the breathtaking photos.
In another photo, Chance holds their 3-year-old daughter Kensli inside the grand ballroom, which was decorated with billowing fabric and tall white rose centerpieces. 
Guests including Dave Chappelle, Kim Kardashian and Kanye West joined the bride and groom for the official wedding ceremony — Chance and Kirsten already wed in a civil ceremony back in December. 
A source previously told E! News, "It was a romantic ceremony and a string quartet played as they entered. In the middle of the ceremony, their little daughter Kensli ran up and Chance picked her up and held her. It was very sweet and loving to watch."
The wedding was definitely a joyous occasion for all who attended, as the source shared that everyone was "laughing" and "having a great time."
Their nuptials were a long time in the making. Kirsten and Chance first met when the rapper was just 9-years-old, at which point he knew that he was going to spend the rest of his life with her. "I knew I was gonna marry that girl. And I ain't wanna jump the gun," he wrote. "16 years later it's happening. This [weekend] is the time, and the place is my wedding. I'm gonna dance with my wife because this is my destiny."
Congratulations to the newlyweds!