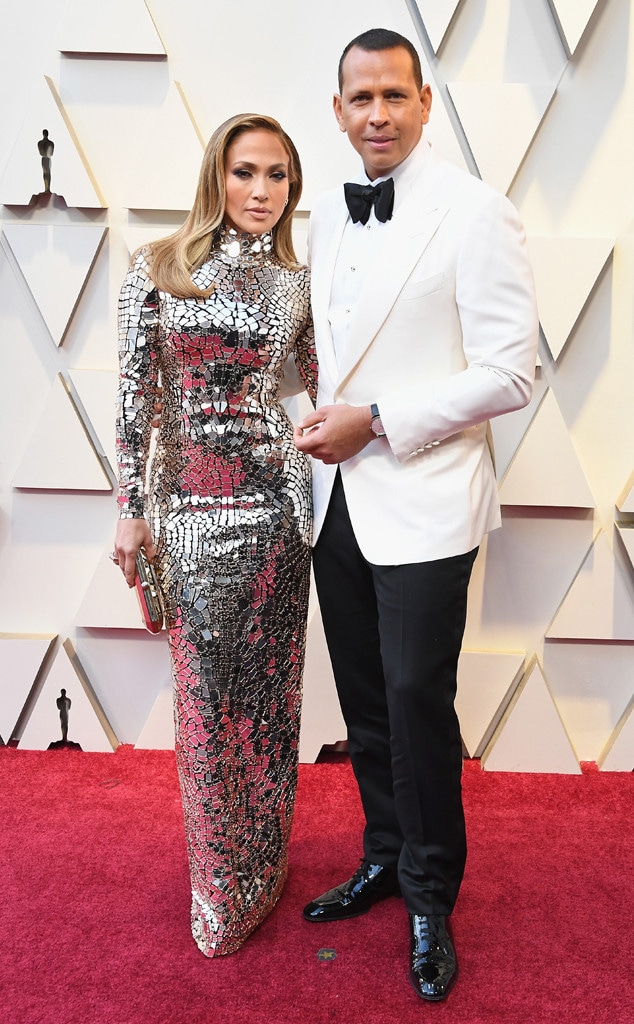 Steve Granitz/WireImage
Jennifer Lopez and Alex Rodriguez have been one of the most glamorous couples to hit the red carpets and the streets since they started dating two years ago.
On Saturday, the lovebirds surprised their combined 90 million-plus Instagram followers by announcing to the world that they are engaged. Both J.Lo and A-Rod posted the same photo of the artist showing off her diamond sparkler with the white sand right below. It looks like Rodriguez popped the question at sunset with a bonfire close by.
The two of them are enjoying some "down time" together in Bakers Bay. Some of their activities (other than an engagement, of course) included boating, heading to the beach and relaxing by their infinity pool which overlooked the ocean.
A-Rod shared photos on his Instagram Story of their weekend getaway. He also posted a cryptic message about soulmates that, in hindsight, offered up a big hint as to what would happen on Saturday.
The 43-year-old popped the question with an emerald cut diamond ring. Experts estimate that it costs about $1 million retail. Jewelry and style expert Lauren McCawley shared with E! News, "J. Lo's new emerald cut stunner is what engagement ring dreams are made of. An approximate 15-carat diamond sparkles in a platinum solitaire setting and could easily retail for $1 Million."
Andrew Brown, President of WP Diamonds, also believes Rodriguez shelled out about $1 million for it.
Another expert estimated it could be worth a bit more than $1 million. Ira Weissman, founder of The Diamond Pro, tells E! News, "This approximately 20 carat emerald cut diamond is exquisitely cut and of superb quality. When you have an extremely rare and timelessly breathtaking stone such as this one, the goal of the ring should be to show off the rock naturally with as little embellishment as possible—the perfect compliment to the ageless enduring beauty of J.Lo. The ring is worth approximately $5 million dollars."
J.Lo's photo garnered over 2 million "likes" on Instagram in just about two hours. Many celebrities reached out and offered their biggest congratulations, including Kris Jenner, Khloe Kardashian, Miley Cyrus, Ashley Graham, DJ Khaled and more.
Their two families are already blended perfectly into one and it's clear that their mutual admiration for each other won't diminish anytime soon.
Take a look at the photos below to see some of J.Lo and A-Rod's cutest couple moments together.
Congratulations again on the big engagement!