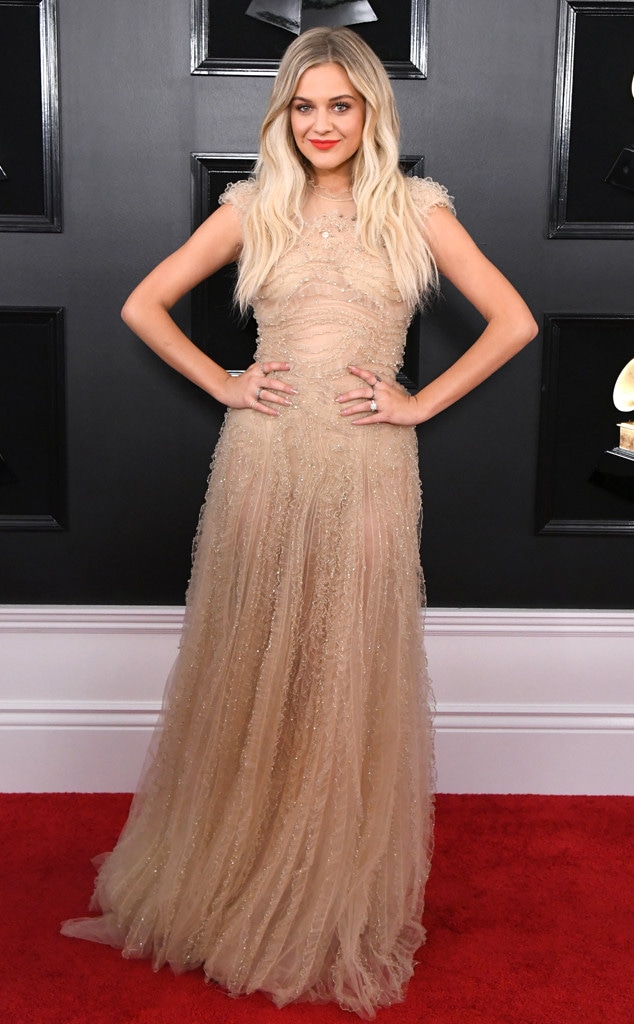 Jon Kopaloff/Getty Images
Kelsea Ballerini has a lot going for her. Not only is she a she's a chart-topping country singer and Grammy nominee, but now she even has a Barbie designed after her!
The "Miss Me More" artist spoke with E! News on Saturday about her new doll and how she hopes to be a source of inspiration for other women. Barbie, who is celebrating its 60th anniversary, launched a "Be Anything" tour that is "inspiring this new generation of girls to let them know that they can be anything and they can dream big and set their sights on careers that are big and bold and they are capable of reaching those goals."
Other women in the U.S. being honored by Barbie include Yara Shahidi and tennis pro Naomi Osaka.
Ballerini described why Barbie's "Be Anything" campaign means so much to her and really resonates with not only her core beliefs but her music, too. 
"I've also tried to put female empowerment into every song I write and especially into every single I put out," she explained. "I really wanted it to be a big part of my journey and to be able to partner with Barbie and use these few days to really empower these young girls."
Ballerini's specific Barbie is focused on her "Miss Me More" music video, which takes place in a boxing ring.
"The song is all about fighting for yourself after a relationship, but the more that I've kind of grown with the song, I made this video to be fighting against yourself, for yourself. No matter what chapter of life you are in, you're always up against yourself more than anything else," she told E! News.
She especially loves that the Barbie even comes with mini boxing gloves!
The Barbie "Be Anything" Tour begins this weekend on Barbie's 60th anniversary at Walmart in Bentonville, Arkansas. The tour will come to 34 Walmart parking lots across the country.
The 25-year-old singer also talked about dreams and how she sees herself as a "practical dreamer." For instance, she dreamed of moving to Nashville, and that happened. She dreamed of writing songs, and that happened.
Jason Kempin/Getty Images
"I think it's really important to have your sights set on something that's bold. For me moving to Nashville and trying to start a career at 15 as a female in country music was definitely bold, but I think it's important to dream big," she said.
Speaking of dreaming big, Ballerini has made it to some of the largest-scale stages and performed with the best of the best. On Wednesday, she was asked to join the Grand Ole Opry by none other than Little Big Town themselves. She described the moment on Instagram that day, "This has been at the very top of my bucket list since I wrote my first songs at 12 years old, and tonight the heart of country music wrapped their arms around me and asked me to be family."
She told E! News that the invite is a "big deal!" It was meaningful, too, because so many of the female country singers that she grew up listening to—Reba McEntire, Shania Twain, Little Big Town—truly embraced and encouraged her.
Ballerini married Morgan Evans in December 2017 and revealed that she and her husband are "still settling into" married life together. A core part of their relationship is that they each have "so much respect for each other's careers" and they cheer each other on "when we are apart because we both are doing what we want to be doing, what we dreamed of doing since we were kids."
There's another certain relationship that she pays close attention to: Colton Underwood on The Bachelor. She said her group of friends is so important to her and they enjoy nights in together just like anyone else. What did they all think about the epic fence jump?!
"They come over and we just listen to music and we watch The Bachelor and we have girl time! I cherish those moments because I'm gone during birthdays and I'm gone during bachelorette parties and I miss a lot of that. Being able to have those moments at home with girlfriends is important," she described to us.
Grand Ole Opry induction and hit songs aside, Ballerini has guilty pleasures and cravings just like the rest of us. For her, it's Chick-fil-A. "It's my vice!" she admitted.
Congratulations on all the achievements and your new Barbie!