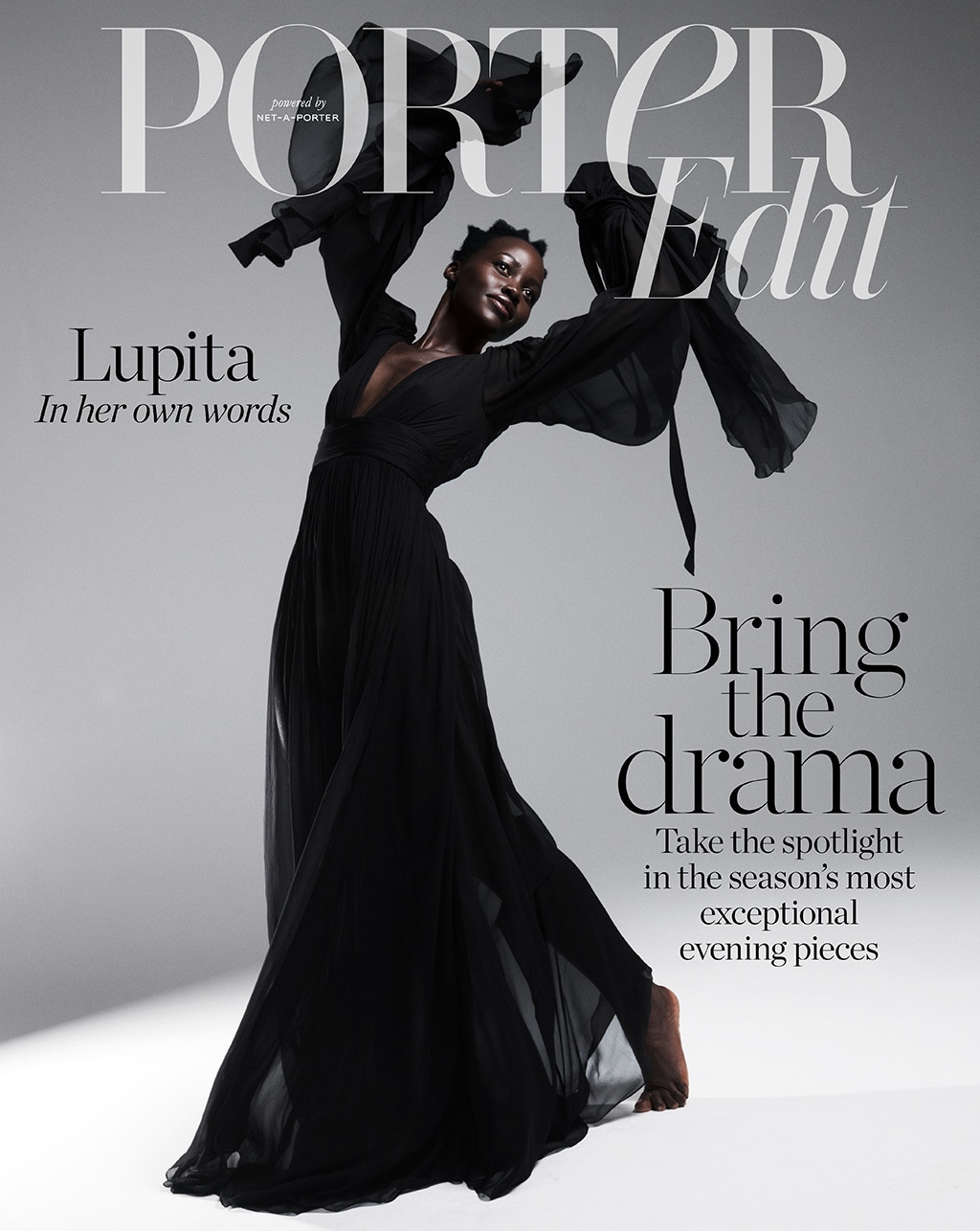 Photographed by Paola Kudacki
Lupita Nyong'o had a very special group of people guiding her as she entered the Hollywood scene.
The Oscar winner, who hits the big screen in Us later this month, explains how Oprah Winfrey, Sarah Paulson and Brad Pitt all helped to protect her when she was just getting her start in the entertainment industry. 
"Starting with 12 Years a Slave, I was welcomed [in Hollywood] with such warmth," Lupita tells NET-A-PORTER's weekly digital magazine, PorterEdit. "My castmates surrounded me. I don't know if they are aware of this, but I felt so protected. Sarah Paulson: my God, that girl, she was like everything to me. And Alfre Woodard, she was invaluable."
"I would ask questions about my finances, where I should live, all sorts of things," Lupita continues. "[Woodard] had this dinner that she throws during Oscars season for all the black women in Hollywood. Being invited to that basically [felt like] my TV had exploded in the room because all these actresses were there. No cameras are allowed and people just have candid conversations."
Photographed by Paola Kudacki
Lupita goes on to tell the magazine, "Oprah embraced my mom and my brother and invited them to her house for lunch without me. I was just like, 'Wow, this is an incredibly supportive industry.' I didn't feel isolated. Gabrielle Union: we'd gone to a fashion show in France together and she'd been so open and embracing, exchanging phone numbers with me – there was a 'you need anything kind' of vibe. I didn't feel alone within the black community, I didn't feel alone within the Hollywood community."
Photographed by Paola Kudacki
The 36-year-old actress adds that director Steve McQueen "really did look out for me big time."
"Brad Pitt, same thing," Lupita says. "And Jared Leto, he's still on speed dial, because we were on that [Oscar campaign] journey together and he's so embracing of me. There was an intimacy that grew from that, that goes beyond the dating rumors, beyond all that."
To read more from Lupita's cover story interview, head on over to PorterEdit.