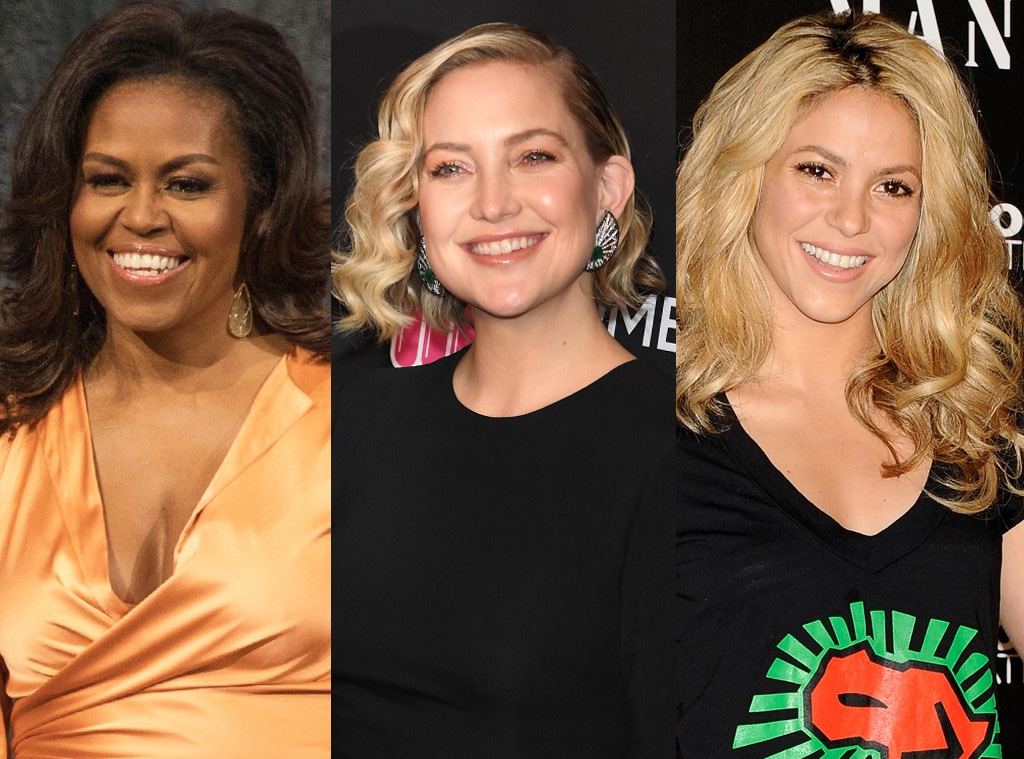 Rick Kern/WireImage, MARK RALSTON/AFP/Getty Images, Carlos Alvarez/Getty Images
Today is a day for women. 
On Friday, the Hollywood stars aligned to celebrate International Women's Day, the annual day held on March 8 in celebration of gals everywhere. 
Famous names all around the world took a moment out of their day to acknowledge the holiday with empowering messages of hope, love and support for their fellow ladies. 
"Women are: Resilience Perseverance Intelligence Generosity," songstress Shakira wrote on social media along with a montage of photos of different women. 
Your Hollywood BFF Jennifer Garner also celebrated the day with a short, but strong message: "Happy #InternationalWomensDay, today and every day. #alwayshelpasister."
David Beckham paid sweet tribute to his famous wife, Victoria Beckham, and daughter, Harper Beckham, as she gave a shout out to all the inspirational women. "Today we celebrate International Women's Day .. I'm so blessed to have these amazing women in my life, they inspire me every single day .. Happy International Women's Day to all the inspirational women around the world," the soccer pro wrote. 
Meanwhile, Katie Holmes celebrated the first woman in her life: her mom! "Happy international women's day! Thank you mom for being you. I love you!!!!!!!!!!" the actress said on Instagram. 
Supermodel Gisele Bündchen also called out the many special ladies in her life, including her five sisters. "Happy women's day! I feel so blessed that I got to grow up surrounded by six incredible women: my mom, and my five sisters," she wrote. "We are all so different, but we complement one another, and we help each other grow! As women we are naturally empathetic, loving and caring. We nurture life! Today and every day, I celebrate all women. Let's support and lift each other up! We are stronger when we are together."
New mom of three Kate Hudson celebrated the special day with the next generation, her 5-month-old daughter, Rani. "Today is International Women's Day and we say Happy International Women's day to all the women out there," the famous mama said in an adorable video while holding her enthusiastic little one who spotted Maisonette's Doodle collection. "We celebrate you, all that you do and all that you are. We love you!"
Hilary Duff followed suit, sharing a photo of herself with her baby girl, Banks. Look at this little but mighty lady," the actress wrote. "Who run the world???!!! GIRLS! #happyinternationalwomensday Never settle for less, know your worth, and BE BOLD! We make it allll happen and nobody better forget it!!!!!!"
Awkwafina celebrated the big day with a nod to her grandmother. "Happy #internationalwomensday - here's to strong women everywhere," the funny lady wrote.  
As for designer Marc Jacobs, he honored the holiday with his eye on a fitting outfit. 
New mom Kate Upton took to Instagram where she shared an empowering message about motherhood while breastfeeding her baby.
"Will cherish these moments forever," the model wrote to her followers. "Can't imagine a greater superpower! #internationalwomensday." 
Hilary Duff shared a new memory from the time she welcomed a baby with the caption, "@Axehuggergirl thank you to you and your angels for giving me the support and strength I needed for this memory. #InternationalWomensDay." 
More than a few famous husbands also couldn't help but give shout outs to their wives and leading ladies.
"I'm surrounded by the strongest, smartest, most beautiful women in the whole world," Dax Shepard  wrote with a collage of photos. "I am the luckiest guy I know. #internationalwomensday." 
Will Smith also shared a photo with Willow Smith, Jada Pinkett Smith and Adrienne Norris with the message, "Happy International Women's Day!" 
Former First Lady Michelle Obama celebrated the day by highlighting the story of an inspiring woman.
"This beautiful smile belongs to Eliakunda Kaaya. I sat down with her and several of her peers for a conversation on girls' education last fall. Eliakunda comes from a family of nine children in Tanzania. She once said, 'My own brothers would say…that it was a waste of time and waste of investment to…[send] me to school, because a woman is meant to be married.' But Eliakunda never believed that. She became the first person in her family to go to high school—and then the first to go to college," Obama explained. "After she graduated she became a @ShesTheFirst Fellow and she launched a project called 'Her Journey to School,' which builds on her own experience by reaching out to parents about the importance of sending their daughters to school. Eliakunda's story shows us the power of education—and the promise inside every single girl around the world.
And while many strong, powerful women posted photos of their daughters, moms and other important ladies in their lives, others simply shared important quotes on their Instagram Stories. 
"Women need to encourage other women. Not pit us against each other," Hailey Baldwin shared with her followers. "As a woman, you KNOW the difficulties of being a woman...Let's lift each other up."
As for Demi Lovato, she posted a series of messages including a short but so important phrase: "You go girl."  
Happy International Women's Day! In the words of a familiar saying posted by Jersey Shore star Jenni "JWoww" Farley, "Here's to strong women. May we know them. May we be them. May we raise them."
(Originally published Friday, March 8, 2019 at 10:16 a.m. PST)