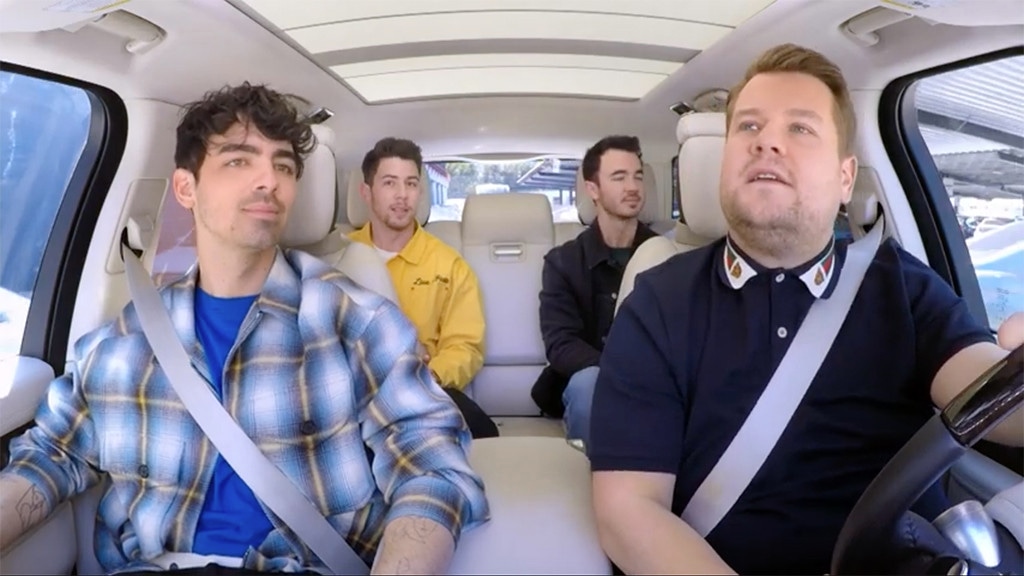 CBS
That was so worth the wait. 
Ever since James Corden announced that it was Jonas Brothers week all week long, we've been waiting for Carpool Karaoke, and The Late Late Show blessed us with the video a few hours early. 
It ended up being gold, with even more secrets spilled than their segment of Spill Your Guts or Fill Your Guts. Corden grilled the brothers on why the band split up, why the band got back together, how Nick really felt about his days-long wedding, how they all felt about purity rings, who was most annoyed by who, and even more things we've always wanted to know.
They also did some singing and jamming to their old songs like Burnin' Up and Lovebug (the best song, imho), but it was all about the secret-telling if you ask us.
Corden hooked everybody up to a lie detector, courtesy of his friend John. Joe revealed that Kevin was the brother who got on his nerves the most, which was true, and Nick fully admitted there was a point during his wedding that he said he was done with having so many weddings.
Nick also tried to claim he didn't think he was a better singer than his brothers, which was a lie, and Joe lied about neither of his brothers' wives getting on his nerves. 
We also learned that Nick is very weird about his socks, and Joe doesn't like authority, and at this point you should just be watching the video!
Tonight's episode of The Late Late Show is the last of the Jonas Brothers' weeklong takeover, and will also feature the TV debut of their new song Sucker.
The Late Late Show airs weeknights at 12:35 a.m. on CBS.